Former Defense Secretary Robert Gates '65 to serve as W&M Chancellor
Former U.S. Secretary of Defense Robert M. Gates has been named the next Chancellor of the College of William & Mary. He is an undergraduate alumnus of the College, Class of 1965.  Gates, who is the first defense secretary in U.S. history to serve under presidents from both political parties, led the defense department under President George W. Bush and President Barack Obama before retiring earlier this summer. As William & Mary Chancellor, he will succeed retired U.S. Supreme Court Associate Justice Sandra Day O'Connor, who will complete her term in February 2012.
"I am deeply honored to have been asked to return to the College of William & Mary, my alma mater, to serve as Chancellor.  The time I spent at William & Mary as an undergraduate student shaped my life and I look forward to working with the students, staff, faculty and the William & Mary community. It is a privilege to follow such outstanding leaders as Sandra Day O'Connor, Henry Kissinger and Margaret Thatcher," said Gates. "William & Mary is known around the world as an exceptional school which produces up and coming national and world leaders. In addition to an outstanding education, William & Mary instills in its students a sense of duty to community and country. I look forward to doing all that I can to continue and build on these traditions."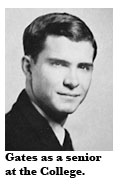 Gates, who also holds an honorary doctorate from William & Mary, will be the College's 24th Chancellor. Prior to becoming defense secretary, he served in numerous capacities in the Executive Branch during more than 45 years in public service. From 2002 to 2006, he was president of Texas A&M University. Gates will be the first William & Mary alumnus in the modern era to serve as Chancellor of the College.
"It is absolutely wonderful to welcome Secretary Gates back to campus in this new role," said President Taylor Reveley. "He is an extraordinary example of what it means to devote a lifetime to making a difference for the better for your country. Bob Gates cares deeply about his alma mater and has been a great friend of William & Mary. We are delighted our students will have the chance to spend time with, and learn from, one of our nation's most respected leaders."
Reveley added that the College community owes a great debt to O'Connor, who has served as Chancellor since 2005.
"Justice O'Connor has had a profound impact on our campus," he said. "With each visit to William & Mary she embraced her role as Chancellor with a vibrant spirit and robust enthusiasm for our students. She has shared with them the practical wisdom and perspective on life born of her extraordinary career of leadership and service. And, of course, she wore her glittering green and gold robe of office with great panache. Sandra Day O'Connor will forever be part of the College family."
The post of Chancellor has a long tradition at the College, dating back to William & Mary's origin in 1693 by Royal Charter from King William III and Queen Mary II. The Chancellor initially was an English subject – usually the Archbishop of Canterbury or the Bishop of London -- and served as the College's advocate to the crown while a colonial president oversaw the day-to-day activities of theWilliamsburg campus. Following the Revolutionary War, George Washington became W&M's first American chancellor and U.S. President John Tyler later held the post. Typically, the Chancellor serves in that honorary post for seven years. The Chancellor plays an important role in the life of the university, participating in major ceremonies and other events on campus and meeting periodically with students and other members of the campus community.  
Over the past three decades, the former Chief Justice of the United States Warren Burger, former British Prime Minister Margaret Thatcher, former Secretary of State Henry Kissinger, and Justice O'Connor, the first woman appointed to the U.S. Supreme Court, have all served as Chancellor.
Gates comes to the position following a career in public service that began soon after he graduated from William & Mary 46 years ago.
In 1966, he joined the Central Intelligence Agency and spent nearly 27 years as an intelligence professional, serving six presidents. During that period, he spent nearly nine years at the National Security Council. Gates is the only career officer in the CIA's history to rise from entry-level employee to become the agency's director – a post he held from 1991 to 1993. He served as Deputy Director of the CIA from 1986 until 1989 and as Assistant to the President and Deputy National Security Adviser at the White House from January 1989 until November 1991 for President George H. W. Bush. Gates has been awarded the National Security Medal and the Presidential Citizens Medal, and has received the National Intelligence Distinguished Service Medal twice and the CIA's highest award, the Distinguished Intelligence Medal, three times. Gates took office on Dec. 18, 2006 as the nation's 22nd defense secretary. When he retired from the post in June, President Obama awarded Secretary Gates the Presidential Medal of Freedom at his farewell ceremony on June 30th. The medal is the highest honor a president can bestow on a civilian. 
"This is a landmark day for William & Mary," said Rector Jeffrey B. Trammell, who leads the William & Mary Board of Visitors. "Secretary Gates has distinguished himself among a long line of William & Mary leaders who served their country with distinction. Washington, Jefferson and others who helped shape both this venerable university and our nation would no doubt be pleased with the choice of this great public servant as our new Chancellor."
"William & Mary also has tremendous affection for Justice O'Connor and gratitude for her service as Chancellor.  Her character and leadership leave an indelible imprint on the College."
A history major as an undergraduate at William & Mary, the accolades and honors for Gates began early in his career. At his graduation ceremony, Gates received the Algernon Sydney Sullivan Award, which is given each year during the College's commencement exercises. Recipients are selected based on characteristics of heart, mind and helpfulness to others. In 2000, the Alumni Association awarded Gates the Alumni Medallion, its highest honor.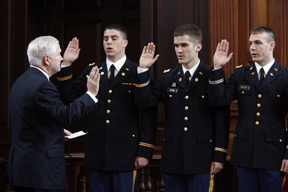 Gates' dedication to service took form during his years at William & Mary. As an undergraduate, he was an active member of Alpha Phi Omega, a service-oriented organization, and served as the group's president during his senior year. While at the College, Gates served as a dormitory manager and helped entering students become acquainted with the College as an orientation aide. Gates was also active in the Young Republicans and served as business manager of the William & Mary Review, a literary and art magazine.
Following his graduation, Gates remained connected to his alma mater. In 1998, he spoke at William & Mary's Charter Day and received an honorary Doctor of Humane Letters. He returned in 2007 to deliver the commencement address and spoke about service and the impact of his W&M education.
"What William & Mary gave me, above all else, was a calling to serve – a sense of duty to community and country that this college has sought to instill in each generation of students for more than 300 years. It is a calling rooted in the history and traditions of this institution," Gates told graduates.
News of the appointment was welcomed by faculty and student leaders.
Faculty Assembly President Todd Mooradian said Gates is a superb choice as the College's next Chancellor. In 2000, Mooradian attended the Alumni Medallion dinner and said he was impressed at the time by Gates' "character, thoughtfulness and humility." At the dinner, Mooradian said, Gates spoke about working his way through college as a bus driver for the local school district, and also about serving the community by leading a local Boy Scout troop while an undergraduate. He said Gates has lifelong connections to William & Mary.
"I think it is terrific that the College has, at this time, named a Chancellor who is of the College in a deep and substantive way," said Mooradian, a professor at the Mason School of Business. 
"In many ways, Mr. Gates exemplifies the best William & Mary has to offer: he is a hard-working man of great integrity, intellect, and humility. He demonstrated then and continues to demonstrate today his resolute commitment to public service. He is appreciative for what he has been given and dedicated to giving back and leaving the world better than he found it."
Student Assembly President Kaveh Sadeghian '12 said the College's Chancellors – whether it be George Washington or Sandra Day O'Connor -- have significantly contributed to and influenced the nation.
"Former Secretary of Defense Bob Gates '65 is no exception," Sadeghian said. "His role as Chancellor showcases William & Mary's rich history and its commitment to tradition. However, his role as an alumnus reminds us that, even with this history, William & Mary remains a relevant, integral, and influential institution in our nation.
"He reminds us that William & Mary students can still do anything, and for that reason, he could not be more qualified for his new role at the College."
A native of Kansas, Gates earned his master's degree in history from Indiana University and his doctorate in Russian and Soviet history from Georgetown University. He and his wife, Becky, have two adult children.