Senate confirms Gates ('65) as U.S. Secretary of Defense
The United States Senate this week confirmed the nomination of William and Mary alumnus Robert Gates as the next U.S. Secretary of Defense. Gates, a member of the Class of 1965, was nominated last month by President George W. Bush to replace Donald Rumsfeld.
Gates was a history major as an undergraduate at the College of William and Mary. He currently serves as president of Texas A&M University in College Station, Texas. He headed the Central Intelligence Agency from 1991-93 and has spent 40 years in public service. In 1998, the College awarded Gates an honorary doctorate of humane letters.
"Bob Gates will very soon remind the country that his life and work reflect his alma mater's tradition of engaged, ennobling public service," said William and Mary President Gene R. Nichol. "His service will add much to the considerable debt the College, and some of our friends in Texas, already owe for his fine leadership."
Bush introduced Gates on November 8 as his nominee to replace Rumsfeld, who stepped down that same day after serving as defense secretary since 2001. Gates, who will officially take office December 18, was unanimously approved by the Senate Armed Services Committee on December 5. The next day, the full Senate confirmed his nomination.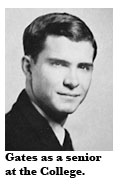 Gates comes to the position with a wealth of experience – both in working with presidential administrations and international affairs. From 1966 to 1993, Gates served in a variety of positions within the CIA and National Security Council – including serving in six presidential administrations in various intelligence posts. He served as deputy director of the CIA under President Ronald Reagan. Gates also served as deputy national security advisory to former President George H.W. Bush during the Gulf War in 1991.
During his time as an undergraduate at William and Mary, Gates was also dedicated to service. He was an active member of Alpha Phi Omega, which is a service oriented organization, and served as the group's president during his senior year. Gates also served as a dormitory manager – which today are called resident advisors – and helped entering students become acquainted to the College as an orientation aide. Gates was also active in Young Republicans and served as the business manager of the William and Mary Review, a literary and art magazine.
During his graduation ceremony, Gates received the Algernon Sydney Sullivan Award, which is given each year during the College's commencement exercises. Recipients are selected based on characteristics of heart, mind, and helpfulness to others. In 2000, the William and Mary Alumni Association awarded with the Alumni Medallion.