W&M bids farewell to Swem's Connie McCarthy
Connie McCarthy, William & Mary's dean of university libraries, is retiring this summer after nearly 13 years at the College. During her tenure, she oversaw the renovation of
Swem Library
, a seven-year project that has resulted in national acclaim as well as rave reviews by students, faculty and staff.
During the
2010 Commencement
ceremony on May 16, McCarthy served as one of three honorary marshals, selected by the Class of 2010.
When announcing the marshals at the Sunday afternoon ceremony, President Taylor Reveley took the opportunity to praise McCarthy.
"Connie's commitment to academic excellence and her knowledge of what makes great libraries tick have served us extraordinarily well," he said. "Dean McCarthy, we will miss you."
A celebrated career
McCarthy's career at the College was celebrated recently with a reception in the Botetourt Gallery of the library, where former and current colleagues, board members, faculty, students and friends gathered to sing the praises of the retiring dean.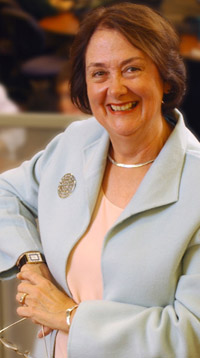 "Great universities have great libraries, and great libraries have great leaders," said
Provost Michael Halleran
. "William & Mary has been unusually fortunate to have Connie McCarthy as dean of its university libraries for the past 13 years. Her vision, dedication, persistence, attention to detail and unflagging commitment to the possibilities of Swem have benefitted hundreds of faculty and thousands of students."
Former Provost Geoff Feiss echoed Halleran's sentiments in a message he sent to be read at the gathering.
"Through it all, Connie was wise, firm and creative and never ever - well, to quote Gilbert and Sullivan, 'hardly ever' - lost her marvelous Irish sense of humor," Feiss wrote. "Connie had an unerring eye for talent, a generous spirit that allowed her to nurture and develop her staff, high standards for herself and those who worked for her, an amazing ability to raise private dollars and a fierce protective instinct when it came to the College's libraries. She was always the advocate, as the dean of libraries must be, with a centrality of a research library at a great university. She taught me a lot."
Virginia McLaughlin
, dean of the
School of Education
, said she would miss McCarthy as both a colleague and a friend.
"As a colleague, I have deeply appreciated Connie's leadership, on and off campus," she said. "She has such a quiet, humble, not self-promoting style that most of us are probably not aware of her full sphere of influence."
McLaughlin, who is overseeing the construction of a new School of Education building, also praised McCarthy's work on the library renovation project.
"Connie, of course, will be remembered for kicking off the William & Mary academic building boom of this 21st century, and for that we are most grateful - some of us, especially so," she said. "The renovation and expansion of Swem Library truly demonstrated how facilities can make a profound difference in the quality of academic life. Having enough space, having inviting space, has truly transformed Swem Library into a hub, a center of activity for students, faculty and the community as a whole."
McCarthy did not just focus all of her energies on the Swem building. She also sought to look after the people who made up the heart of the library.
"Over her time at Swem, she has fought for positions and compensation," said Deloris Thomas, assistant to the dean of university libraries. "Soon after her arrival, desk audits were done for all the operations staff that resulted in position upgrades. Her work on the review of salaries for librarians brought about benchmark adjustments. Also, Connie has made professional development a priority and available for all staff by designating funds for conference participation and encouraging staff to participate by making presentations."
Thomas said that Swem staff members are "all happy to claim Swem as home."
"We have a lovely place to work, and (McCarthy) led this effort, which benefits all," she said.
Building Swem
After working at three other libraries, McCarthy came to William & Mary in 1996 as the major renovation and expansion of Swem was about to begin. The project added more than 100,000 square feet to the facility, including 34,000 linear feet in collection capacity, 792 spaces in seating capacity, an information commons and the new Warren E. Burger Special Collections Wing.
McCarthy views the project as one of her greatest accomplishments at the College.
"It was a challenging construction project with many up and downs and challenges, and I think the fact that we've ended up with a really beautiful building that the students love and are engaged in and has delivered our services so well after five years is really a tribute to all of the people across campus who worked to make it happen," she said.
Now, five years after the completion of the project, the library is starting to focus its resources on maintenance and upkeep. McCarthy thinks that the lessons they learned during the renovation have been brought to other building projects both at William & Mary and on other college campuses around the country.
"I do think that going through this project, which was the biggest project since William & Mary Hall, we kind of paved the way for the future renovation projects that have now been happening since 2005," she said. "The campus, I think, is better staffed now, has better procedures in place to really handle major building projects, and I think a lot of those lessons were learned with the library project."
Beyond construction
But McCarthy's work at William & Mary has been about more than just construction. She served as the program director of a summer abroad program to Galway, Ireland, taught a six-week
Christopher Wren
course at William & Mary, and served as an adjunct faculty member at The Catholic University of America. McCarthy has also served on numerous groups and committees, including the
Women's Network's
executive committee.
During McCarthy's tenure as dean, the library has blossomed into one of the most popular places on campus for both studying and socializing.
"It's been fun to watch the creativity of staff, students and faculty and establish an environment that's welcoming, adaptive and works," she said. "Who knew that the disco 'Club Swem' would be a hit with 1,200 students dancing on a Friday night?"
Along with being a social hive, the library has become "one of the intellectual centers on campus."
"It's for all departments. It's for all areas. It's for all levels of students," said McCarthy, whose daughter graduated from the College in 2002. "Some institutions have undergraduate libraries and graduate libraries. This is the major library for campus and so we really support all the intellectual endeavors from the undergrad through the graduate schools and for faculty members, too."
Throughout her career, McCarthy has always sought to encourage collaboration, both on campus and beyond.
"My whole career has been really in building collections and building collaborative relationships so that we can share those collections and maximize our resources," said McCarthy. "It's a great benefit to be in a state that has tremendous library resources such as UVA and Virginia Tech and who share freely those resources among us.
"You cannot expect any library to be comprehensive anymore, and I think William & Mary's library is a great benefit when it really aligns itself with the academic programs and has materials or has access to materials that faculty and students need for their research and teaching."
Under McCarthy's leadership, Swem Library has won national acclaim. In 2009, Swem was ranked seventh in the category of "Best College Library" by Princeton Review, and the library reported its best fundraising year ever, surpassing $5 million in private support.
"Private fundraising has been very, very important for Swem Library," said McCarthy. "We've worked hard at that and have really seen some of the benefits of that."
What a library can be
The dean said that she hopes all of her work - and the work of Swem's staff - has demonstrated "what a library can be."
"We have moved beyond the stereotypical vision of the library as well as the assumption that the library will always provide," she said. "What we have and what we do is critical to the success of our students. We have to hustle and strut our stuff to make others understand the new Swem."
As she leaves, she will take a watercolor painting of Swem, which matches one in the library's lobby, to always remind her of the place she helped build. Along with all that she has given to the campus, she also leaves her name by the front door, now the "Connie Kearns McCarthy Entrance," a gift from library donors and former members of the Swem Board of Directors.
In thanking all of her friends and colleagues during the reception, McCarthy quoted a former Board member, who called the library "a magical place."
"And 'tis," she said. "Now I'm ready to observe you all meet the next great challenges as I sip my morning coffee and leisurely read the morning papers."