Dean of university libraries to retire in 2010
Connie Kearns McCarthy, dean of university libraries for the College of William and Mary, will retire in June 2010, she announced this week.
"Connie McCarthy has served William & Mary splendidly over the past dozen years as dean of our university library system," said William & Mary President Taylor Reveley. "Under her leadership, our
Earl Gregg Swem Library
has advanced on all fronts, including a massive transformation of its physical being. As a resource for research, teaching, study and community, Swem Library is truly a gem. So is Connie. She will be missed enormously."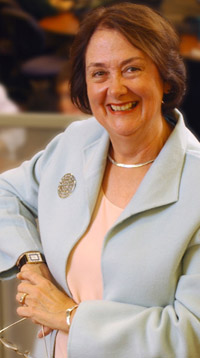 Swem has enjoyed a run of success under McCarthy's stewardship. Earlier this year, Swem was ranked seventh in the category of "Best College Library" by Princeton Review. Additionally this year, the library reported its best fundraising year ever, surpassing $5 million in private support. In 2005, library completed a major renovation and expansion that added more than 100,000 square feet to the facility, including 34,000 linear feet in collection capacity, 792 spaces in seating capacity, an information commons and the new Warren E. Burger Special Collections Wing.
"When I came to W&M 12 years ago, the challenge was to build the new Swem," McCarthy said in a message to Swem employees.  "We have built it and they have come. It is now time for the next Dean of University Libraries to take Swem to the next level, to develop strategies to deal with the opportunities and challenges that lie ahead. I look forward to working with you in the coming months to build the framework for that next level of excellence."
McCarthy received her undergraduate degree from Dominican University and her master's degree in library science from Catholic University of America. She began her career as a cataloger for the Folger Shakespeare Library in Washington D.C. She then went on to work at George Washington University for 16 years, serving as a cataloger, head of the acquisitions department, collection manager coordinator, acting university librarian and assistant university librarian for collections. Before coming to William & Mary, she worked at Duke University for 10 years, first as the assistant university librarian and then as the associate university librarian.
Throughout her career, McCarthy has served on a number of professional boards and committees, including: the National Museum of Women in the Arts' Library and Research Center Advisory Board, the Southeastern Library Network's Board of Directors, the Virtual Library of Virginia's Steering Committee, the Library of Virginia's Library Services and Technology Act Advisory Committee and the Association of Southeastern Research Libraries. Additionally, McCarthy participated in the UCLA Senior Fellow Program, and she held a number of leadership positions in divisions of the American Library Association, including the Association of College and Research Libraries, Association of Library Collections and Technical Services and Resources and Technical Services Division.
At William & Mary, McCarthy has served in numerous capacities, including as the program director of a summer abroad program to Galway, Ireland. She has also been a part of various William & Mary groups and organizations, including the Women's Network's executive committee. Also skilled as an instructor, McCarthy taught a six-week Christopher Wren Course at William & Mary and served as an adjunct faculty member at Catholic University of America.
Provost Michael Halleran will appoint a committee of faculty, staff and students to conduct the search for McCarthy's successor.
"We all owe Connie McCarthy a great debt," Halleran said.  "From a successful building expansion to growth in technology to providing our students, faculty and staff with a library that plays a vital role in the educational experience, she has contributed mightily to William & Mary during her tenure."