For Vivian Henderson '92, life in public service is its own reward
Vivian Brown Henderson '92 has spent the last 14 years serving the Commonwealth of Virginia, as both an assistant commonwealth's attorney and an assistant attorney general. To those who knew her at the College of William and Mary, this can hardly come as a surprise. As soon as she arrived on campus, Henderson set out to improvethe world around her.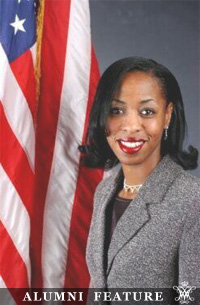 "I joined a community service sorority, Zeta Phi Beta," she says, "We were always doing community service projects in Williamsburg, at the local schools. In fact, my senior year I was awarded the Benjamin Stoddart Ewell Community Service Award. It was for the number of service projects I coordinated as well as participated in while I was there."
The Student Assembly established the Ewell Award in 1987, and every spring it is awarded to well-rounded graduating students who best exemplify a liberal arts education through their activities and academic studies. As a Virginia Beach, Va. native, William and Mary was Henderson's top choice for school growing up, although she had to deal with her brother beating her to the punch.
"I'm the youngest in my family, and I have an older brother," she says. "I had always wanted to go to William and Mary, and then he decided to go, making it look as if I was following him!"
Having to share the William and Mary limelight with her brother did not slow Henderson down, however.
"It was awesome!" she says with a laugh. "The perfect distance away from home, not too far and not too close."
Henderson never had any doubt about where she wanted her education and career to take her. She majored in Psychology at William and Mary, which she saw as a stepping stone into a legal career.
"Originally I thought I was going to pursue a career in industrial psychology and combine that with corporate law," she says, "But after exploring that in law school, I realized I wanted to be a litigator."
But even after the change in planned career path, Henderson still says that she values the foundation that her psychology major provided her.
"Any major that requires you to think a lot and write a lot is going to be the best possible prep for law school," she says, "But law school is its own animal."
After earning her J.D. at Regent University in 1996, Henderson moved right into the public sector, but had some brief hesitation before getting into criminal prosecution.
"My third year I did an externship with Legal Aid … I wanted to help those without a voice. Unfortunately that year they downsized," she says. "After my externship ended at Legal Aid, we had a visit from the commonwealth's attorney's office in Portsmouth, Va., they came over and talked about prosecution."
Henderson had not considered prosecution up until that point, but the Commonwealth's Attorney's office invited her to visit. "Because I had my third year practice certificate, they welcomed me on as an intern, and invited me to try some cases," she recalled. "So I went over and started doing just that, and the same day that I found out that I passed the bar, they offered me a job. And that's how I started at the commonwealth's attorney's office."
She never looked back. "What I'm doing is not just a feel-good position, it's purposeful. It fits me." Henderson did not start off slow, instead she was immediately put in the felonies division. "I handled anything that my team leader assigned to me," she says. "I remember that probably within my first six to nine months I was sitting second chair on a homicide."
Henderson alternated between working at the commonwealth's attorney's office in Portsmouth and the commonwealth's attorney's office in Virginia Beach until 2001, when she accepted a position with the attorney general of Virginia. Working in the field of criminal justice provides Henderson with a unique insight into human society. It was while she was working for the attorney general's office that Medicaid fraud spiked, a reflection of the ongoing recession.
"There was a significant increase (in Medicaid fraud), because if a person thinks they can get away with a little bit, they'll try for a little bit more, then a little bit more," she says. "Last year, Virginia lost $39 million in Medicaid funds to fraud. That's a lot."
Henderson returned to prosecution in the Office of the Commonwealth's Attorney for Virginia Beach in 2010, but for all of her experience in criminal justice she still has not become jaded. "There are still things that shock my senses, even after being in this line of work for so long," she says. But she understands the importance of what she does. "Recognizing the need for competent, skilled attorneys on both sides will help you deal with that. That's why I can sleep at night, knowing that I am part of system that works."
But despite all the hard work, Henderson still finds the time to give back to her community. She is a youth ministry leader at her church and an adjunct professor at both Averett University and Bryant and Stratton College, where she teaches a variety of legal courses.
Henderson finds this kind of work extremely rewarding. As she puts it, "I'm able to encourage and empower our young people … recognizing that if you get them focused on doing something positive, you minimize the likelihood that I or one of my colleagues will see them in court."
Of course, like many William and Mary alumni, she does have one major outstanding complaint with her alma mater. "It was disheartening to me when they took our feathers away," she says with a laugh, "But I still wear my feathers. I'm not playing sports in the NCAA, so they can't tell me I can't wear them. Tribe Pride: I got it!"