On top of the world: Pierson ('99) tackles Mount Everest
The following story on Doug Pierson (M.B.A. '99) originally ran in the Winter 2008 edition of the William & Mary Alumni Magazine. -Ed
Doug Pierson M.B.A. '99 may very well be the only William and Mary alumnus who has reached the peak of Mount Everest. The endurance, strength and lung capacity necessary to accomplish the feat are bestowed on a select few and, in fact, only around 3,000 people have actually summited. Pierson now has a story that his children will pass on to their children -- an unforgettable experience climbing the tallest mountain on this earth.

"I think maybe it's the personal challenge, the self-fulfillment or the ability to go and do something that only 3,000 other people have ever accomplished," he says.

On March 29, 2008, Pierson began his journey in Kathmandu, Nepal, reaching the summit on May 21 at 6:40 a.m. It took the team another six days to climb back down to Base Camp and return to Kathmandu.

When Pierson was 3 years old, his father taught him how to climb trees in a local park. "To this day, I still remember him teaching me one of the hallmarks of climbing rules, which is true almost every time," says Pierson. "The way you go up is the way you go down." When he was 11, his godfather took him on wall climbs in the Poconos of Pennsylvania. "That's where I learned much about the specifics of technical climbing and to believe steadfastly in always putting safety first. Their rules, instruction and guidance helped forge me into the climber that I am today."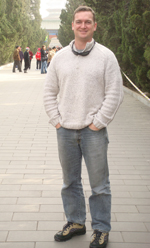 Although he has been climbing for years, highlights of his journeys include Mount McKinley, and multiple ascents on Pacific Northwest volcanoes like Mount Rainier. "My favorite climb memories include a 30-hour speed ascent on Mount Olympus, which involved a 47-mile round trip, and winter Mount Fuji climbs in negative 47-degree winds," says Pierson.

Pierson graduated from Ohio Wesleyan with a degree in politics and government with two minors: zoology and humanities. "What I thought I could do with that combination at the time is beyond me," says Pierson. After graduation he went on active duty with the United States Marine Corps and spent several months training at Little Creek Amphibious Base in Virginia Beach, Va., at the same time that his sister was a William and Mary undergrad.

"Every time I drove up to visit her, I found myself on the walkways even more drawn to the College," says Pierson. "So when I decided to leave active duty, an M.B.A. at William and Mary was the only way to go. It was the only school I applied to, and I was extremely happy when I was accepted as a member of the Class of 1999."

Immediately after graduating from William and Mary, Pierson and one of his college fraternity brothers backpacked through Southeast Asia for six weeks. After touring Asia, he returned to the States and joined the consulting arm of PricewaterhouseCoopers, which would become IBM Global Business Services in 2002. For several years he knew that he wanted to hike Everest and so climbed other mountains in order to prepare for the altitude adjustment and the mountaineering skills required to hike the glaciated peaks. He did this by spending time in the Cascades and on Mount Rainier. In 2005, he climbed Mount McKinley with a team that moved incredibly fast to the 20,320-foot summit. Early in 2007, he was accepted into the Seattle Mountain Rescue program where he learned an entirely new set of mountaineering skills.

"The last piece for me was technical rescue techniques, and a greater understanding of what to do in a mountaineering emergency should it occur on the mountain," he says. "Once I felt confident in these areas, I knew that I was technically and physically ready to tackle Everest." In March 2008, he left for Nepal.

Climbing Everest is not only difficult physically and mentally, but it is also a financial investment. For those not native to Nepal, there are permit fees and surcharges that typically cost around $15,000 per climber. From there, costs vary based on the climber's level of support and equipment. The trip can get very expensive, very quickly, says Pierson. "I was fortunate in being able to secure generous sponsorships and discounts, which helped to incrementally drop the money I paid for the trip." The average climber pays in the neighborhood of $35,000 to $100,000 depending on factors such as Sherpas, oxygen and food necessary for the two-month expedition.

The process of getting to the summit is not a straight shot and involves climbing higher from one camp to the next, and then returning lower regularly to allow your body to recover and reenergize itself. [See sidebar.] In this way, climbers build up a higher concentration of oxygen-carrying red blood cells while allowing their bodies to recover, regain appetite, and prepare for the next foray up the mountain.

And Pierson saw the effects of this process firsthand: "The first trip we took up into the Khumbu Icefall was to a spot only 300 vertical feet higher than Base Camp and it took three hours to make it there," he says. "By the time we were headed out on our summit push, it only took 20 minutes to pass that spot. After eight trips up on the mountain, our team climbed 40,675 feet to make the summit."

For Pierson, the thrill of completing the task sometimes overwhelmed the enjoyment of it. "If there is anything I would do differently, it would be to focus more closely on enjoying my time up above the South Col and pay closer attention to special places that I only saw twice -- once on the way up, once on the way down," he says. "One example of this is the Hillary Step, which I have read about since I was a child and was so excited to actually climb that I was up and over it before I even realized what I had just done."

Regardless, when he made it to the top, he was inspired by the view and wished his father was there to share it with him. The man who had trained him all those years before would be waiting for him back in Kathmandu. Since the journey, he has held several items close to him -- his ice axe, crampons, watch and other high performance equipment. He also brought several flags with him and collected rocks 30 feet from the summit for himself and others. He even brought a Seattle Seahawks football, which he painstakingly inflated in the thin summit air. Pierson will present the football to the team at a special ceremony.

Now that he has tackled the world's tallest mountain, where does Pierson plan to go from here? "I'll never tell," he says, "but stay tuned."