McLaughlin ('71) and Mims ('79) tapped for statewide positions
Two William & Mary alums got big nods of approval this week from two of the state's top officials.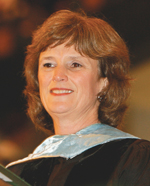 Virginia McLaughlin
('71), the dean of William & Mary's
School of Education
, was appointed Feb. 2 by Gov. Timothy M. Kaine to serve on the Virginia Board of Education.
The following day, W&M alumnus Bill Mims ('79) was recommended by Attorney General Bob McDonnell to take over in Richmond as the state's top legal counsel. McDonnell announced Feb. 3 he was resigning from office to run for governor. Mims has served the past three years as McDonnell's chief deputy.
"Ginnie McLaughlin and Bill Mims are two very bright stars in William & Mary's constellation, and two devoted servants of the Commonwealth," said William & Mary president Taylor Reveley. "Ginnie will bring an enormous amount of experience and wisdom to the State Board of Education, as Bill will to the post of Attorney General."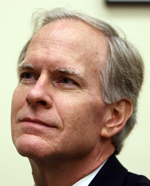 McLaughlin earned her undergraduate degree in psychology from William & Mary in 1971. She earned her master's degree from Peabody College at Vanderbilt and her doctorate from Memphis State University. She returned to William and Mary in 1983 as an assistant professor, and in 1995, she became dean of the School of Education.
In her position with the Board of Education, McLaughlin will help with the oversight of Virginia's public school system, establish educational objectives such as the Standard of Learning tests, make annual reports to the governor and General Assembly on the condition and needs of public schools, and approve instructional materials for use in schools.
"I am very honored to have been appointed by Governor Kaine to the Board of Education," said McLaughlin. "Having spent my entire career in public education, I can think of no greater challenge--and opportunity--than serving on the state Board of Education." 
She added, "As dean of a school of education, I have always had one foot in higher education and the other in P-12 schools. I hope that my background will enable me to contribute unique perspective to the Board." 
Mims earned his undergraduate degree in history from William & Mary in 1979. While at the College, he served as the president of the student body. He also did graduate work in American Politics and Public Administration at William & Mary. Mims went on to earn his juris doctor degree from George Washington University and his master of laws degree from Georgetown University.
Before taking his current position in 1995, Mims served in the Virginia House of Delegates from 1992 to 1997 and in the Virginia Senate from 1998 to 2005, representing the 33rd District (parts of Loudon and Fairfax counties). McDonnell's recommendation will now go to Gov. Kaine and the General Assembly for approval.
"There is not a single person more qualified, or more prepared, to serve as Attorney General than Bill," McDonnell said in his farewell address. "I've known a lot of people in public life. I've known few as principled, decent and smart as Bill. I am confident that the General Assembly will approve his appointment, and I know this Office will be in the best of hands under his leadership."