From green and gold to red, white and blue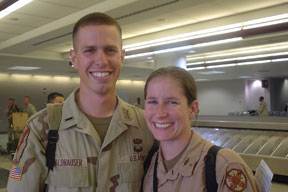 Theirs is a William and Mary love story -- but with a different kind of epilogue.
Kris and Alyssa Waldhauser ('00) met their freshman year during Army ROTC orientation and dated while going through the program together. Like many College couples, they married shortly after graduating. But unlike many others, the two soon found themselves deployed to Iraq at the same time, where Kris led a platoon as a tank commander and Alyssa flew wounded soldiers to receive care as a medical evacuation helicopter pilot.
Through everything -- from classrooms to combat zones -- they leaned on each other.
"Kris was my sanity through it all," Alyssa said. "Even through ROTC when I thought it was hard and before I got reality, he was my rock and what kept me sane. Writing to him everyday was about the only thing that kept me in the game. I wrote him a novel every day. English was my major and it was very, very obvious."
Though the Waldhausers may be unique in the fact that they went to war simultaneously, they are just two recent additions to a long line of William and Mary alumni who have chosen to serve in the U.S. military.
Because the College of William and Mary is the second-oldest college in the United States, students from the College have been serving in the military since before the country was officially founded.
During the American Revolution, several students and faculty members from the College joined militia companies organized around Williamsburg. Eventually, in 1777, the students formed a College company, and then-president James Madison served as its captain.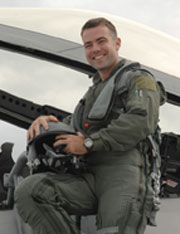 In the early 1800s, a student named Winfield Scott attended classes at the College. Scott went on to command forces in the War of 1812, the Black Hawk War and the Mexican-American War. At the start of the American Civil War, while William and Mary's president, most professors and nearly all its students entered the Confederate army, Scott served as general-in-chief of the Union army. He also authored the "Anaconda Plan," which helped the Union army defeat the Confederacy. With a military career lasting from 1814 to1861, Scott still holds the title today of longest serving general in U.S. military history.
In recent years, William and Mary graduates continue to hold top positions in the military. For instance, Gen. David McKiernan ('72), who completed the ROTC program at the College, served as the commanding general of the Third U.S. Army, Coalition Forces Land Component Command in the Middle East. He oversaw the 2003 ground war against Saddam Hussein and the Iraqi regime as part of Operation Iraqi Freedom. Currently, he is serving as the commanding general of U.S. Army Europe and 7th Army.
In addition to McKiernan, dozens of other William and Mary graduates have served during the recent operations in Iraq and Afghanistan. One such graduate, Marine 1st Lt. Donald "Ryan" McGlothlin ('01), was serving in Iraq in November 2005 when he was killed in action. He is the only known William and Mary graduate to have died in the engagement.
Currently, the U.S. Air Force has about 24 William and Mary alumni serving in its ranks. The other services could not provide numbers. However, of the 34 officers who graduated from the College's Army ROTC program in the last three years, at least 10 have completed combat tours, said Army Lt. Col. Rick Monahan, chair of William and Mary's military science department.
Earlier this year, 12 ROTC cadets from the College's program, which also includes some students from Christopher Newport University, were commissioned. Their commissioning was affirmed in special a ceremony hosted by Robert Gates ('65), the current U.S. secretary of defense and a William and Mary graduate. Of those dozen officers, 10 were expected to see combat service in Operations Enduring or Iraqi Freedom within their first 24 months of service, Monahan said. In May of 2008, 10 ROTC cadets are expected to be commissioned with all but one entering active duty.
"These young men and women who step forward to become Army officers are truly special people. With their credentials they could do anything they want after college, but they have chosen to answer their nation's call to serve," said Monahan. "They know they are volunteering to lead in a time of war, and that they will be in that war. Some of our recent graduates are in the middle of some of the most intense fighting going on in Iraq."
One recent William and Mary graduate is serving just miles from his alma mater. Chuck Wilson ('00), a captain the U.S. Air Force, is stationed at Langley Air Force Base in Hampton, Va., where he flies one of the most advanced fighter aircraft in the world as an F-22A Raptor pilot. He also is in charge of coordinating schedules for the 27th Fighter Squadron, the first operational F-22 fighter squadron in the world.
Unlike the Waldhausers, Wilson did not go through the ROTC program and, only thought about joining the military during his senior year.
"I always wanted to do something to help out the country, whether that's be in the Air Force, like I am now, or be in some other government agency," said Wilson, who majored in physical chemistry. "This is something that seemed like a good fit."
Wilson, whose work contributed to the success of his squadron's first-ever deployment to Kadena Air Base, Japan, credits his time at William and Mary for honing skills he uses in his current position, including how to put in more effort than is expected.
"If you want to succeed in the coursework at William and Mary, you have to go the extra mile," he said. "You have to go to the professors and ask, 'What can I do to help myself out?'"
But Wilson said most of what he uses now was learned as a member of William and Mary's baseball team for four years.
"When we're out there flying around and doing these missions, we're in a single-seat aircraft, so you are part of a team operating with a coordinated plan on a common goal but you're still kind of by yourself," he said. "It's very similar to baseball. You've got nine guys standing out there who are kind of separated but working on a common game plan. You know what the other guys are going to do because that's how you practiced."
Like Wilson, the Waldhausers also said that their experience at the College helped them prepare for their duties as military officers.
"William and Mary taught me that I wasn't as smart as I thought I was. Everyone I met had the same credentials, so I had to really try harder to stand out in that crowd," said Alyssa. "When you get to the Army, it's a whole new set of challenges. ROTC with its field training and its solid leadership prepared me for the overarching principles of the Army. The academic segment of William and Mary prepared me for the critical thinking skills and being quick on my feet that I need for leadership in the Army."
Kris and Alyssa each deployed twice to Iraq between 2004 and 2006, both times within months of each other. Though they found themselves in the same country for months at the same time, they were never stationed together. They were able to meet a few times, once even in one of Sudaam Hussein's old palaces for a unique mini-vacation. However, most of their time was spent in different areas, doing equally dangerous jobs. As they heard about attacks and casualties in the area where the other was working, they spent painful hours or days wondering if their spouse was okay. Despite the apparent hardship of their situation, the couple said it actually brought them closer.
"I don't think our relationship could ever be stronger than it is," said Kris. "We've dealt with a lot of hardship, and there were countless occasions when we thought the other was dead or seriously hurt. Everything else is easy now."
Kris has now finished his commitment to the active Army and currently serves as a member of the Alabama Army National Guard. Alyssa has a few years left before she plans on separating from the service. Both say they will always look back with pride on their service in the military.
"I will always be proud of what I've done," said Kris. "Political beliefs aside, whether I think it's right or wrong, I will always be proud of the fact that I signed up to do whatever the country said needed to happen at the time and what our leaders said needed to happen."
"I've carried a guy who's now a spokesman for double amputees, and I'll always remember that some of those guys would not be home with their families if I hadn't been there to answer the call," said Alyssa. "You meet some really great people in the Army because they come from all sorts of backgrounds and experiences. You take what you like, learn from what you don't. I think it's made me more respectful of life in general and more appreciative of every little thing."