Excellence and compassion: Buck welcomes freshmen

Standing in front of the storied Sir Christopher Wren Building on Sept. 5, keynote convocation speaker Warren Buck ('76) peered into the future and envisioned members of the incoming Class of 2010 being prepared by their undergraduate experiences to win Pulitzer, Nobel and McArthur prizes.
At the College, "you will meet scholars who will help you generate new ideas never before dreamed," he said. "You will meet folks who really think outside the box, make the box bigger and make new boxes."
Yet, he cautioned the freshmen: "As you strive for that excellence on one hand, hold self-compassion in the other hand, because compassion for others is born from your self-compassion."
Buck, a former chancellor of the University of Washington, Bothell, and a prominent physicist, was, as a graduate student at the College, thrown into the midst of a radical climate that ultimately saw him found the Black Student Organization and contribute to the realization of inclusiveness on campus. In one of his direct challenges, he called on students to "help eliminate the strife, the ignorance and misery that creates hatred, disease, hunger, and teach us all how to embrace our diversity and live more peacefully and healthily."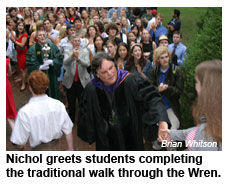 Repeatedly Buck referred to the Wren Building in his speech, citing the "students and scholars and politicians of all ilks" who have passed through its halls seeking wisdom in efforts to build a strong nation. "But make no mistake," Buck said, "it is just a building. It is you who keep it alive. … It is you, our next generation, who must take the baton we pass and make something of it—make it better, make it healthier, make it more inclusive."
Opening the ceremony, President Gene Nichol introduced Buck as a "catalytic force" who, following his graduation from the College, went on to start the doctorate program in physics at Hampton University and helped transform the University of Washington at Bothell from an idea into a reality.
"Each year we try to select a convocation speaker who will remind you why you chose this place and make you proud that you did," Nichol said. "We have, given those orders, struck gold—or perhaps green and gold," he said, referring to Buck as a "path-breaking activist," as one of Bill Nye's "Way-Cool Scientists" and as a "son of the College."
Following Buck's comments, Nichol introduced recipients of the President's Awards for Service. Karen Berquist, library specialist with Swem Libraries, and Jessica (Efe) Foster were the staff and student winners respectively.
Nichol then issued his own challenge to the incoming class. "The College of William and Mary was a national treasure even before there was a nation to treasure it," he said. "It cannot be happenstance that for well over three centuries this College has lifted the sights, emboldened the spirits, honed the skills, fashioned the character and opened the heart of generations of the most gifted young Americans.
"That tradition, visible in your eyes, continues this afternoon," he said.
Nichol called upon the new students to use the College to help expand their "sense of the possible." Citing accomplishments already achieved by members of what he called "perhaps the most diverse and most accomplished entering group in the College's long history," he acknowledged that their "talents are large," their "accomplishments worthy," their "aspirations pronounced" and their "commitment sustained."
"We know beyond doubt that you are immensely capable," he said. "What remains to be seen is what you do with those heady talents. I, for one, am anxious to watch those stories unfold."