To See the African Diaspora in One Family's Reza Tradition
No one now remembers why Anna Vieira dos Santos (1895-1933) began her yearly reza devotion to St. Roque, a French ascetic healed from illness when a dog licked his wounds. Her daughter Maria, a young teenager when her mother died, continued the celebration – integrating for two decades the practice of possession by ancestral deities – and family members continue the reza to this day.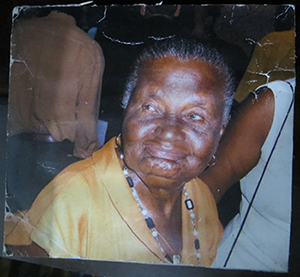 The reza (lit. "prayer") is common throughout the majority Afro-Brazilian maritime region known as the Recôncavo, according to Michael Iyanaga, assistant professor of Music and Latin American Studies. "While the tradition is unambiguously Catholic, it is infused with historical links to Africa and adaptations made by enslaved Africans and their descendants in Brazil."
"For the festivities, devotees open up their homes to the community and feast together, sing and perform music, and dance samba to honor their patron saints. These musico-devotional practices are often handed down from one generation to the next, like family heirlooms, making the celebration of the saint simultaneously a celebration of the family's own history."
This past summer, funded in part by the Arts & Sciences Annual Fund, Iyanaga returned to Brazil to continue uncovering details about the reza traditions of Anna's family.
"We would sit together and look at family photos, and talk about their memories," said Iyanaga. "Maria, for example, is remembered as a tough woman, and also a partier. She loved her samba! It was 'Tia Marinha' who would tell her children and her nieces about the family history."
The family roots of many Black Brazilians are in central Africa, where Catholicism was well established before the African Diaspora and deeply intertwined with African faith and traditions. This dual heritage was exported to the Americas during the Diaspora, and Iyanaga finds traces of both traditions in the reza.
For Iyanaga, the reza story represents a kind of microhistory informing the extensive archival research he has undertaken for his planned book, Family Roots as Atlantic Routes: Hearing Silenced Histories of Africa in a Catholic Saint Devotion in Bahia, Brazil.
"The book explores how these family devotions weave together local memories with broad Afro-Atlantic histories," said Iyanaga. "The details of this family's particular story make all the bigger ideas visible, and make the history available and accessible and interesting. I'm constructing my narrative and perspective together with Anna's descendants, rather than about them."
Through his book, Iyanaga will provide answers to these questions: How can a family's reza musically (or otherwise) embody its multiple historical lineages? In what ways can a single family's history help personalize and articulate seemingly disparate macro Atlantic histories? How can the study of an annual rite for a Catholic saint reveal unofficial histories of enslaved Africans and their descendants? He plans to complete the manuscript in 2022.