Student Composers End Semester with Weekend "Laboratory" Experience
Ten undergraduate student composers ended their Spring 2017 semester with a three-day Composers Laboratory, joining with faculty and the guest ensemble Mind on Fire to workshop and then present their original compositions in concert.
The laboratory took place the weekend of April 28-30 and was initiated and directed by Music Professors Christopher DeLaurenti and David Dominique. Mind on Fire is a chamber ensemble, based in Baltimore, that performs the works of living composers of notated music. The laboratory weekend was funded in part by the Arts & Sciences Annual Fund, which helps to extend academic opportunities for students and faculty.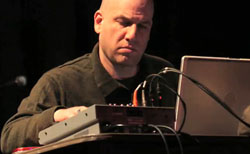 "A composers laboratory is an informal, exploratory setting where musicians, composers, improvisors, and listeners explore provocative performance, recent music, contemporary sound, and adventurous listening," said Prof. DeLaurenti. "It's an immersive way for our students to experiment with their original works alongside experienced musicians."
A total of ten W&M undergraduates wrote original compositions that were workshopped in professional-style rehearsals by Mind on Fire. The guest ensemble gave a presentation about music entrepreneurship in the field of contemporary music composition, and everyone participated throughout the weekend in one-on-one critique and revision of the student-written pieces.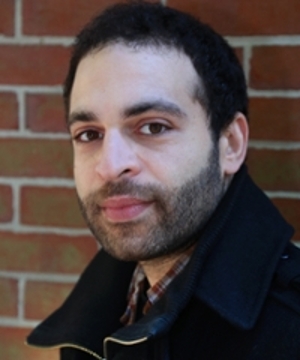 "The students were scrupulous in preparing performance materials such as scores, personalized instruments, and technology," according to Prof. Dominique. "They also concretized abstract dramatic and formal concepts through rehearsals, and received constructive critique of their pieces."
All participants collaborated to produce a capstone Sunday evening concert, held at Ewell Recital Hall, with Mind of Fire members performing the students' revised compositions.
How did it go? "Students were enthusiastic about their creative and critical growth, and their intention to continue refining their personal musical expression," said Dominique. 
Professors DeLaurenti and Dominique hope to build on the laboratory's success, with the prospect that it will become an annual end-of-year event. 
Students and Their Compositions
Adam Carty '17, "EuroPower"
Harrison Feiner '19, "Sheerface"
Allison Greenday '19, "April Jewels"
Megan Man '18, "Morning Light"
Daniel Martchek '18, "Archipelago"
Abner Mondoloka '18, "Three"
Tommy Papas '18, "I don't call my mother enough"
Ben Powell '18, "Good Night"
Luke Rychlik '20, "Avril"
Amy Squire '18, "Louise"