W&M Public Policy Director Shares Insights about the Program's Past, Present, and Future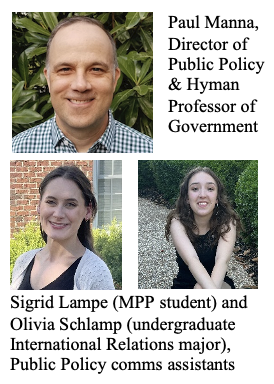 Recently, Paul Manna, the Director of W&M Public Policy and Hyman Professor of Government, sat down with Sigrid Lampe (MPP '24) and Olivia Schlamp (BA '26), Public Policy communications assistants, for a podcast discussion about the program. The wide-ranging conversation covered many topics including the undergraduate and graduate program's curriculum, faculty, and efforts to support its students.  
Click here to listen to the discussion.