W&M Public Policy at the NATO Youth Summit

The W&M Public Policy Program was a proud co-sponsor of this year's NATO Youth Summit, jointly organized by William & Mary and NATO. The event occurred virtually and also in person in Brussels and Washington, DC, focusing on the theme "NexGen Freedom & Security." Panels covered a broad array of topics including disinformation, hybrid threats, and resilience, and the implications these issues have for the future of NATO and global security. 
Alums and current students from Public Policy participated and learned a great deal in the process. Divya Mathew, a Master's in Public Policy alum (Class of 2019) and currently a Senior Policy Specialist at AidData at William & Mary, moderated one of the panels focusing on how data can provide leverage for strengthening democracy and security around the world.
Delharty Manson, II, a member of the Class of 2022 who now works as a Program Assistant at the Atlantic Council Forward Defense Practice, was one of two Public Policy delegates at the conference. He posed this question during the event: "How has NATO been preparing for the impacts of climate change?"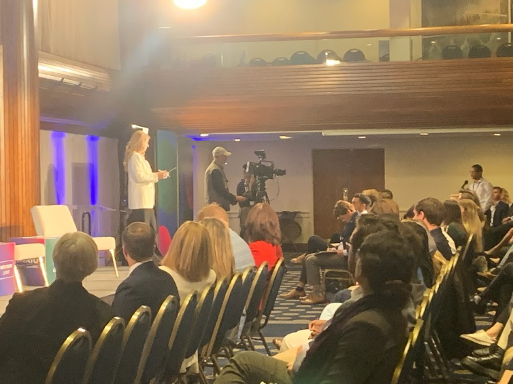 Bridget O'Keefe was the other Public Policy delegate at the summit. She's a current double major in Public Policy and Integrative Conservation at William & Mary. You can read her reflection below about her experience and the wide range of topics the conference addressed. 
Public Policy was so glad to help co-sponsor this event and work with our friends in the Whole of Government Center of Excellence to make it a terrific learning opportunity for our current students and program alums. 
Reflection from Bridget O'Keefe, Public Policy Student Delegate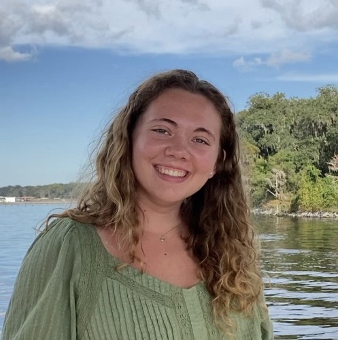 On June 5th, I had the opportunity to join the 2023 NATO Youth Summit, co-hosted by William & Mary and NATO. It was an incredible honor to attend as a delegate in Washington D.C.  
The Summit consisted of multiple discussions and presentations, with opportunities to ask questions and engage with speakers. From sports diplomacy with Jill Ellis, to discussion on the Russian Invasion of Ukraine with Oksana Markarova, Ambassador Extraordinary and Plenipotentiary of Ukraine to the US, the summit spanned a variety of topics. 
Each conversation opened a new way to view policy solutions, and a new opportunity to connect my Public Policy studies to various disciplines. Disinformation remained a consistent topic, both in identifying it, and creating solutions to counter it. In a society where disinformation is simultaneously effortless to create and consume, there remains an open debate on large scale solutions to countering it. Does it rest in the hands of technology like Instagram and Facebook cracking down on misleading posts and news stories? Does it fall upon individual due diligence? Or is it a society-wide behavioral change that begins to value Truth? With no emerging consensus, such dialogue opens doors to future research, career paths, and potential policy solutions.  
The conversation was strengthened by multi-disciplinary perspectives, especially in the discussion on Leveraging Data to Strengthen Democracy and Security. Microsoft leaders and W&M alumni presented new perspectives centered in business and technology. Many started their careers on Capitol Hill, and now work at Microsoft, showcasing dynamic career paths. They highlighted the overlap of data, technology, and policy, looking back on COVID-19 as an important example. Policymakers rooted their actions and decisions in data- supported by technology. The interaction of all three was unavoidable and imperative to impactful action. It's an important reminder of the interdisciplinary aspects of policy work, which is rooted in data and impacted by technology. Solutions must be connected to both. 
Overall, I emerged from the Youth Summit with an expanded mindset to not only understand global issues facing the next generation, but how to be a part of the solutions.