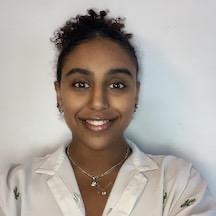 Welcome, Ruth Bekele! During the summer, Ruth participated in a summer internship and summer research. She interned for Indegene, a pharmaceutical consulting company, in their emerging biotech sector. While there, Ruth trained as a core member of the biotech team and trained with cross-functional teams to aid with strategic projects for clients. Ruth's main project was centered around researching possible conferences for the team to attend and clients they should pursue while considering the production phase, client revenue, and location. During Ruth's time there, she improved her excel and project management skills. 
Ruth's second commitment was a continuation of her research with Professor Obasanjo in the Public Health department, which she has been a part of since the summer of 2021. Part of Ruth's research was to interview Community Health Workers, many of whom were black women who worked in low-income communities, to provide reference and aid regarding health, housing, finance, child care, etc. Ruth continued her research to find a correlation between their work and COVID health impact. After working on her research, she received an acknowledgment in an academic article that was published with her results. This experience has enabled her to work on her research and literature review skills. By balancing these two commitments, she had the opportunity to see how health was conducted in different formats, giving her experience for her future career endeavors. 
Welcome, Sigrid Lampe! During the summer, Sigrid continued her research as a field technical assistant with Virginia Oyster Shell Recycling and Restoration Program. Her research consisted of monitoring the growth period of larval oysters and quantifying the larval strike success on three different types of shells, including fossil, recycled, and house, through daily intervals of random sampling. In addition, she assisted in the planting process, where the oysters were taken to the oyster reef in the Chesapeake Bay. 
Sigrid's time there helped her gain experience in aquaculture and restoration while building upon her statistical and ecological skills. She also had the opportunity to present the results to the Virginia Marine Resources Commission, which allowed for another year to conduct the fossil shell study. It was a great experience that challenged her and taught her about local and environmental benefits.