Public Policy Graduate Mary Olivia Rentner Gets to Work
Each year, approximately 25 people with Virginia ties are selected for the Governor's Fellows Program. I was one of the lucky 25 this past summer. This program provides a crash course in state government by immersing fellows in the real work of the Governor's office. I was assigned to the Office of the Secretary of Health and Human Resources with two other incredible fellows. For the two months that we were there, we did meaningful and important work. We built relationships with the people in the office and they helped us navigate the workplace and post-grad world. I am incredibly grateful for the amazing people I was able to work with because of the mentorship, advice, and friendship they provided and continue to provide. 
This fellowship offered some amazing experiences that cannot be found anywhere else. We had lunches with the highest-ranking people in the Governor's office, including the Governor himself. We were able to have open discourse and ask as many questions as we could fit into the lunch hour. I also met with people who work in all different parts of state government. For someone trying to figure out what kind of career they want, this was incredibly helpful. 
Probably the most unique part of the fellowship was the field trips. We got to learn about how state government works across the Commonwealth. We went to a flower farm, a dairy farm, took a boat tour around the Port of Virginia, visited museums, and so much more. As a Health and Human Resources fellow, I also got to visit several local health departments. Even though I have always lived in Virginia, I saw more of it this summer than ever before. The field trips were great learning experiences and amazing bonding experiences for the fellows.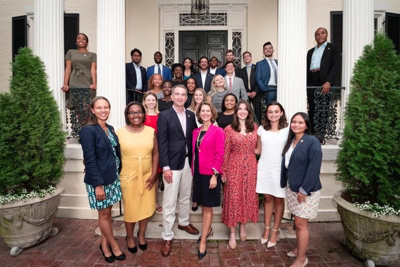 My fellows class was filled with some of the best people I have ever met. We created a great support system and spent most of our downtime after work together. It was sometimes tricky to combine enough tables together to fit all 25 of us at dinner, but we made it work. I ended up living in the same building as three other fellows. It was so much fun to always have people to carpool and hang out with. It is also important to point out that William & Mary has a large presence in the Governor's office. Five of the fellows were members of the Tribe, and there are many alumni working in the office full-time. 
I am one of the newest William & Mary alums to work in the Governor's office! After my fellowship ended, I was offered a job in the communications office. I absolutely love my job and the people I work with. The fellowship was truly life-changing. 
Majoring in Public Policy and English at William & Mary helped prepare me for this fellowship and my job. The research experience, understanding of government, and policy knowledge I gained through my classes have served as excellent resources.