Public Policy Celebrates the Class of 2023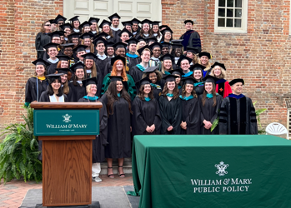 It was a beautiful day in May for the 2023 W&M Public Policy Program diploma ceremony. This was quite a switch from last year when record high temperatures forced the event indoors. Students and their guests convened under the trees at the Wren Yard for an hourlong celebration that recognized 16 Master's in Public Policy (M.P.P.) graduates and 46 Bachelor's degree graduates (B.A.) as members of the Class of 2023. 
After offering thanks to many groups and individuals who contribute to Public Policy's success, Prof. Paul Manna, program director and the Hyman Professor of Government, introduced Devin Braun, immediate past president of the Public Policy Alumni Association, who congratulated the students and welcomed them into the club of program alums. Manna also presented two awards, which honor the legacies of former Public Policy students.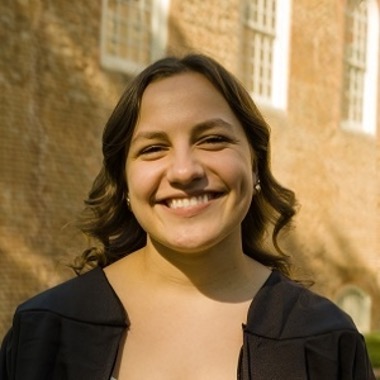 Martina Tvrdik was this year's recipient of the Megan Owen Award as the most outstanding female B.A. graduate in Public Policy who is from Virginia. In addition to majoring in Public Policy, Martina also completed her Biology major and has strong interests in health policy. This prize honors the memory of Megan Owen, an outstanding Public Policy graduate who passed away at a young age, not long after she had begun her career in law and policy.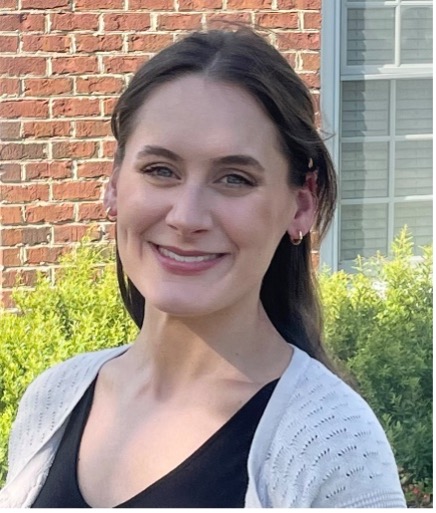 Current M.P.P. student Flora "Sigrid" Lampe was recognized as the winner of this year's Brenna Jean Vorhis Award, which will help support her during her summer internship in environmental policy. Sigrid will have that experience at the Virginia Department of Environmental Quality. The award honors Brenna, who passed away at a young age while she was a Public Policy graduate student. The award supports current students who take internships in the fields of interest that Brenna herself valued highly. 
The graduates and everyone assembled also heard from three impressive speakers who shared their wisdom and reflections on public policy experiences from the past and present, and also with an eye on the future.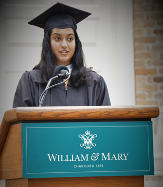 Aarushi Desai (B.A. '23) spoke on behalf of the undergraduates. Her speech noted how far everyone had come, especially amidst the numerous challenges of navigating the COVID pandemic while completing their studies. Recognizing the uniqueness of all the graduates, Aarushi still saw a commonality among them: the "persistent passion to make a difference in the world" that they all possess. She also explained her enthusiasm for remaining at W&M for one more year as she will be completing her M.P.P. as a member of the 5-year accelerated program.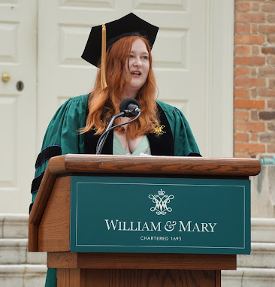 Lillian "Lilly" Potter (M.P.P. and J.D. '23) represented the Master's students in delivering her remarks. She organized her speech around three key values that she saw in all her classmates: expertise, empathy, and service. With those values, Lilly explained, she and her fellow graduates will be prepared to "weigh ethical choices, balance competing interests, and involve affected communities" as they "get to work" and begin their careers.
Finally, keynote speaker Katherine Darke Schmitt (B.A.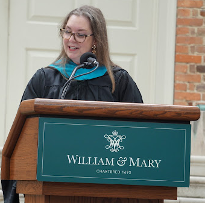 Government '91 and M.P.P '93) drew on her past experiences as a new graduate and her current work as a distinguished public official to offer reflections and advice on navigating the world as a public policy professional. Schmitt, a member of the Public Policy Program Board of Advisors and also the Deputy Director for the Office for Victims of Crime at the US Department of Justice, used her remarks to remind students about "what you know, and what you don't know, and why you should relish the latter." 
Not fearing, but rather embracing gaps in one's knowledge is so important, Schmitt explained, because "being curious about things you do not know will feed a lifelong appetite for growth." Further, it also will be a source of motivation to seek out "people who teach you, and challenge you, and inspire you." That sort of approach to policy embraces a "growth mindset," making the sky the limit for what policy professionals might accomplish as they serve their diverse constituencies, she said. 
In all, it was a fantastic day for celebrating, sharing memories, and making new ones. We can't wait to see how our B.A. and M.P.P. graduates go out and change the world! We also look forward to having them return for visits and to share their experiences with our future Public Policy students. 
Congratulations to the Class of 2023!