Manna on Principal Turnover in US Schools

Teacher turnover has been a major area of interest and concern for policymakers and practitioners focused on K-12 education policy, especially amidst the COVID pandemic. But what about turnover of principals in the nation's schools? 
Paul Manna, the Director of Public Policy and Hyman Professor of Government, commented on that topic recently in an article in K-12 Dive. He noted that states hoping to attack principal turnover should operate with a "more surgical than brute force" approach, given that the causes of the problem can vary across school districts. In so doing, states need to commit (or re-commit) to listening to school officials on the ground who are deeply familiar with the stressors, needs, and opportunities in their districts.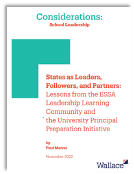 Have a look here for the full story, which draws on Manna's previous research with The Wallace Foundation, including a recent report on how states can play different problem-solving roles as leaders, followers, and partners with their local school districts.