Professor William Small 1734-1775
by William T. Walker
It was my great good fortune, and what probably fixed the destinies of my life that Dr. Wm. Small of Scotland was then professor of Mathematics, a man profound in most of the useful branches of science, with a happy talent of communication, correct and gentlemanly manners & an enlarged & liberal mind. He, most happily for me, became soon attached to me & made me his daily companion when not engaged in the school; and from his conversation I got my first views of the expansion of science & of the system of things in which we are placed. --Thomas Jefferson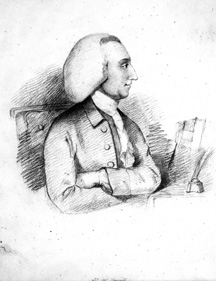 William Small, born in Scotland in 1734 and educated at Marischal College in Aberdeen, was appointed professor of natural philosophy at William and Mary in 1758. In Virginia he became Jefferson's mentor, often taking him to meet the colony's elite.
In 1764 - after competing unsuccessfully for the presidency of the College - Small returned to England to buy scientific equipment for the struggling College. He never again braved the Atlantic. Later opened a medical practice in Birmingham.
Armed with a letter of introduction from the premier American scientist Benjamin Franklin, he was elected a member of the prestigious Lunar Society, a discussion club of prominent industrialists and scientists that claimed the membership of such luminaries as James Watt and Joseph Priestley. It was only natural that Small would join such a distinguished group. A committed son of the Enlightenment, Small had a bright, energetic mind with far-reaching interests in math, chemistry, medicine and other disciplines that had the power to dispel myth and improve the lot of common citizens.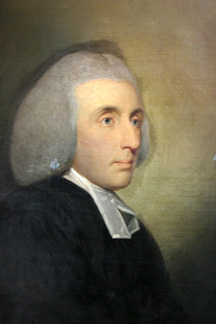 As a William and Mary professor, he had inaugurated a society similar to the Birmingham group to foster the growth of science in the colony, one that was sponsored by Francis Fauquier, the acting royal governor of Virginia (1758-68) and that influenced the young Jefferson.
With the inspiration of the Lunar Society, Small seemed destined for some great scientific achievement, like Priestley's discovery of oxygen or Watt's development of the steam engine. But Small's promising career was cut short by his early death at age 41 from complications of malaria contracted during his days at William and Mary. A letter and three cases of Madeira sent as a tribute by Jefferson to his former professor arrived six months after Small's burial.