Remembering Peter Neufeld '58
Peter Neufeld '58 passed away Jan. 27 in Englewood, New Jersey, after a long battle with Parkinson's disease. Neufeld was a successful Broadway company manager, general manager and producer for more than 20 years.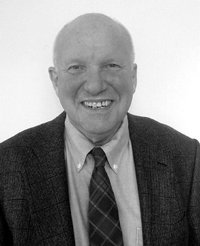 "Peter Neufeld was a very successful, highly respected member of the theater world," said President Taylor Reveley.  "He leaves behind a legacy of award-winning shows, activism in the community and dedication to his alma mater."
Born in Brooklyn, Neufeld's love of Broadway began at the age of 7, when his mother took him to a production of "Oklahoma." During high school, he spent his summers attending a theater program, doing everything from building scenery to performing on stage.
When it came time to pick a college, the breadth of activities and programs offered at William & Mary made it an easy choice. "I wanted to be involved with people to whom theater was not a religion," Neufeld told the College's Alumni Magazine in 2012. "So I picked William & Mary. I needed to be part of that kind of society, so that I wasn't talking about the theater 24 hours a day."
As a student at the College, Neufeld wrote two musicals and directed a production of "Mr. Roberts."
"Peter was a true child of the theater — in love with every aspect of it!" said Tony-award winning actress Linda Lavin '59, D.A. '09. "We did numerous 18th-century comedies together, I as the self-centered ingénue and he as the self-centered dandy as if he were born to play it."
After graduating in 1958, Neufeld worked a variety of jobs, including technician and production assistant. His career on Broadway began to pick up in the late 1960s, when he served as company manager on "Illya Darling." In 1971, he founded a management and production company, Gatchell and Neufeld, with R. Tyler Gatchell, Jr. The two were involved in more than 100 productions, including five Tony Award winning musicals — "Annie," "Evita," "Cats," "Crazy for You" and "Sweeney Todd" — from the early '70s until the early '90s.
"He was truly talented and sure of himself, and yet sensitive and innocent and vulnerable," said Lavin. "A passionate and committed theater artist, he grew into a hugely successful Broadway and international force."
After Gatchell's death in 1993, Neufeld shut down the management company and began working for Broadway Cares/Equity Fights AIDS, the nation's leading industry-based HIV/AIDS fundraising and grant-making organization. Since 1998, the group has raised more than $250 million for essential services for people with AIDS and other diseases across the United States.
Neufeld's connection with William & Mary continued throughout his career. He established the Llanso-Sherman scholarship in 1985 for pre-med summer research, and served on the President's Council, the Fourth Century Club, on his 45th and 50th class reunion committees, and as a class reporter. He was a founder of the Alumni Association's Alumni Auction. In 2002, Neufeld was awarded an Alumni Medallion, the William & Mary Alumni Association's highest honor.
"I was totally astounded, very, very flattered, and I'm still not sure why I'm getting [the Alumni Medallion]," Neufeld told W&M News when he received the award. "But I'm not giving it back."
In 2005, Neufeld was awarded a Tony Honor for a lifetime of excellence in the theater. "I spent all my time working on the next show," he told the Alumni Magazine. "I wasn't aware of having any impact until after I retired and I closed down my office. Then the articles came out."
In 2011, Neufeld released a book, For the Good of the Show, that details his experiences with Broadway stars like Judith Ivey, Madeline Kahn, Claudette Colbert and Ethel Merman, while telling of his coming to terms with his sexuality. Neufeld wrote the book over nine years, writing a few paragraphs a day.
Neufeld was diagnosed with Parkinson's disease in 1996. He was able to live on his own until he needed additional care in 2007, when he moved into the Actors Fund's Lillian Booth Residence in Englewood. Lavin recently saw him there when she went to present a program. "He was, although fading, his usual sweet and warm self, still the boy who loved me and all of us theater folk who made his life shine! What he accomplished was huge and he lives in me and all who knew him."
There will be a tribute to Neufeld at the William & Mary Alumni Auction at Riverpark Restaurant in New York City on March 13.