Consumer activist Joan Claybrook will speak at public forum Jan. 27
Consumer advocate Joan Claybrook, who has spent more than 40 years in Washington D.C. working to make the modern world a safer place, will appear at William & Mary at 6 p.m. on Tuesday, Jan. 27, in Room 201 of Blow Memorial Hall for a forum that is free and open to the public.
Claybrook's talk is sponsored by the W&M in Washington program, an academic semester program with an internship component operated out of the Washington Office. Her appearance ties in with the theme of the fall 2015 semester, "Working for Change: The History and Politics of Social Movements," for which the program is currently accepting applications.
"Joan's visit is the third campus speaking opportunity we have organized in recent years, along with Bill Antholis of Brookings and Paul Begala of CNN, to highlight the College's academic programs in Washington," said Adam Anthony, director of the Washington Office. "We want to give students interested in the program, and the larger college community, a sense of the exciting speakers and unique learning opportunities available to them when they come to D.C."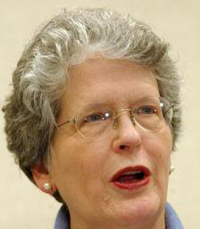 Today, we take air bags and seat belts for granted, but they were just two initiatives for which Claybrook and her compatriots fought over the years. In the case of airbags, it took more than two decades for them to become mandatory.
Claybrook's career began in the mid-1960s when she met Ralph Nader and began working to improve highway and automotive safety, helping Nader lobby for the nation's first automotive safety laws, which let the federal government set safety standards for new vehicles and issue recalls.
Claybrook subsequently served as head of the National Highway Traffic Safety Administration, or NHTSA, from 1977 through 1981, during the Carter administration. From there, she joined the nonprofit consumer advocacy group Public Citizen, serving as its president for 27 years.
"As president of Public Citizen, Joan inspired generations of advocates in areas such as health care, trade and occupational safety," said William & Mary English Professor Suzanne Raitt. "Under her leadership, Public Citizen succeeded in getting dangerous drugs off the market, improving conditions for countless American workers and holding successive governments and federal agencies accountable to the citizens who elected them."
Claybrook worked on a formidable number of issues over the decades. Public Citizen pressed for the Early Warning Reporting system designed to quickly alert the government to automotive defects, and then defended its information remaining public.
"If auto companies did voluntarily what we paid them to do voluntarily … then we wouldn't have to do our job. But the fact is that they don't," Claybrook told PBS. "So there's only one possible thing to do, which is to hold them accountable. And you hold them accountable by the media, by lawsuits, by regulatory investigations or by new safety standards."
The group fought to limit three-trailer combination trucks to the Western United States and to reduce the number of hours truck drivers can drive weekly. They brought more than 50 cases to the Supreme Court, not all of them linked to transportation. The organization fought to take unsafe drugs and medical devices off the shelves, rallied for sustainable energy and agitated for campaign finance reform.
And it wasn't always clear sailing. Claybrook recalled when Public Citizen's phone lines were cut the day of a press conference on the Ford-Firestone defects.
"We tell the truth, check our facts and press our case, without fear of penalty from the affected industries or politicians, because we take no government or business money," she said in a 2009 Public Citizen press release, when she stepped down.
The message is as fresh now as it was then, as just days ago Honda Motors was fined $70 million by the NHTSA for under-reporting fatal accidents and injuries to the federal government. The fine came on the heels of fines last year to automakers General Motors, Hyundai and Ferrari totaling almost $70 million and a $1.2 billion Justice Department fine levied on Toyota.
Geology Professor Heather Macdonald will host the forum. Macdonald, along with Raitt, will teach in the fall 2015 semester.