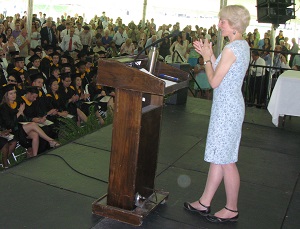 For Dr. Allison, the festivities of May 11, 2014 marked her last graduation event as department chair, and she leaves quite a legacy, starting with graduation itself. Biology graduation used to be held in the "difficult" confines of Trinkle Hall. Hot, stuffy, and poorly designed for any events beside blood drives and arts and crafts shows, Trinkle Hall graduation felt more like punishment than pomp and circumstance. Dr. Allison worked with administration to get Biology the prime location in the Sunken Garden, so we owe her a debt of gratitude on behalf of graduates every year.
Other notable events in Dr. Allison's tenure as chair included the mundane but important nuts-and-bolts acquisition of "stuff" like a departmental van for field trips and class travels, and a genome sequencer for the core molecular facility. Funds for these acquisitions came in large part from annual giving to the department that has been on the rise in recent years. Dr. Allison also championed with other science faculty the need for charging fees for laboratory-based biology courses, and helped re-structure and re-locate the Vertebrate Animal Care Unit in the basement of the Integrated Science Center (ISC).
With ISC-2 already in operation, ISC-3 shovels are about to be pressed into service (related story about ISC3). Dr. Allison has been at the helm during the hectic planning phase for ISC-3 that is being built in the narrow space between ISC-2 and Landrum Drive. When constructed, ISC-3 will provide new homes to anxious biology faculty still stuck in the run-down offices and labs in Millington Hall, and will include integrative research spaces for teams of science faculty and students across departments and programs.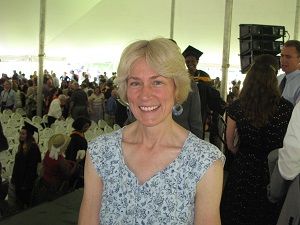 Finally and perhaps most importantly for long-term impact, Dr. Allison's legacy as chair includes the addition of five new faculty in Biology, three of whom have been hired in positions created since her chair-ship began in 2009. The new hires include bio-mathematician Drew LaMar, protein biochemist Shantá Hinton, population ecologist Harmony Dalgleish, plant physiologist Joshua Puzey, and evolutionary biologist Helen Murphy. With these new teachers, researchers, and mentors, Dr. Allison will never be able to tell where her influence stops!
After stepping down on July 1 to be replaced as chair by Dr. Eric Bradley, Dr. Allison will have more time to devote to her recently awarded, million-dollar NSF grant to study aspects of the thyroid hormone receptor. It should come as no surprise that undergraduate biology students form the core of her research group on that project, some of whom graduated last month at Dr. Allison's final ceremony as chair.
Our thanks to Dr. Allison for her remarkable service to the Biology Department!