The Opening of a Child Language Lab
Dr. Kate Harrigan and research assistants Becki Smyder, Caitlyn Whitesell, and Grace Marks have been working hard this summer in developing their own Child Language Lab and are excited to welcome its first participants. Previously, language acquisition research at William & Mary was conducted by partnering with local pre-schools and visiting children in their school setting. Harrigan plans to continue running participants in pre-schools but hopes that providing the option for participants to come into the lab will aid in recruitment and increase visibility for the lab in the Williamsburg area.
Having its own lab space is incredible news for language acquisition research and the Linguistics program at William & Mary. Not only does the lab provide an additional way to collect data, it also creates a space for Harrigan and her assistants to meet as a group and collaborate on new ideas. "As we continue to grow and recruit more families, our productivity will grow, and my ability to provide research opportunities for students will continue to increase" mentions Harrigan. Additionally, the lab has allowed for the expansion of its recruitment process by having its own phone line and secure database for storing information about children interested in participating.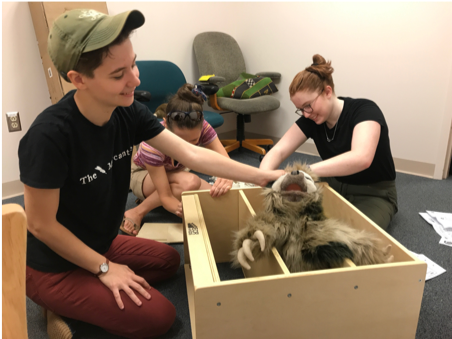 In her vision for the lab, Harrigan states "the general goal of our lab is conducting language acquisition research that explores deep questions about how learning interacts with the innate, universal components of language." The studies that are currently being conducted in the lab are a combination of Harrigan's own research questions and collaborations with current and former students. Each project has its own specific goals but each contribute to the understanding of how the child is learning her first language.
The lab is currently running four different studies. The first study is led by senior Becki Smyder as part of her honors thesis in Linguistics. Smyder developed this project to explore how 4-7-year-old children learn verbs of motion which describe either a manner of motion, like "walk" or a path of motion like "exit". The study tests both English-learning and Spanish-learning children to see whether learning either language will make it easier for them to learn manner or path verbs.
The second study is a continuation of Harrigan's dissertation work investigating how 4-year-old children learn verbs that ask about people's minds such as think and want. Specifically, this study explores how sentence structure might aid children in learning these more abstract words.
 The third study is led by senior Caitlyn Whitesell as a part of her honors thesis in Psychology. Whitesell is exploring the relationship between language and emotional processing in children learning multiple languages. The study expands upon previous research that suggests that multilinguals feel emotion differently based upon the language they are speaking.
The final study is an extension of recent graduate Valerie Bambha's honors thesis. Her thesis explored the relationship between pretend play and children's developing social abilities. Junior Grace Marks has since taken over this study and adapted it to see if role-shifting and perspective-taking can help children develop the ability to represent the belief states of others.
The organization of the lab was set up to be conducive to the types of studies that the lab is running. The front half of the lab has a waiting area for families and children to settle in when they first arrive. This space allows for the child to become acclimated to the space and gives parents an opportunity to complete consent forms. The second half of the lab consists of a small table with several chairs to run the studies.
The team has also worked diligently to make the space welcoming and fun for children. The lab contains a variety of brightly colored furniture, toys, a mural where kids are encouraged to add their handprint after participating, and its own mascot Sylvie the sloth.
The future of the lab is bright both for the field of language acquisition and Linguistics students at William & Mary. Harrigan plans to "continue doing community outreach and growing our database of families who are potentially interested in participating" and to "continue to foster research opportunities for students, and get to really allow students to contribute their own ideas to our research program."