Jennifer Wilson '08 Finds Her Future through Research on Language Acquisition
Trying to explain Mandarin Chinese's grammatical system of classifiers to someone who has never encountered Mandarin before is difficult--just ask Jennifer Wilson '08.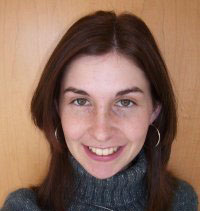 And what exactly is a classifier? "Basically, a classifier describes some property of a referent. In Mandarin, classifiers are required between a number and a noun," Jennifer says.
Jennifer has found her passion through her research on language acquisition, specifically research on the appropriation and use of classifiers for her honors thesis in linguistics, "The Use and Acquisition of Mandarin Classifiers by Native English Speakers." She has this advice for rising William and Mary students: "Find your passion. A lot of people come in not knowing what they want. William and Mary has a lot of majors--take the opportunity to look around."
Jennifer's ideas for the thesis first started to form while she was doing research with children whose first language was Mandarin. Her research subjects now are William and Mary students learning Mandarin as a second language, taking Chinese 102, 202, 302, and 402.
In her thesis Jennifer is exploring two questions. First, how do these students pick the correct classifier? "Can they use morphological cues to guess which classifier to use in words they've never seen before?" And second, "in a context where the speaker is talking about something they don't know, can they use classifiers to determine what's being discussed?" So far she has finished developing her research methodology and plans to collect data from all four levels of Chinese in February.
Through her research, Jennifer has had the opportunity to work closely with professors. Her thesis advisor, Professor Reed, has been a big help: "Professor Reed worked hard to get College funding for me so that I could travel to the Boston University Conference on Language Development this past November." The conference was focused on language development and gave Jennifer a heavy exposure to Event Related potentials (ER), which examines the brain processes of language learners. "Two and a half days of that, I knew exactly what I wanted to study, ER. I want to do a lot of work in that."
"Professor Reed has helped me with anything I needed, from advice on thesis concerns--brainstorming alternatives, helping me to narrow my topic, determining necessary background research articles--to information and suggestions on where to apply for grad school."
Also helping are Jennifer's Chinese professors, who have agreed to work with her on translations and checking student responses. "Wang laoshi [laoshi = teacher] has given up many an afternoon discussing classifiers with me, explaining to me which classifier a specific object would use, and why. She and all of the other Chinese professors have agreed to let me collect data from their classes as well. All of my professors are approachable, which is really nice."
An important factor in what Jennifer plans to pursue after William and Mary is the area of Event Related potentials that captured her interest at the Boston conference. She is "applying to a lot of places," because linguistics programs tend to be smaller; but "all of my grad schools have to have the capabilities for this research."