Jacob Shier '06 to visit Russia on Fulbright
The largest number of William and Mary students in nearly two decades will be studying abroad on Fulbright Scholarships this coming academic year.
Twelve students will be studying in countries around the world, including in Canada, China, Denmark, Ecuador, Germany, Japan, Senegal, Turkey and Zimbabwe.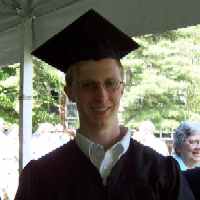 Ecuador, though geographically a world away from Williamsburg, is not far from one scholar's heart. Trevor Dreyfus ('06) spent time studying and traveling as an undergraduate in that small South American country. His travels took him through the mountains of Ecuador, where a chance conversation with a local merchant over a five-cent orange became an academic inspiration.
"It just struck me," said the economics and international relations double major, "that it would be fascinating to research how the dollar has affected the working-class Indians and mestizos." To pursue his idea, Dreyfus applied to a graduate school in Ecuador and then for a Fulbright Scholarship to fund it. "Fulbright seemed like a perfect option to do this kind of study," he said.
The Fulbright Foundation agreed with his proposal and with those of 11 other William and Mary students, including Jon Adams, Amina Egal-Roble, Jason Ferguson, Alex Gochenour, Sarah Kolbe, Amy Kuenker, Amy Palesko, Robert Pitts, Jacob Shier, Amy Rossnagel and Catherine Reynolds.
"It's an opportunity for me to spend a year abroad on my own terms, studying a subject that is important to me and pertinent to my career," Palesko ('06) said about her upcoming scholarship opportunity.
The scholarship funds study for one year. Fulbright scholars are selected on the basis of academic or professional achievement as well as on demonstrated leadership potential in their fields. These scholars are among more than 30,000 individuals who participate in U.S. Department of State exchange programs each year.
In recent years increased numbers of William and Mary students have been selected for the program. Since 2000, 39 have been selected as Fulbright Scholars; 16 of them have participated in the program in just the last two years.
"Both the number of applications we receive and the number of students who are awarded grants have increased," said Lisa Grimes, associate director of the Roy Charles Center at William and Mary. "Fifty applications at the campus level and 12 successful candidates in one year are records for the College."
The highly competitive scholarship program was established in 1946 under legislation introduced by the late Senator J. William Fulbright of Arkansas. It operates in more than 150 countries across the globe. The program supports building mutual understanding between the people of the United States and the rest of the world.
"I feel incredibly lucky to have gotten the award," said Dreyfus, "(especially with) so many qualified people applying for it."
This fall, while Dreyfus is studying the dollarization's effects in the Andean highland region, Palesko will be studying the economic impact of the global switch from leaded to lead-free electronics in Japan. She hopes to remain in the country after her study has been completed in order to work with an American electronics or chemical corporation there. Dreyfus says he may spend additional time in Ecuador as well but plans on returning to the United States with hopes of working on international trade issues.
While the scholars have various future goals, they all have one thing in common, limitless possibilities.