A linguistic experiment: Annual choir holiday concerts feature undergrad's composition
Linguistics major Emerson Odango ('05) knows that music can say more than words. That's precisely why it is ca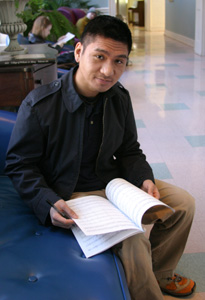 lled the universal language. It's also a fundamental idea explored in his 50-page masterpiece,
Chalom
. But Odango's composition isn't about music—it
is
music. 
Written for three William and Mary choirs' annual holiday concerts, the 20-minute, unaccompanied work combines the forces of the William and Mary Women's Chorus, Botetourt Chamber Singers, and the William and Mary Choir. Chalom debuted as part of this year's holiday concerts.
Though this is by far the longest, most complex composition Odango, also a music minor, has prepared, it is not the first. During his freshmen year, he offered a simple arrangement of "Silent Night" to choir director James Armstrong.
"Dr. Armstrong said, 'yeah, let's go for it.' He and Dr. Edgar Willams were really supportive. Things just grew from there," Odango said.
Now comes Chalom, which is leaps and bounds from Odango's first project for William and Mary choirs. While his three previous pieces have been inspired arrangements of existing works, this is a brand new composition—a process far more involved than "taking songs and rearranging the chords."
Emerson Odango's ('05) musical composition, Chalom, debuted at this year's holiday choir concerts.
"When Drs. Armstrong and Williams approached me about doing something this year, I decided that if I was going to write something, I was going to write for all three choirs," Odango said. "And I wanted to do something different—something more than just a simple arrangement of a hymn."
Himself a member of the William and Mary Choir, Odango used his familiarity with each individual choir to craft a piece of music that plays to the strengths of each individual chorus, but also maintains an overall unique sound.
"The opportunity to work with three choirs at the same time is kind of rare," Odango said of his fourth composition. "It's not often you see a piece for three choirs that treats them in distinct or separate ways with different kinds of music and has them all together at parts."
Chalom is neatly divided into alternating parts, three featuring all the choirs together, and one individual part for each of the three choirs. "It's a nice tripartite," Odango said.
But its musical complexity only touches the surface of Chalom's depth. Its title means "dream" in Hebrew—one of the three languages (English and Greek are the other two) Odango uses in the work to tell the Biblical story of God's revelation to Joseph and the coming of Immanuel. Odango admits that, in many ways, the composition is a "linguistic experiment" in search of meaning.
"The cool thing about music and words is that when you have a pre-existing text, the question becomes to what extent will that text affect your music, or, to what extent will your music affect the text," he said.
That question emerges central in Odango's work. The foreign languages notated in Chalom are done so in the International Phonetic Alphabet, showing that "all language can be boiled down to a sequence of sounds."
"The funny thing is that you can think of those sequences of sounds as having absolutely no meaning whatsoever in reality—they can just be sounds that you string together and sing—that's one way of looking at it. But the other way to look at it is that you are singing words that are rich in connotation, historical meaning, debate, and personal and religious conviction."
Adding to its intricacy is the Biblical narrative at the heart of Odango's composition. Taken from Matthew and Isaiah, it is the story of Joseph learning of the coming of Immanuel, itself a widely debated issue between Christians and Jews. But Chalom is about Joseph's reactions to what the angel reveals to him, the fear, anger, confusion, disbelief, comfort, and ultimately, triumphant realization—emotions the music intends to evoke.
"There are points where the text drives the music, and then there are parts where the music is driving everything and the text becomes nothing more than a sequence of phonemes that help you get the music across," Odango said. "The point I'm trying to get at is that words and music have this relationship such that one will affect the other intrinsically, and there's no way really that you can separate the two when it comes together in terms of interpreting meaning."
The confluence of sound and meaning relies on what Odango calls "the Joseph theme" to hold Chalom together. It is the prominent melody, instantly recognizable and heard throughout the piece. It is also among the only things Odango heard in his mind since beginning to write the work.
"I don't really hear things in my head that far in advance. It's more like when I sit down at the piano, all the theory comes back to me, and I think, 'Ok, if I'm at this point, how do I get another point.' It came in fits and starts, and like any composition, it's an organic process," he said.
To ease the writing, and more importantly, to add additional layers of meaning, Odango used several musical quotations, from Stravinsky and Bach to Johnny Cash. He also admitted that Chalom incorporates in some way or another, bits and pieces of his previous three compositions.
"There are plenty of things in the piece that audiences will recognize," Odango said. "But I won't give away all the secrets."