Taylor Hodge, Major of the Year 2014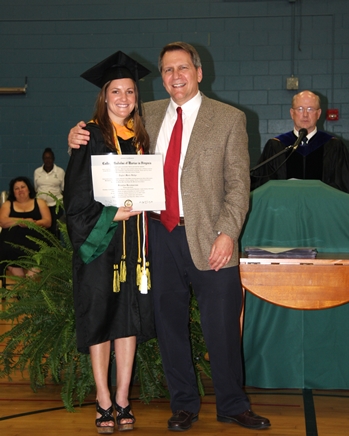 This year Taylor Hodge was honored with the "Major of the Year" award at the Kinesiology & Health Sciences department's graduation ceremony. She received a diploma cover, certificate, medal, and will receive a check from the Borgenicht Endowment. Below is the introduction given by the Chair, Michael Deschenes, and Taylor's speech to the graduating class of 2014.
Michael Deschenes
At this point in our program it is time to announce the Department of Kinesiology & Health Sciences' Major of the Year for 2014. This year's winner, and deservedly so, is Ms. Taylor Hodge. Before we actually present her with the award, please let me give you some background information on Taylor so you can appreciate why she was this year's easy winner. Taylor is a member of the elite academic society of Phi Beta Kappa. She is graduating with a grade point average of 3.8 while taking the demanding pre-med curriculum. Indeed, soon Taylor will be returning home to Louisville to begin her medical training at the University of Louisville's medical school. In addition, during her time here she has been a very active researcher in the cardiac physiology laboratory of Dr. Brennan Harris. Indeed, she recently defended her Honors Thesis which presented the findings of her research conducted in the laboratory. And while achieving such a stellar academic record here at William & Mary, she has also found time to be an outstanding performer on The College's varsity field hockey team.
We are often asked how we select a major of the year, what are the criteria that we use? Speaking for myself, there are no hard, fast criteria to be used in selecting a major of the year. Some things, some really important things, cannot be easily quantified or measured. This seems like an odd thing for me to say given my training and background as a scientist, but it is true. For example, I deeply love my wife but I didn't fall in love with her as a result of some quantitative analysis. And when I look at the Mona Lisa – I guess she's cute enough – but cute enough to be valued at millions of dollars? Not so sure about that! The point is that some things do not lend themselves to precise, easily quantifiable value judgments.
With that in mind, it is my personal belief that the major of the year should be the one graduating senior who best represents what the department does, how it goes about doing it, and what it aspires to become. With that in mind, Taylor Hodge is a most deserving Kinesiology & Health Sciences major of the year. I would be comfortable with her representing us in front of any crowd, whether it would be an alumni group, majors of the year from other departments across campus, administrators of The College, or even our Board of Visitors. All would find Taylor richly deserving of any accolade including this one! Everyone, let's give a nice round of applause for the 2014 Kinesiology & Health Sciences Major of the Year. Taylor, please come on up to receive your award!!
Taylor Hodge
First, thank you so much to the faculty of the Kinesiology department for this award, I am truly honored to represent this department as the Major of the Year.  Before I get into my speech I would like to say Happy Mother's Day and thank you to my mother and the rest of the mothers here today. None of us would be here without your all's love and support throughout the years.
This story doesn't start 12 hours ago as I was finishing writing this speech, and for those of you like me who are already doing the math-yes, that's 2 am, but rather it starts 5 years ago with a younger, but still extremely short, version of myself who was in the midst of choosing where she wanted to continue her experience as a student-athlete. In true TWAMP fashion, I had already ruled out those other schools that seemed to put too much emphasis on the "athlete" and not enough on the "student." People who know me well know that I am painfully indecisive, but my decision to be a Kinesiology & Health Sciences major at the College of William & Mary was easy. In fact, what I had learned and heard about the Kinesiology Department is a major component of what made this school so attractive to me in the first place. I always knew that I wanted to pursue a degree in medicine and what better opportunity to balance my education than by working with cadavers as an undergraduate in the anatomy lab, while also being able to take a class like Adventure Games, where zip-lining across Lake Matoaka gets you credit and provides a much needed mid-week stress reliever, all under the same umbrella of Kinesiology – it was a possibility entirely too unique and challenging to pass up.
I learned a lot of valuable lessons during my time as a Kinesiology major. For instance, any health problems I have down the road are attributable to those double-pepperoni pizzas Professor Deschenes was always talking about. But then, I found comfort in Professor Looft-Wilson's Physiology of Aging and Cardiovascular Physiology classes, where I learned about the benefits of resveratrol. If I drank enough red wine I could avoid the effects of these aforementioned pepperoni pizzas, prevent cardiovascular disease and obesity, and reverse the process of aging altogether. However, much to my dismay, I learned in Journal Club that studies have actually found no evidence of these proposed benefits of resveratrol. Also in Journal Club, Professor Scott shared the completely original insight that the solution for solving world hunger is "just to feed people," which I'm still waiting for Professor Ickes to prove in his studies of pregnant women in Africa. In addition, I learned to appreciate the human body in a whole new way in Professor McCoy's anatomy course. Never before had I been able to see how "cute" the various "skeletal" muscles and tendons of the body truly were. Regrettably, I did not ever register for Exercise Physiology, which I'm sure would have taught me how to best prepare my body for that grueling William & Mary triathlon I've heard so much about.
In actuality, I did learn some extremely important lessons over the years. In addition to boundless classroom knowledge, my education extended far beyond the lecture halls, of which Adair Hall has exactly none. Much of what I learned in my Kinesiology courses was highly applicable to everyday life, engaging me in my studies in a way that no other courses have. Each member of the Kinesiology and Health Sciences faculty with whom I've had the pleasure of working deserve recognition. All of you have shaped my worldview in some way, and the kindness and compassion with which you treat your students, as well as the enthusiasm with which you approach your craft are traits that I hope to emulate in my future career.
 Much of what has shaped my experience and personal growth while at the College has come from my research experience in the Kinesiology and Health Sciences department. I learned quite a bit about myself during my three years working in the Molecular Cardiovascular Physiology. I owe my research advisor, Professor Harris, a huge thank you for allowing me to join his research lab and subsequently forcing, I mean "encouraging," me to complete a senior Honors thesis this school year. Thank you for seeing my potential and challenging me to reach it, despite my initial obstinacy. Historically, patience had never been one of my virtues, but between countless failed attempts at various scientific techniques and waiting for Professor Harris to respond to my six frazzled text messages, four distressed emails, and two emergency phone calls (all sent within 45 minutes) I learned quite the lesson in resilience, persistence, and flexibility. Although difficult to balance at times, I know my research experience will prove invaluable later in life.
 Now back to that younger, still extremely short, version of myself I mentioned at the beginning of this speech. When I came to the College as a bright-eyed Freshman those four long years ago, I went to my first pre-med advising meeting brimming with excitement only to learn that I had been misinformed all along – the advisor,, a biology professor ever so politely informed me that I would never go to medical school unless: I quit my sport, changed my entire course schedule, changed my major to something like biology or chemistry, built an orphanage in a 3rd world country, used my research experience to cure cancer, and basically gave up any social life I had planned on having. This person's obvious distaste for Kinesiology majors reflected what I knew was the antiquated stereotype of the department. Being the stubborn and persistent person I am though, I had done my research beforehand and knew that Kinesiology and Health Sciences provided the most relevant and informative path for me to pursue my further education. By some miracle for me and natural disaster for Professor Harris, I ended up with him as my pre-registration advisor. Instead of discouraging my plans and telling me everything I needed to change if I wanted to be successful, he supported me. He advised me. He encouraged me. And he was a wonderful support for me throughout my time at The College.
 When people asked what I was studying, I used to tell them that I was simply "pre-med" without mentioning that I was a Kinesiology and Health Sciences major in fear of being relegated to the "dumb jock" category. However, the time I spent here, the professors I've met, and the peers I've worked alongside, all of you sitting here in this room right now, are tributes to the fact that Kinesiology majors aren't "dumb jocks." Instead we're epidemiologists, public health professionals, nutritionists, doctors, nurses, physical therapists, physician's assistants, and much more. This department revolutionizes the definition of what it means to be a Kinesiology & Health Science major, and I could not be more proud to belong to it. We all got so much more than just the "study of human movement" when we declared our majors.  I know I speak for everyone in this graduating class when I thank the entire faculty and staff for preparing us to leave this place with all of the tools we need to be launched forth into the real world.
 Once again, thank you for this honor and congratulations and good luck to all of my fellow graduates. One tribe, One Family.
Kinesiology & Health Sciences main webpage
Taylor Hodge and Research Advisor Prof. Brennan Harris