Greetings from the Chair
September 2017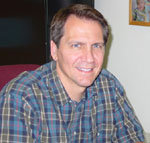 And we're back at it!!
Whew!! Where did this summer go? It seems like we were just getting ready for the 4th of July, and then the new school year began. I actually like this time of year as all the students coming back to campus, along with the arrival of a new group of freshmen add so much excitement to the entire campus. Plus the weather starts to cool off a bit and the humidity also recedes. In short, welcome to another fall season, a very nice time of year. (Still, how did the second half of the summer go by so fast?)
Our two new faculty members – Profs. Carrie Dolan and Iyabo Obasanjo – appear to be just as excited about the start of a new school year as the students. Both have nicely settled into their new surroundings, offices, and classes, and they are bringing a new energy to the department. Carrie and Iyabo will add much to the already strong and popular concentration in Public Health.
 Speaking of new energy, Sarah Menefee, another faculty member of the Public Health concentration brought into the world a brand new, and gorgeous baby girl on May 10, 2017. We have been fortunate enough to have Ms. Barrett Lauryn Menefee stop by Adair Hall with her mom on a few occasions already (she is always welcome here!)
 In efforts to get the word out there about our department, on October 17th, Prof. Iyabo Obasanjo will present as an invited speaker of the Josef Korbel School of International Studies at the University of Denver. The topic of her talk will focus on the impact of female leadership on global health outcomes. Similarly, Prof. Michael Deschenes will make an invited presentation in October at a symposium titled "Mechanisms of Adaptation to Exercise Training" held by the Department of Human Biology at the University of Jyvaskyla in Finland. His talk will address the role that the nervous system plays in neuromuscular function, and how adaptable this is in response to various forms of training.
 On a totally different front, there is much construction work going on these days on dear old Adair Hall. The point of this work is to bring the building up to the standards mandated by the Americans with Disabilities Act (ADA). As a result, an elevator will be installed in a tower to be constructed on the left side of the building as you face it, i.e., same side as the parking deck. The tower is to be about 20 feet away from Adair, but will be connected to it by four walk-throughs so that people will be able to use the new elevator to gain access to each of Adair's four levels. In further efforts to make access to Adair easier, a permanent ramp is to be built at the front of the building at its main entrance leading from the brick sidewalk outside, to the base of the stairs inside the building. In addition, modifications will be made to the bathrooms making it easier for wheelchairs to maneuver within, again in order to meet standards spelled out in the ADA. Finally, and unrelated to making Adair more ADA compliant, work will be done to the large office on the 4th floor when taking the stairs by the building's main entrance, to divide it into two offices to accommodate additional members of our faculty. It sounds like a lot of work to do and it is; construction will be going on throughout the 2017-18 school year. Luckily, this work will be done with minimal disruption to the normal activities occurring in Adair.
 We recently experienced a bit of a setback when Prof. Ken Kambis had to undergo knee replacement surgery. This came on rather quickly and the knee was causing Ken some real pain and discomfort. The knee was replaced on August 28th and so far, recovery seems to be going well. Let's keep our fingers crossed for Ken's continued progress. In the meantime, we were fortunate enough to find two highly qualified and experienced adjunct professors - Michelle Alexander and Julie Nance – to teach Ken's courses this fall. Many thanks to both Michelle and Julie for coming through in the clutch for us. And again, all our support to Ken as he regains full, and painless, function of his knee as it may take a while.
 In closing, a real highlight of any new academic year is Homecoming Weekend. This year homecoming celebrations will begin on Friday, October 20th and conclude on Sunday the 22nd. We will have our own little, very friendly, homecoming gathering for our alumni, and their families and friends, on Saturday the 21st from 10:00 am until noon in front of Adair. We will once again be "under the tent" so please stop by for even a quick visit to re-connect with your old professors and to say "Hi" to your friends from the good old days. You'll still be done in plenty of time to attend the football game starting at 3:30 against the defending national champions, James Madison University. On your way to the game you may want to join the tail-gating party in the Sunken Garden and/or the Children's Carnival to be held at the Alumni House. These two events are scheduled to take place from noon to 3:00 pm (again done in time to watch the football game). Please consider coming to campus for Homecoming, and especially visiting with us for a bit on Saturday morning for some catching up, and light snacks and drinks at Adair.
Well, that's it from here in the 'Burg, but please remember that you can always check in on the latest activities in the department by visiting our website.
At the same time, please remember that we are always anxious to hear what is new in your lives, so please keep us updated by filling out the Send Us Your News form.
Have a wonderful autumn (I know I am so anxious for Halloween and T'giving!) and take care,
Michael R. Deschenes, PhD
Chair and Professor, Dept of Kinesiology & Health Sciences
McLeod Tyler Professor of Integrated Health Sciences
College of William & Mary