Greetings from the Chair
Nov 2018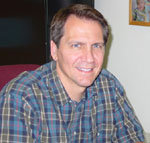 'Tis the Season to be Jolly!!
Hello again to our extended Kinesiology & Health Sciences family. I hope all is well with you and your loved ones. By the time you receive this, it should be only a short time before your Thanksgiving festivities (and pig out)!! And in an even shorter period, you'll be preparing for your end of year holidays with either traveling plans, or guests. This is always such an exciting, and fun, time of the year if for no other reason than the opportunity to spend quality (relaxing?) time with family and loved ones. But first, as usual, I really enjoyed Halloween again this year. It is always so special to see little kids in their costumes yelling out "Trick or treat" when you open the front door. But now we can hone in on the big end of year holidays (Halloween is too under rated!!).
 Speaking of joyous occasions, once again this fall - on October 20th – we held our annual Homecoming event in front of Adair Hall; this is always a highlight of the year!! This year, the weather was not cooperative, but we still had a nice group of alumni from throughout the years stop by to say hello and catch up on things. It is always so nice to see and hear from our former students and learn about all the great things they are doing now. We hope that you will be able to join us for Homecoming next year! Some photos were taken at the event.
https://www.wm.edu/as/kinesiology/alumni/homecoming/homecoming-2018/index.php
 Let's see, what is new around here? I know, our search for a tenure eligible faculty member specializing in human nutrition is going well. We have heard from 25 applicants to date with the quality being very impressive. Next steps will be to winnow down this list to three candidates that we will invite to campus for in-person interviews and presentations of their research. We are really excited about this hire and we hope that you are also ramped up to see us expanding our coverage of nutrition. We think it will be very popular among students.
 In another exciting bit of news, on November 29th the first Kinesiology & Health Sciences Research Symposium will showcase current undergraduate research in the department.  Students preforming research with professors along with students completing their internship research papers will be presenting at this symposium.  It will be held in the ISC III building atrium near the coffee and snack counter (Yay, Starbucks!!) on November 29th (repeating myself, I know) from 6:30 to 7:30, with a second group of presentations from 7:30 to 8:30. With those two sessions combined, we expect about 55 students to be presenting their work at our first symposium.  Please come by if you are in the area to support our current students and to visit with the professors.
 Additional research efforts by our students include Morgan Bucknor '18 who successfully defended her honors thesis and presented her work along with her student co-author Hunter Embry '19 last May at the Experimental Biology meeting held in San Diego which has now been published in the FASEB Journal (1st URL.) Katelyn Rennyson '18 also successfully defended her honors thesis and joined Morgan and Hunter in San Diego to present her work at Experimental Biology with the published abstract in the FASEB Journal (2nd URL.) And this past summer Grace Becker '19 along with Hunter Embry '19 and Kelsey Short '20 began work on an honors project examining the predictive value of heart rate variability in the physiologic responses to acute hypoxia exposure.  This work began as collaborative effort between Drs. Kambis and Harris as the latter takes on a new role as co-director of the Jack Borgenicht Hypoxia Research Facility (3rd URL.)  This represents a full circle for Dr. Kambis and Dr. Harris as Ken was Brennan's major advisor here in the department in the early 90's. 
https://www.fasebj.org/doi/10.1096/fasebj.2018.32.1_supplement.722.22
https://www.fasebj.org/doi/10.1096/fasebj.2018.32.1_supplement.588.7
https://www.wm.edu/as/kinesiology/research/lab-pages/jbarf/index.php
 Like our students, our faculty are also awfully good scholars. As evidence of this, Prof Carrie Dolan recently published a paper in the prestigious journal BMJ Global Health titled "Health aid to Malawi has both expanded and constrained facility capacity to deliver malaria services to children under five" and Prof Michael Deschenes, along with four of his undergraduate research assistants (Sherry Li, Matthew Adan, Jane Oh, Hailey Ramsey) published "Muscle fibers and their synapses differentially adapt to aging and endurance training" in Experimental Gerontology (2018;106:183-191). And our newest faculty member, Prof Julie Nance, presented "Guidelines for Eating Healthy with Food Allergies" at the Food Allergy Research and Education Teen Summit in Washington DC on the first weekend of this month (November.)
 Most recently, Prof Iyabo Obasanjo took students in her COLL 300 class in Global Health class on a field trip to the Elmwood Cemetery in Norfolk. The topic of this visit was the Yellow Fever epidemic that struck that area in 1855 which was caused by the arrival of infected mosquitos carried by a transport ship arriving from the West Indies. The epidemic took the lives of over 3,000 men, women and children in the area, many of whom were buried at the Elmwood Cemetery. The deadly epidemic and was finally brought to an end by the arrival of winter later that year.
 Well, I guess that's about it for now, but please share with us any news, or updates that you might have for us and fellow alumni by completing the Send Us Your News form.
https://www.wm.edu/as/kinesiology/alumni/sendnews/index.php
 Please take care, travel safely, and have a wonderful holiday season!!
Mike Deschenes