Greetings from the Chair
June 2019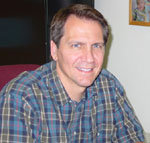 Not Again!!!
Can you believe it? Once again on Mother's day we lost a great group of William & Mary students who were wise enough to major in Kinesiology & Health Sciences. I suppose we should be happy about this as the class of 2019 worked hard for their baccalaureate degrees. This year we handed out about 120 degrees to students who had certainly earned them. They had already participated in the College-wide graduation ceremony the day before where a true celebrity W&M alum, award winning actress Glenn Close, delivered an inspiring commencement speech. But to actually "get the goods", students had to attend their smaller, departmental graduation on Sunday, May 12th. Ours was held once again this year at Trinkle Hall in the Campus Center. The place looked quite impressive with lots of sunshine beaming through the many large windows, with touch of green added from the many lovely plants scattered throughout the hall.
It also seemed like we had more friends and family attending this year - glad to see that as this is a joyous occasion that should be shared with loved ones. As usual, we had a bit of a last minute scramble to match diplomas with graduates as we always get a few folks who just show up without giving us a heads-up that they will be attending. Not to worry though, this was not even noticed by the guests attending as Chris Wilson and Venus Spencer always maintain their cool and make the necessary adjustments to see that everyone received a diploma and got to hear their name announced as a new graduate. A big shout-out to both Venus and Chris for doing such excellent work throughout the entire graduation process.
This year, we had Co-Majors of the year, Nate Miller and Grace Becker, and both were so deserving of the award. Nate and Grace took turns eloquently addressing the audience while reminiscing about their experiences with Kinesiology & Health Sciences over the last four years. How brave of them, I would have been shaking in my boots speaking to such a large crowd at their young age! I'm sure that with such smarts and courage, both Grace and Nate are destined for real success in the future.
After handing out all the diplomas, and a final great round of applause, students, families, friends, and faculty members hung out for a while at the Market Place in the Campus Center to chat a bit and get to know each other better. Again, thanks to Chris and Venus for arranging to have beverages and snacks to drink and munch on while mingling.
On other topics of interest, although graduation is obviously the most important one, we have ALL kinds of construction, and noise, going on right next to Adair Hall these days. To be clear, this is not, as some people think, an extension of Adair Hall (we had that last year with the building of the elevator), but rather it is the College's West Campus Power Plant project. I'm told that when it is done, the structure will be very attractive; let's hope so since it will be located in a very conspicuous place on the corner of Ukrop Way and Landrum Drive. Lots of foot, and vehicular traffic will have this power plant staring back at them as they make their way across campus so let's hope the engineers are right when they say this new building will be easy on the eyes.
More recently, we received some good news in that we have been authorized to conduct a search to hire a tenure eligible faculty to replace Prof Ken Kambis. This new person will be expected to have a PhD in nutrition as we continue to grow our offerings in nutritional sciences. With this new hire, we will have three specialists in nutrition making it possible to offer, for the first time, a concentration in Human Nutrition to join our other concentrations in Allied Health, Public Health, and Pre-medicine. I know that we are all more than a bit bummed out that Ken Kambis will be retiring (such a class act), but he will not be leaving completely as he will continue doing research in his hypoxia laboratory, in his new role as a research professor with the department.
One of Ken's former students, who now is a member of our faculty, Dr. Brennan Harris, recently returned from Taipei where he presented an invited talk on "Nutritional Strategies for Marathoners" at the 2019 International Seminar for Sports Nutrition. He also had a paper published in the International Journal of Religious Tourism and Pilgrimage that was titled "The Physiological Effects of Walking Pilgrimage", and he was also recently named The Class of 1955 Term Distinguished Associate Professor of Kinesiology & Health Sciences. Way to go Brennan!
Our professors aren't the only ones who keep themselves busy in K&HS. For example, just a couple of weeks ago Grace Becker (yes, that same Grace Becker!) successfully defended her Honors Thesis "The relationship between acute exposure to hypoxia and heart rate variability in unacclimatized individuals". I'm sure that Grace will continue to excel when she goes off to graduate school at the University of North Carolina-Chapel Hill next year.
And on a final note, this time last year I mentioned the possibility of starting the Center for Balance and Aging Studies (CBAS) due to our recent falls prevention program conducted at the Williamsburg Landing retirement community. Well, that program has become so successful that the Provost recently approved our proposal to give CBAS official designation as a Center within the College. And very recently, we have begun discussions to expand the reach of CBAS to include another falls prevention program sponsored by James City County to address the many accidental falls that occur throughout the James City County/Williamsburg area. These discussions are in the very early stages at this point, but they look promising. I think that this is a terrific example of how the service activities of the College can provide much needed help to the community which embraces W&M and all the people that work and study there. I'll be sure to keep you guys posted as to the progress of this project.
By the way, you can see more of what has been going on in the department, and pictures of graduation. And remember that we always want to hear what is new with you and your loved ones, so please keep us informed and post pictures.
Take care and have a great summer (is it here already?),
Michael R. Deschenes, PhD
Chair and Professor, Dept of Kinesiology & Health Sciences
College of William & Mary