Greetings from the Chair
May 2018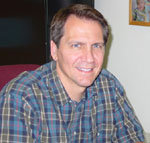 It's happened again!!
            That's right, on the morning of Sunday, May 13th we had to once again say good-bye to a whole bunch of outstanding young men and women wearing green and gold costumes! This year we had 120 students receiving their baccalaureate degrees at spring graduation, and they all looked so happy about leaving us (Ouch, have to have a thick skin in this business!) as did their relatives and loved ones. They had gone through the campus-wide graduation ceremony the day before in Zable Stadium. This was the first time in many years that the main ceremony was held outside. The weather held up Ok, although it was a bit warm for some, and this year's commencement speaker senator Mark Warner, delivered a fine and uplifting speech. We had our departmental – with a few Neuroscience majors included – graduation ceremony in Trinkle Hall again this year. I'm starting to really like that auditorium and facilities, there is plenty of room and a great view of the outside. And again the snacks and drinks, as well as the overall set-up for the graduation proceeding were all a big hit with students and those visiting us. Our thanks go out to Venus Spencer, our office manager, and Chris Wilson, our Administrative Coordinator, for getting all of this organized. Tis requires a LOT of work and all of us, students, faculty, and visitors are deeply appreciative for all that Venus and Chris do, not just for graduation, but for keeping the department running smoothly throughout the year. Pictures of our graduation are now posted on the departmental website.          
As always during our departmental graduation ceremony, we named this year's Major of the Year. It is always difficult to select one person from such a large group of impressive graduating seniors, and this year was no different. That said, by vote of the faculty, it was determined that our most deserving graduating senior of 2018 was Ms. Laura Anderson. Laura is not only a truly impressive student, but also an equally remarkable young lady. She has always been fully and faithfully dedicated to Kinesiology & Health Sciences. Laura has always had a clear picture of what her future would look like and after leaving us at W&M, she will begin her doctoral program in physical therapy at Virginia Commonwealth University this fall. Congratulations on all of our achievements, Laura! (Have you noticed that I like exclamation points?!).
       Ms. Anderson's excellence as a student while here at The College is perhaps best signified by the fact that she was inducted into the highly selective academic community of Phi Beta Kappa. In fact, it was a good year for K&HS in general on that front as five others who majored with us – Erin Heard, Sherry Li, Paige Whitney, Samantha Whitney (yes, they are sisters), and Caitlin Womack – were also inducted into PBK for the academic year of 2017-18. A big Congrats and Thanks to these six stellar students for making us all look good.
             In other goings-on since I last wrote to you; we are very pleased to announce that Julie Nance will be joining our faculty this fall. Julie is a nutritionist/dietitian who currently is working on campus as W&M's campus nutritionist. We view this as a big advantage as she already knows the College and its students well, and provides much counseling regarding healthy diet to our students. She also has experience teaching at W&M, as she previously has taught in an adjunct professor capacity as recently as 2017. We look forward to having Julie join us as she will strengthen our offerings in the popular field of nutrition.
             Not only are we building up our department by adding to our faculty and curricular offerings, there is also a whole lot of construction going on around here with cement and steel. The elevator project on the parking deck side of Adair Hall has really picked up steam, and real progress is now obvious. The only problem is that, as with all construction projects, it can be pretty noisy and messy in Adair at times. As a result, we're really cheering the construction crew on to get their work done well, and as soon as possible.
             And speaking of construction, we have had quite a few meetings with the architectural firm (Goody/Clancy) that is currently developing blueprints (do they still use that term?) for phase 4 of the Integrated Science Center (ISC) complex. We (K&HS) are scheduled to move into this new building in the spring of 2022; we will be housed – both offices and laboratories - on the first floor. There will also be as many as eight new classrooms with seating capacities ranging from 25 to 250 in ISC 4. All of this is very exciting as it will provide more opportunities for our increasing number of majors. I'll be sure to keep you posted on the progress of ISC 4.
             On a final note, due to the success of our very recently implemented falls prevention program at Williamsburg Landing – a local retirement community – which is supervised by our own Prof. Evie Burnet, we are now in the preliminary stages of discussions to initiate the tentatively titled Center for Balance and Aging Studies (CBAS). Given Evie's extensive background in biomechanics and gait analysis, and the commitment of our students to make a difference in the community, and for engaging in research, I think CBAS has a good chance of becoming a reality. We'll just need a little help from the College's senior administration, and players in the community (both seem quite possible at this time).
             Well, that's about it for now. Thanks for letting me share some of our most recent good news with you. If you have some good news that you'd like to share with us (I'm sure that you do) please do so.
            Also, remember that you can always catch up with what is going on in your department (you will always remain a part of our family) by visiting our website.
Take care and have a great summer,
Michael R. Deschenes, PhD
Chair and Professor, Dept of Kinesiology & Health Sciences
McLeod Tyler Professor of Integrated Health Sciences
College of William & Mary