Greetings from the Chair
February 2019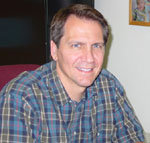 Spring has sprung, or has it?
Hello to all you Kinesiology & Health Sciences alumni,
I hope this finds you well and that you had a great holiday season. Now that all of those decorations have been put away, I guess we can dare to start thinking about spring time. After all, pitchers and catchers have reported to spring training, and for my father, that always marked the start of spring even if we were still knee-deep in snow back in Maine! Around here we've had quite a mix of weather; temperatures up to 70° one day and below freezing just a couple of days later. But the most important sign of the change of seasons, i.e. spring break, will be here in just over a week. Of course, along with spring break comes all of the stress of mid-term exams and papers that are due. I can already see the look of stress on the students' faces; I bet you guys miss that feeling terriblyJ. But "This Too Shall Pass" as they say.
 Right next door to Adair there is a non-stop flurry of construction going on as they are making great progress in building the West Campus power plant. But the noise, oh my!!! In the department we are right in the middle of a search for a tenure-eligible faculty member in nutrition. We have had four outstanding candidates on campus for interviews and what an impressive bunch. We hope to make a formal offer to one of them in the next few days. I'm happy to point out that each of these candidates have made unsolicited comments about how bright, energetic, and polite our students are. One even spoke about the very positive energy he saw in our students, but you guys already knew that didn't you?
 At the College level, W&M has been conducting a search for a new provost (chief academic officer of the College) to replace Michael Halleran who has been in the position for nearly ten years. This has been a remarkably quiet search, as no one seems to have heard anything about who might be named to this position. This is only the most recent in what has been quite a period of change for our dear old College as over the last three years we'll have named a new athletic director, a new president, and soon a new provost. It is a good thing that through these many years W&M has built such a solid foundation that it has remained solid through it all.
 Sad news for us here in Kinesiology & Health Sciences in that Profs Ken Kambis and Ray McCoy have decided to sign letters of intent to retire after the 2019-20 and 2020-21academic years, respectfully. These two real gentlemen have been stalwarts and assets to the department and the College for many years (I'm sure that you'll agree), and they will be sorely missed, not the least by me. I guess the good news is that we still have them for a couple of years, and we will have a chance to express our gratitude to them for all that they have done for us throughout the years.
 As a matter of fact, all of our faculty have been doing terrific things not only in their teaching efforts, but also as researchers. For example, Profs Ray McCoy, Evie Burnet, and Ashleigh Queen have recently co-authored a laboratory manual for Human Anatomy that was just recently published by the Kendall Hunt Publishing Co. Nice work guys!! Also, our two newest faculty members have been active in their scholarship. Prof. Carrie Dolan was the sole author of a recent article published in the highly respected journal BMJ Global Health, while also serving as a co-author of another manuscript appearing in Developmental Engineering. A third paper of Carrie's will soon appear in the prestigious PLoS ONE. And Prof Iyabo Obasanjo recently authored a chapter in a book on international development, and was co-author of an article appearing in Vulnerable Children and Youth Studies, along with another paper published in Constitutional Political Economy. Very prolific guys, so proud of you. Finally, Prof Michael Deschenes, along with three of his students, published a paper in Biogerontology. In addition, one of our star students was recently selected by the College for initiation into the elite academic organization of Phi Beta Kappa, so proud of you Lucia Arevalo Garay!
 Even tough it just passed a few days ago, I hope that you all enjoyed a nice Valentine's Day with your loved ones. I like this holiday because it forces us to remember what, and who is most important to our lives. It is too easy to get caught-up in the busy work-a-day grind, but Valentine's Day makes us hit the brakes and take time to show our appreciation for those that make life worth living! (Wow, that was kind of gushy wasn't it? But it is true).
 On such an upbeat note, I guess it is time to sign-off, at least for now. But please remember that you can always catch up on the latest events in the department by visiting our website.
Even more important, please keep us abreast of anything new and exciting going on in your lives. To do this, all you have to do is complete the Send Us Your News form, we look forward to hearing from you.
That's all for now, but will be back soon!
Mike Deschenes