Greetings from the Chair
September 2019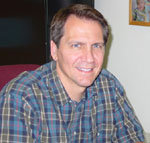 A New Year Begins!!
Hello everyone, hope you had a terrific summer, but it is rapidly drawing to a close as the new fall semester begins. And with that, it is time for me to bug you again and remind you of years gone by (hopefully good ones) and bring you up to date on recent happenings here in the Department of Kinesiology & Health Sciences. Actually, let's start with that last bit. Last spring the faculty and dean of Arts & Sciences approved of our request to change our name to the Department of Health Sciences, and eliminate Kinesiology from our title. I realize that this may strike a nerve with some (including me), but as our department continues to evolve and grow, both in student numbers and academic fields that we embrace, it seems appropriate, and more accurate, that we change our name to just Health Sciences. Let's be clear, we are not foregoing Kinesiology, it just seems that the discipline that studies "human movement" would fit nicely under the broader umbrella of Health Sciences, especially with consideration of the new "Exercise is Medicine" initiative that has gained traction over the last few years. At this point, we are waiting approval from the State Council on Higher Education in Virginia (SCHEV) to approve our name change. At the same time, we will be petitioning SCHEV to officially recognize us as a STEM department, or more directly as a STEM-H (for Health) department. Everything we do here can be considered either as a natural, or a social science, and we'll be moving into the newest addition to the Integrated Science Center (ISC-4) when that opens in 2023, so it seems reasonable that we should seek STEM-H recognition at this point.
As another sign of the change and growth of our department, our newest faculty member, Prof Zach Conrad is now officially on board with us!! Zach earned his PhD in Nutrition and is coming directly from his post-doctoral training with the U.S. Department of Agriculture's research center in North Dakota (got to believe he is really going to appreciate his new gig here come winter time!). We know Zach is going to add a lot to our department both with his teaching, and his research, which he is anxious to get started on with the help of some of our undergraduate students.
Spinning off from this is our new search to add another tenure-eligible faculty member specializing in nutrition to our department. This would give us three faculty members specializing in nutrition – with Zach and Julie Nance already here – giving us the heft needed to start a concentration in Human Nutrition (not looking to develop better dog food, although I love my Molly!). This would give us four concentrations for students to pick from (though they don't need to concentrate) with the others being in Allied Health, Public Health, and Pre-medical studies. In turn, this justifies the change in our department's name, and our STEM-H designation, along with our move into ISC-4. Things are looking up around here, and it is exciting to watch this unfold.
As examples of the hard work that they do, several of our faculty members, and their students, have had their work published recently in highly regarded journals in their respective fields. Prof Carrie Dolan had a paper published in the Journal of Community Medicine and Health Education with two students serving as co-authors. Carrie is also the author of a chapter in a recently released book related to public health. Joining in on the publication parade is Prof Robin Looft-Wilson. She, along with one of her student research assistants recently published an article in the Journal of Vascular Research, while another paper she co-authored along with three of her students recently appeared in Physiological Reports. Prof Michael Deschenes had a paper published this summer in Current Opinion in Physiology. And how about this? Prof Iyabo Obasanjo has coordinated with the Reves Center to have the past Minister of Health from Nigeria, Dr. Isaac Adewole, come to campus to speak of healthcare delivery in his homeland, and the battle to eradicate polio. He will be speaking on Friday, October 18th at 2:00 in room 101 in Andrews Hall for those who might be interested in attending. Way to go Iyabo!!
Our students have also been busy. For example, several students of Profs Ken Kambis and Brennan Harris presented their research collected in the Hypoxia Laboratory at the annual meeting of the American College of Sports Medicine held in Orlando. Congratulations to Grace Becker, Hunter Embry, and Kelsey Short for their accomplishments; not many undergraduate students present at this venue.
Let's turn now to more fun and engaging events that we hope you guys will participate in. That's right, homecoming is right around the corner. This year's home coming celebration will be held on October 17th-20th, and on Saturday the 19th, we'll be holding the department's homecoming get together from 10:00 am to noon. So please come join us under the tent to chat and reminisce with your old professors and friends for a while; we'll have the usual snacks and refreshments. This year the football game will be against JMU, and will begin at 3:30 giving you plenty of time to socialize before kick-off. Just so you know (in case you like that sort of this sort of thing J), the campus-wide tailgate party begins at noon. The whole schedule for homecoming can be found on their website.  
Well, I guess that is it for now (and it is time to head home for dinner!), but please remember to share any exciting, or even not so exciting, news that you may have with the rest of us.
And remember, you can always check in on us to see what is new here in the 'Burg by linking to us.
Take care and hope to see you at homecoming,
Michael R. Deschenes, PhD
Chair and Professor, Dept of Kinesiology & Health Sciences
College of William & Mary