Greetings from the Chair
February 2018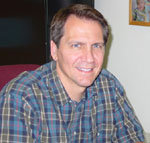 Hello to all you Kinesiology & Health Sciences alumni!!
 I hope this finds you all doing well and enjoying life. I can't believe that another holiday season has come and gone already, although today's 70° weather makes it hard to think that the new year started just 6 weeks ago! So far, the spring semester has gotten off to a pretty good start, but hold on tight as the first round of exams is right around the corner.
There is still a whole lot of construction going on here in and around Adair Hall. We've got one group that is still working on building a new elevator of the side of the building where the main entrance to the building is. They will also be putting in a new permanent ramp way next to the stairs leading into Adair's main entrance. This will finally enable the removal of the wooden ramp that had been installed, and remains, on the opposite side of the building.
We also just completed converting what had been a very large office on the 4th floor (room 400) into 2 smaller offices. Now each member of our faculty has his/her own office to do their work in, and to meet with students.
After clearing out the trees (looks so bare out there now) on the grounds of Adair bordering the corner of Ukrop Way and Landrum Drive, a construction company will soon begin building a new power plant next to Adair where the students' gravel parking lot currently resides. Apparently, this is to be a rather large project (2-3 stories) that will pretty much take up that whole side of our grounds, and will supply power to this entire side of the campus. They (the construction company) are supposed to be in and out pretty quickly, causing minimal disruption, but we'll have to see about that!
We will also soon hold our second round of meetings concerning construction of ISC 4, which is to become our new home. The architectural and construction firm selected is out of Boston and seems to be top notch (feel lucky we were able to get them); now let's see how they do once the ground gets broken.
Now for much more exciting news, our own Prof Ashleigh Queen is quite pregnant and is due to deliver in May. She is a real trooper and reports having no trouble at all so far. Let's all keep our fingers crossed and hope it stays this smooth throughout the entire process including delivery. Good luck to you Ashleigh, we're all cheering for you!!
I believe that I had mentioned to you earlier (Did I? Memory's not so good these days) that we would soon be starting a search for a tenure eligible faculty member specializing in Nutritional Sciences. Well, we are fairly deep into that process now having had campus visits and interviews by our three finalists. We have pared this down to a single top candidate and we have made an offer to that person. Negotiations continue and we hope to have the process completed within a few days; please keep your fingers crossed for us. I believe that if we can close this deal (is this what Trump means when he speaks of the art of the deal?) this nutritionist will add a lot to our department and even the whole College. And more recently we were given permission to begin a search for a non-tenure eligible (NTE) faculty member also in the field of nutritional sciences. The NTE status means that this person will have no research responsibilities, but will have a heavier teaching load (3 courses per semester). As with our other nutritionist, this person is expected to be on board with us for the fall semester of 2018.We are very excited to be able to further add to our offerings in nutritional sciences.
I'm sure that all of you will join me in expressing joy for the return of Prof Ken Kambis to the department this semester. You may recall that he was out last semester so that he could have knee replacement surgery. Although he still has some recovering to do, Ken is coming along nicely, and it sure is great to have him back with us.
Another recent development that we are all quite excited about is a collaborative effort that K&HS will soon begin with Williamsburg Landing, a local retirement community. Officials there have stated that their biggest concern for their residents is accidental falls. As you know, such falls can have serious consequences that can effect both the quality of life, and general health among the elderly. We have stepped in to try to help them combat this problem by starting a new "Stay on Your Feet" program. This will be headed up by Prof Evie Burnet who has both her DPT (doctorate in physical therapy) and PhD in exercise science. Of course, a number of our ever so talented and enthusiastic students are also going to participate in this, as well. We have already had a number of meetings with top administrators and medical personnel at the Landing along with our Provost in charge of research here at W&M (who is also psyched about this). We will soon be conducting our first data collection session at the Landing to see who might be most susceptible to an accidental fall based on their results for strength balance and gait tests. I'll be sure to keep you updated as this initiative progresses.
As always, our students are a real source of pride, and are certainly worth bragging about, so here goes. At the recent conference of the Southeast Chapter of the American College of Sports Medicine held in Chattanooga, TN, Erin Heald and Morgan Butler, both serving as first authors, presented the research that they had conducted over the past year with Profs Ray McCoy and Brennan Harris, respectively. Similarly, at the upcoming undergraduate Science Research Symposium sponsored by the Charles Center, Sherry Li (neuromuscular junctions), Hannah Tufts (synaptic active zones), and Jane Oh (muscle fiber profiles) will be presenting their recent research findings on the effects of aging on endurance training-induced neuromuscular adaptations. We are so fortunate and grateful to have such bright and hard-working students to engage with; congratulations to you all. Thanks for making us look good!!
Well, that's about it from here in the "Burg, but please remember to check in on our newest updates by visiting our website.
At the same time remember that we would like to be able to include the most recent, and exciting events in your lives, so please remember to complete the Send Us Your News form.
In the meantime, we here with Kinesiology & Health Sciences wish you and yours the very best!!
Take care and keep in touch,
Michael R. Deschenes, PhD
Chair and Professor, Dept of Kinesiology & Health Sciences
McLeod Tyler Professor of Integrated Health Sciences
College of William & Mary