Greetings from the Chair
September 2022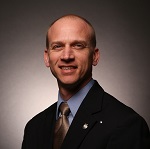 Greetings fellow alumni and friends,
I hope you all are doing well as the new academic year has begun here at William & Mary and homecoming is just around the corner.  With that in mind, I invite you all to join us Saturday, October 8th from 10-noon under the tent, outside Adair Hall for our annual homecoming gathering.  This is a great chance to connect with other alumni in-town for homecoming as well as the faculty.
I would also like to take a moment to highlight all the good things that have been going on in the department since June.  Several of our faculty have received new funding for various projects including:
Developing a Decision-Support Tool for Achieving Food Sovereignty on Native American Tribal Lands in Virginia from the Jeffress Trust Awards Program for Advancing Health Equity (Prof. Zach Conrad)
Completing the puzzle: Reporting on the role of emerging donors in HIV/AIDS prevention and care from UNAIDS (Prof. Carrie Dolan and her team at Ignite)
Studying the Impact of Community Health Workers: Collecting Baseline Information for a Longitudinal Study from the Jeffress Trust Awards Program for Advancing Health Equity (Prof. Iyabo Obasanjo)
In addition, the faculty have been highly productive in research including the following new publications:
Love, D. C., Asche, F., Gephart, J. A., Zhu, J., Garlock, T., Stoll, J. S., Anderson, J., Conrad, Z. ... & Bloem, M. W. (2022). Identifying Opportunities for Aligning Production and Consumption in the US Fisheries by Considering Seasonality. Reviews in Fisheries Science & Aquaculture, 1-15.
https://www.tandfonline.com/doi/pdf/10.1080/23308249.2022.2121601
Conrad, Z., Kowalski, C.*, Dustin, D., Johnson, L.K., McDowell, A.*, Salesses, M.*, Nance, J., Belury, M.A. (2022). Quality of Popular Diet Patterns in the United States: Evaluating the Effect of Substitutions for Foods High in Added Sugar, Sodium, Saturated Fat, and Refined Grains. Current Developments in Nutrition, 6(9), nzac119.
https://academic.oup.com/cdn/article/6/9/nzac119/6695492
 Conrad, Z., Cyril, A.*, Kowalski, C.*, Jackson, E., Hendrickx, B.*, Lan, J.J., McDowell, A.*, Salesses, M.*, Love, David C. Wiipongwii, T., Zhang, F.F. Blackstone, N.T. (2022). Diet sustainability analyses can be improved with updates to the Food Commodity Intake Database. Frontiers in Nutrition, 1217.
https://www.frontiersin.org/articles/10.3389/fnut.2022.868485/full
 Love, D. C., Thorne-Lyman, A. L., Conrad, Z., Gephart, J. A., Asche, F., Godo-Solo, D., ... & Bloem, M. W. (2022). Affordability influences nutritional quality of seafood consumption among income and race/ethnicity groups in the United States. The American journal of clinical nutrition, 116(2), 415-425.
 https://academic.oup.com/ajcn/article/116/2/415/6605246
 BenYishay, A., DiLorenzo, M., & Dolan, C. (2022). The economic efficiency of aid targeting. World Development, 160, 106062.
https://www.sciencedirect.com/science/article/pii/S0305750X22002522
Odhiambo, J. N., & Dolan, C. B. (2022). Spatial and spatio-temporal epidemiological approaches to inform COVID-19 surveillance and control: a review protocol. Systematic reviews, 11(1), 1-6.
 https://systematicreviewsjournal.biomedcentral.com/articles/10.1186/s13643-022-02016-0
While our faculty have been productive, we cannot do our work without our students who have been equally impressive in their productivity as co-authors (denoted by *above) and in presenting their work at national meetings including those who participated in the American Society of Nutrition virtual conference in June: Corina Kowalski, Meredith Salesses, and Acree McDowell.  Students have also been successful obtaining funding for their work either through internal funding like the Charles Center Summer Research Fellowship (Corina Kowalsk) and the Jack Borgenicht Summer Research Grant (Carly Swierbut, Sarah Cipolla, Rachel Krekstein) or the impressive Summer Undergraduate Research Fellowship (SURF) by the American Physiological Society (APS) awarded to Jacob Stechmann, a U.S. Marine veteran working in Prof. Robin Looft-Wilson's lab.
 If you've been paying attention thus far you will note that Prof. Zach Conrad has been extremely productive and, so I would also like to highlight that Zach was selected as W&M's only nominee for the Outstanding Faculty Award in the Rising Star Category offered by the State Council of Higher Education for Virginia.  We are extremely proud to have Zach as one of our colleagues.
While I have been touting the accomplishments of our relatively small group of faculty, I am pleased that we were approved to search for two new tenure-eligible faculty this year in Human Nutrition and Public Health. If you or anyone you know are interested in joining us please see our ads on the W&M jobsite.
 Finally, as always we love to hear from you and you can always provide updates via our Send Us Your News link.  Hope to see you at homecoming! Go Tribe!
 Sincerely,
Brennan Harris
Brennan Harris, Ph.D. (B.S. Kinesiology '93)
Chair, Department of Kinesiology
Ken Kambis Term Associate Professor
William & Mary
mbharr@wm.edu