Greetings from the Chair
June 2020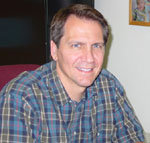 Hello Out There in the Real World:
        Well, things certainly have changed since the last time I wrote to you, haven't they? Holy Cow, this COVID-19 virus is sure causing disruptions in our lives. I especially feel for you guys who have young kids who now must stay at home and be home schooled, all the while maintaining your other responsibilities, including work. Talk about a juggling act!! My deepest respect goes out to you.
Here at William & Mary, the pandemic has caused lots of trouble, as it has at all universities. First, we had to finish out the spring semester teaching and testing on-line. I was actually quite impressed with how the College – oops, there I go again, we're not to refer to the College of William & Mary any longer, but I think that we should be proud of our heritage, don't you? Sorry, I digress, we really did a pretty good job of transitioning to teaching and testing on-line particularly considering the short period of time that we had to do this. My overall impression is that neither students, nor faculty especially cared for virtual education. I think this may prove a valuable lesson, albeit a forced one, for us as we move forward while always trying to stay on the cutting edge.
COVID-19 also had a large impact on how our graduation commencement and festivities took place for the class of 2020. Again, I was so impressed by the resilience and positivity that our students showed during this. I didn't hear a single complaint either from students, or faculty about having to do our graduation via Zoom (boy, how we've come to rely on this). In large part, this was due to the tremendous job that Prof. Sarah Menefee did in organizing things, with important assists from Profs. Ashleigh Queen and Brennan Harris. Kudos to them for pulling this off; thanks to all of them from all of us. To their credit, the vast majority of students graduating actually participated in our virtual ceremony! Despite the success of our recent virtual graduation, we will be having a "live" one this October during the fall break. As is typical, we will be having both a college-wide, and departmental ceremony. We are all looking forward to that.
An important feature of our graduation events is electing and naming our Major of the Year. For the class of 2020, Lauren Graves was selected for that award. Lauren is such a deserving recipient of this distinction as she accrued a very impressive grade point average while being a member of the varsity Track and Field team, serving as a teaching assistant for the Human Anatomy Laboratory class, and even participating in laboratory-based research. She will now take the next step in pursuing her goal of becoming a physical therapist by beginning the Doctor of Physical Therapy (DPT) program at VCU in the fall. Does anyone doubt that she will excel there as she has done here at W&M for the last four years?
Despite all the "Doom and Gloom" news that we are hearing about COVID's effect on the economy (and it has been devastating), the latest news on commitments to attend W&M in the fall (most were expecting at least a 5% decline), the number of students making their down-payments to hold their spot in the fall is actually higher than it has been for the last couple of years. Let's hope these students will, indeed, show up when the fall semester begins. Assuming they do, what should they expect to find when classes resume? Well, at this point it seems like there will be three options that are currently being discussed. Plan A, and the most preferable to everyone involved, would be to go back to teaching classes in the traditional manner with students and faculty getting together in brick and mortar classrooms here on campus. Plan B would be a hybrid situation where small classes – maybe no more than 25 students – would be held in traditional classroom format with proper social distancing between participants, but large, lecture based classes would be held on-line. Finally, Plan C is to continue to hold all classes, large and small, virtually as we did during the second half of the spring semester. Of course, which option we ultimately decide to go with will depend on what the science and public health experts tell us about the dangers of infection posed by the three options, let's keep our fingers crossed and pay attention to news reports.
Let's see, what else is there? Oh I know, Kate Conley, who has been the Dean of Arts & Sciences the last eight years, will soon be stepping down to join the faculty of Modern Languages to become a professor of French and Francophone Studies so she can resume her duties for teaching and writing. We will miss her being in the dean's office as I have always considered her as a friend and supporter of our department. The new dean of A&S is Maria Donoghue Velleca who will be coming to us from Georgetown University where she had most recently been serving as senior associate dean for faculty affairs and strategic planning. She comes to us highly recommended and qualified, and believe it or not, she studied the neuromuscular junction during her career as a scientist!
You might remember that in our last letter, I told you the exciting news that in honor of his pending retirement and all that he has achieved during his more than 30 year career with our department, a very generous donor made possible the Ken Kambis Term Professorship of Kinesiology & Health Sciences. Now, I can add even more good news in that through the kindness of another benefactor, we now have been able to create the Ray McCoy Health Sciences Research Fund. This, however, is set up differently in that it will rely upon continuous, ongoing contributions that will then be awarded, after it accrues a total of at least $10,000, to support research conducted by faculty-student partnerships. I think this is a wonderful way to pay respect and acknowledge all the great things that Ray has done for us all, students and faculty, during his long career with the department. If you think that you'd like to make a donation and honor Ray, the link is below. Please remember, no amount is too small (or too large!!).
https://giving.wm.edu/give-now/?appealcode=20A0R&allocation=4786
 And on that same note, despite the impediments posed by COVID-19, our wonderfully talented students and faculty have remained very busy with their research. For example, Prof. Carrie Dolan recently had an article published in the very prestigious journal PLOS One, and another in the Journal of Community Medicine and Health Education. Our newest faculty member, Prof. Zach Conrad published a paper in Nutrition Journal, and another in Current Developments in Nutrition. And speaking of student- faculty research partnerships, congrats to Kelsie Short and Profs Brennan Harris and Ken Kambis for the successful defense of Kelsie's honors thesis whose findings were also recently published as an abstract in the highly respected FASEB Journal. Way to go guys!!
While handing out congrats and thanks, I should also send a big shout out to James Psathas, one of our terrific students as he was inducted this spring into the elite academic society of Phi Beta Kappa. Big Congrats to him (and his twin brother who was also selected, but wasn't smart enough to major with us J). James will begin his DPT program this fall at the University of Delaware, one of the truly outstanding programs in PT. On a similar note, another one of our graduates of the Class of 2020, Hannah Tufts, will begin her DPT program this fall at Duke University after receiving one of their very selective, and generous, scholarships. Again, nicely done guys, you make us all proud.
 Take care and stay safe,
Michael Deschenes, PhD
Chair and Professor, Dept of Health Sciences
College of William & Mary