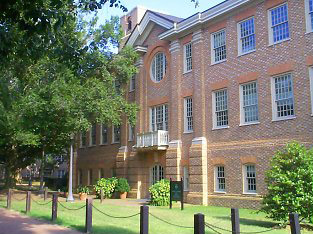 The Geology Department is housed in McGlothlin-Street Hall with additional lab space in the Integrated Science Center.

Departmental research and teaching topics range from molecules to mountains. Our facilities and equipment reflect that broad scope, providing students and faculty with the equipment and resources to engage in active research and hands-on learning in the earth sciences. Available on-campus field sites include Lake Matoaka, where the Keck Environmental Field Lab is located, and the surrounding woods. The department also boasts a world-class rock and mineral collection and an outdoor rock garden. The department works closely with the Virginia Institute of Marine Science in Gloucester, VA, providing access to a breadth of additional research facilities and equipment.
Below is a list of on-campus facilities and equipment:
Dionex Ion Chromatograph (ICS 2000) for the routine measurement of cations and anions in natural waters. The ICS 2000 is also equipped with a Dionex AD25 Absorbance Detector for the measurement of transition metals in solutions. 
Thermo Aquamate Scanning UV-Vis spectrometer for basic colorimetric measurements and organic matter characterization.
Shimadzu AA-6300 Flame Atomic Absorption Spectrophotometer for metals analysis in solutions, and a Varian 240Z graphite furnace atomic absorption spectrometer for trace metals determination.
Shimadzu TOC-L analyzer for the determination of dissolved organic and inorganic carbon in waters at trace (ppb) levels.
Heavily shielded Intrinsic Germanium Detectors for low-level x-ray and gamma-ray spectrometry for the measurement of 238U-226Ra-210Pb disequilibria, 40K, 137Cs, and cosmogenic 7Be in soils and sediments.
Canberra Alpha Analyst with four Passivated Implanted Planar Silicon (PIPS) detectors for alpha spectrometry.
Leman Labs High Dispersion Prism Inductively-Coupled Plasma Optical Emission Spectrometer (ICP-OES) with radial and axial view.
Bartington MS2E magnetic susceptibility sensor and MS3 meter.
Elementar Vario Micro Select elemental analyzer for quantitative determination of nitrogen, carbon, and sulfur content of sediment samples.
Beckman Coulter LS13320 laser diffraction particle size analyzer with Aqueous Liquid Module.
Thermo Scientific Nicolet iS50 Fourier Transform Infrared Spectroscopy (FTIR) with a Harrick Praying Mantis diffuse reflective accessory.
~225 ft2 walk-in cold room for sediment core and sample storage.
Cosmogenic radionuclide preparation and separation lab, including disc mill and jaw crusher, large capacity ultrasonic tanks, and hydrofluoric acid hood.
Stream table and hillslope evolution simulator.
MicroMill Microsampling Device for isotopic analysis.