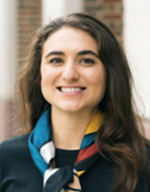 Joanmarie Del Vecchio
Assistant Professor (Starting Spring 2024)
Office: McGlothlin Street Hall 215
Email: [[joanmarie]]
Office Phone: TBA
Research Areas: Surface Processes, Permafrost Landscapes, Remote Sensing, Computational and "Big Data" Approaches to Earth and Environmental Science

Education
Ph.D., Geoscience, Penn State
M.S., Geoscience, Penn State
B.A., Geology, Pomona College
Research Interests
I am a geomorphologist who uses field observations and remotely sensed data (from satellites and drones) to study landscape response to changing climate. Starting with my first undergraduate research project on cinder cones in Arizona, I have used field observations, geochemical data, geochronology (dating) tools, and remote sensing to understand how climate controls vegetation and erosion patterns both across Earth's climate gradients and back in geologic time through past climate change. For my Ph.D. research I explored how permafrost thaw in ancient Appalachia controlled landscape form and erosion rates. When I am not digging holes and dating old dirt in our backyard, I use remotely sensed topographic, climate, and vegetation data from the modern Arctic to find signatures of permafrost processes and thaw on the landscape and consequences for sediment and carbon release. I am also passionate about developing classroom activities that promote interdisciplinary and inclusive investigations of Earth's surface.
Current Projects
How does permafrost extent control the development of rivers, and how might warming change erosion rates and patterns?
How did landscapes and vegetation communities co-evolve after permafrost thawed in ancient Appalachia?
What are the best kinds of data and models to train computers to "find" landforms of interest in the Arctic?
How does the layering and tilting of bedrock in Appalachia affect the formation of mountains and rivers?