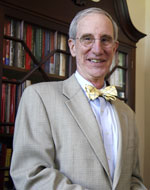 Geoffrey Feiss
Professor Emeritus
Email: [[pgfeis]]

Education
Ph.D., Harvard University
B.A., Princeton University
Research Interests
Ore deposits and mineral resources, economic geology and geochemistry, public policy and environmental earth sciences
Selected Publications
Feiss, P.G., ed., 1998. Mineral Deposits of the Dominican Republic. Filed Trip Guidebook for the 1998 Society of Economic Geologists Spring Meeting, Orlando, Florida.
Rogers, J.J.W., and Feiss, P.G., 1998. People and the Earth: Basic Issues in the Sustainability of Resources and the Environment. Cambridge University Press, New York, 3338 p.
Feiss, P.G., Glazner, A.F., and Bartley, J.M., 1996. Syntectonic silver-barite mineralization in the hanging-wall of the Waterman Hills detachment fault, central Mojave Desert, CA. In Coyner, A.R., and Fahey, P.L., eds., Geology and Ore Deposits of the American Cordillera, Symposium Proceedings, vol. II, p. 855-870.
Feiss, P.G., Vance, R.K., and Wesolowski, D.J., 1993. Volcanic-hosted gold and base metal-metal deposits associated with Neoproterozoic-Early Paleozoic back-arc extension in the Carolina terrane, southern Appalachian Piedmont. Geology, v. 21, p. 439-442.
Feiss, P.G., Riggs, S., Maybin, A., and Grosz, A., 1990. Mineral resources of the Carolinas. In Horton, J.W., Jr., and Zullo, V.A., eds., The Geology of the Carolinas, Knoxville, TN, University of Tennessee Press, p. 219-348.
Feiss, P.G., and Slack, J., 1989. Mineral Deposits of the U.S. Appalachians. In Hatcher, R.D., Jr., Thomas, W., and Viehle, G.W., eds., The Appalachian-Ouachita Orogen in the United States: The Geology of North America, vol. F-2, Geological Society of America, p. 471-494, 1:5 000 000 scale map.