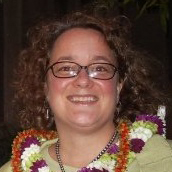 Jennifer Kahn
Associate Professor of Anthropology
Office: Rm 125 Washington Hall
Phone: 757-221-1054
E-mail: [[jgkahn01]]
Areas of Specialization: Archaeology; Oceania; Household Archaeology; House Societies; Social Complexity; Monumental Architecture and Ideology; Human-Landscape Interactions; Exchange and Geochemistry; Lithic Analysis; Chronometric Techniques

Background
My research centers on the archaeology of chiefdom societies of Oceania. I investigate the ways in which Central Eastern Polynesian societies diverged through time to become chiefdoms of varying social and political complexity. My work is multi-scalar and focuses on the interplay of dynamics between households, communities, and regional polities. Recent research projects have included analysis of hinterland regions on Kauaʻi (Hawaiian Islands), settlement patterns and monumentality in the Society Islands, and 1,000 year sequences of human-landscape interactions in the Society and Gambier Islands.  I currently have field projects in the Hawaiian Islands, the Society Islands, and Mangareva, and I have previously worked in the Marquesas Islands, New Caledonia, and the American Southwest.  My research projects in Polynesia are community based and engage descendant communities in all stages of the research process. I also have an active museum collections based and laboratory based research program. Current lab based projects concern the production, trade and exchange of stone tools in Central Polynesia, as well the analysis of shell tools and marine faunal assemblages. I am eager to supervise students in Oceania-based research and on larger themes of island archaeology. Undergraduate and graduate students interested in field-based and lab-based projects are encouraged to contact me regarding the possibilities for collaborative research.
Education
BA University of California, Berkeley  1992
MA University of Calgary 1996
PhD University of California, Berkeley 2005
Courses Taught
ANTH 100-01: World Archaeology: From Cavemen to Kings
ANTH 150: Archaeology and Popular Cinema
ANTH 201: Introduction to Archaeology
ANTH 350: The Politics of Representation: Exhibition, Film, and Material Culture
ANTH 350-05: People and Cultures of Polynesia
ANTH 470/570: Methods in Archaeological Science
ANTH 470/600: Household Archaeology
ANTH 470/600: Wealth and Power in Prehistory
ANTH 603: Archaeological Theory
ANTH 640: Paper and Presentation
ANTH 671: Grants
Research
Household Archaeology and Monumental Architecture in the Society Islands
Since 1999 I have directed excavations in the ʻOpunohu Valley, Moʻorea Island, Society Islands. The research explores the development of social complexity among Maʻohi chiefdoms, seeking to  define the socio-political and economic structures through which these societies were transformed into one of Polynesia's most stratified and economically specialized chiefdoms.  An overarching goal is to explain the development of rank and status hierarchies in the transformation of smaller-scale heterarchical chiefdoms into larger scale hierarchical ones.  Methodologically, this research focuses on the materialization of social relations of kinship at multiple scales: the micro-level of residences, the macro-level of monumental architecture and its spatial distribution, and an integration of the two data sets to model community-level social relations.  Macro-scale structures of socio-political districts are investigated through analysis of monumental temple sites.  Areal excavations of selected habitation sites and associated ritual architecture provide micro-scale data, enabling analyses of inter- and intra-household variability. Projects in the valley are carried out in collaboration with the Tahitian community. I am currently seeking grant funding to complete LIDAR mapping and GIS viewshed analysis in the valley.

Human-Environment Interactions in Central Eastern Polynesia

Over the course of ten years I have collaborated on French Polynesian projects with a multidisciplinary focus. The goal is to study island ecosystems and cultural responses to ecosystem change which led to radically transformed landscapes and emergent sociopolitical formations. The project studies three contrastive islands in Eastern Polynesia, Mangareva, Moʻorea, and Maupiti, applying the concept of islands as model systems.  Our goal is to understand long-term, dynamic interactions between island populations and island environments which allowed some socioecosystems to develop substantial resilience, and led others into states of high instability and vulnerability.  We use archaeological and paleoecological data to understand interactions among anthropogenic landscape change, and shifts in settlement patterns, agricultural infrastructure, production, and ideological control, both how these variables influenced emerging social complexity, and how they effected long term adaptive cycles in island socioecosystems.  The research integrates field analysis of landscape biogeochemistry, paleoecology, palynology, and zooarchaeology-paleontology and collaboration with ecological and foodweb modelers to identify long term anthropogenic change on each island and environmental state variables influencing vulnerability. As of summer 2018 many aspects of this work are ongoing, including analysis of coastal marine faunal assemblages and human-use webs analysis, and other forms of demographic modeling.
Settlement and Subsistence in Miloli'i Valley (Hawaiian Islands) During the Prehistoric-Historic Periods

In 2009 I initiated a program of archaeological research, outreach, and stewardship in collaboration with State Parks Hawaiʻi and the Na Pali Coast Ohana. The project investigates the long-term history of prehistoric settlement and subsistence in Miloliʻi Valley, found along the stunning, isolated, and rugged Na Pali coast, Kauaʻi.  The archaeological research integrates inventory survey, mapping, and test excavation of house sites, agricultural terraces, and rockshelters spanning the prehistoric to historic periods.  The goal is to investigate how Hawaiian communities adapted and flourished in this rugged hinterland, and to what extent socio-political shifts in this hinterland were connected to elite centers in other parts of the island.  This project is carried out with extensive local Hawaiian community involvement, as well as educational outreach to local eco-tourism providers on the island.  An important research component involves providing stewardship for the archaeological sites and their surrounding environmental landscape, and in aiding the Park Service with the ongoing conservation of natural and cultural resources in Miloliʻi Valley.

Adze Production, Trade, and Exchange in Central Eastern Polynesia (Lab-Based)
This project addresses if the emergence of socio-political and economic complexity in chiefdoms result in increased technological specialization in the production of material goods, such as stone tools (adzes). A corollary question is whether persons of differential rank and status (e.g., commoners, elites) had varied access to adze production or the raw materials used in their fabrication, and if these relationships vary between highly complex chiefdom societies (e.g., Hawaii, Societies) and smaller scale "simple" chiefdom societies (e.g., Pitcairn). The project targets comparative analyses of stone tool assemblages from Polynesian archipelagoes of varying size, isolation, and social complexity:  the Hawaiian Islands, the Society Islands, the Pitcairn group, Mangareva, and Samoa.
Investigating Marine Adaptations over 1,000 Years in the Pre-Contact Society Islands and Hawaiian Islands (Lab-Based)

Over the course of the last ten years I have amassed large archaeological collections from coastal sites excavated on Maupiti, Raiʻatea, and Moʻorea in the Society Islands and Kauaʻi in the Hawaiian Islands. While much of the fishbone and shell assemblage analysis has been completed, there remains a wealth of analysis to be completed to track potential resource depression and raw material use. Potential student projects include use-wear analysis of shell scrapers, detailed analysis of cut shell and shell tool artifacts, analysis of crab and urchin remains, and DNA analysis of fishbone collections.
Read more about Dr. Kahn's human-environmental interactions research.