Q&A: Ferrão on the history, current state of anti-Asian sentiment and violence
The mass shooting in Atlanta in early March that took the lives of eight — including six women of Asian descent — has brought a recent spate of violence against Asian and Asian American people into the national focus.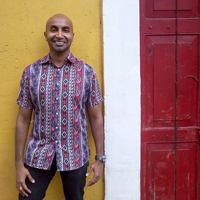 W&M News recently spoke with R. Benedito Ferrão, assistant professor of English and Asian & Pacific Islander American Studies, to discuss the history and roots of anti-Asian sentiment and violence in the U.S. and abroad.
Ferrão, who also teaches in the university's Asian & Middle Eastern Studies Program, is currently a Fellow of the Africa Multiple Cluster of Excellence at the Bayreuth Academy of Advanced African Studies in Germany. In 2019, he traveled to Goa to conduct research as the recipient of a Fulbright-Nehru Academic and Professional Excellence Research Award.
This story is part of W&M News' Faculty on Topic series - Ed.
The news has reported an increase in anti-Asian violence not just in the U.S. but across the world in the past year. Is this really a new phenomenon, or does anti-Asian sentiment and anti-Asian violence have a much longer history?  
Even as it is important to take cognizance of the recent spate of anti-Asian violence in the United States and elsewhere, it is necessary to contextualize these incidents within a larger terrain of how societies regard minorities and those deemed "other." In this sense, violence against Asian Americans does not occur in a vacuum, given the overwhelming evidence of brutality against, and even the deaths of, Black people, Muslims, LGBTIQ2S, Latinx, Native and other minority communities. That such violence may also be gendered and state-sanctioned adds another dimension.
To say there is an increase in anti-Asian violence may suggest that these events are a contemporary phenomenon. They are not. Indeed, the demonization of Asian people has received a fillip in the era of the pandemic, not least due to politically motivated rhetoric that has racialized the origins of the coronavirus. The stigmatization of Asian people, in particular through the rhetoric of disease, has a particular resonance in the West.
Dating back to the 19th century, the arrival of Asian migrants to North America was characterized as a "Yellow Peril." Xenophobic caricatures in popular media at the time depicted the Chinese, among others, as an undifferentiated and multitudinous horde that were carriers of disease who, additionally, threatened the livelihoods of white people. Racist media tropes of this nature could be seen not only in the United States, but also Canada and Australia.
What are some of the factors that have contributed to anti-Asian discrimination or hate crimes in recent history?
There is a line that can be drawn between the notion that American society regards people of Asian origin as perpetually foreign and the idea that a disease can have a racialized origin.
An example of the first is the fact that Americans of Japanese Ancestry (AJAs), as they were then known, could be rounded up and placed in concentration camps during World War II because it was believed that their allegedly nascent patriotism to Japan, regardless of their birth or lifetime in the United States, could be activated thus making them a national threat.
More contemporarily, that a political administration could irresponsibly and unscientifically label the coronavirus as the "China Virus," to avert attention from its inaction in dealing with the pandemic, again demonstrates how the assumed foreignness of a minority community is opportunistically relied upon and perpetuated. This was done with scant regard for the violent fallout faced by Asian Americans; the number of racist attacks against this community saw a sharp increase in the wake of the pandemic.
As a literary scholar, have you seen the subject covered in literature? If so, any significant works come to mind that illustrate the history of this form of racism?
The racist murder of Vincent Chin in Detroit in 1982, an event that came to have much significance in the formulation of hate crime laws in the United States and galvanized a generation of Asian American activists, is the subject of the play "Carry the Tiger to the Mountain" by Cherylene Lee. What I find profound about the play is its focus on Lily Chin, a Chinese immigrant mother who became an activist even as she was mourning the loss of her son.
The incarceration of Japanese Americans during World War II continues to wield influence on Asian American cultural production, but some classics endure. One such is John Okada's "No-No Boy." And for a Hawaiian perspective on how U.S. colonialism affected the lives of people in the islands, one could look to the poetry of Haunani-Kay Trask, especially her "Night is a Sharkskin Drum."
Although I tend to teach more contemporary works of Asian American literature, even these cannot escape the effects of anti-Asian racism experienced by their protagonists. Students in my Transnational Asian American Literature class have just read Alia Yunis' "The Night Counter," a multi-generational Arab American family saga which bears witness to the effects of post-9/11 Islamophobia and state surveillance on the lives of its characters.
Have you seen any kind of uptick in anti-Asian sentiment or violence while abroad recently? What has the reaction been?
When the pandemic was first declared in March 2020, I was pursuing a fellowship in India. Almost immediately, there were reports of violence against Northeasterners, several of whom are mistaken for being Chinese, and thus foreigners, on a regular basis. While this minority community faces ongoing stigma in many Indian metros which they travel to for work, the xenophobia they experience was exacerbated during the lockdown period. As I have been noting, a recurrent theme in history is the undue attention paid to minorities in times of national crisis. The scapegoating of minorities is often politically motivated, strategically serving to draw attention away from more pertinent matters and the inaction surrounding them.
I began 2021 in Germany as a Fellow of the Africa Multiple Cluster at the University of Bayreuth. As in so many places following the pandemic, there have also been incidents of anti-Asian racism in Germany. But this gives rise to quite a conundrum. Germany has no state mechanisms in place to statistically record such events given post-World War II measures to dissuade the collection of race-based data. Of course, this does not mean that racism has ceased to exist – a fact made amply clear by Black activists in the country.
I've heard some say that many of the incidents prior to the murders in Atlanta didn't receive sufficient media coverage. Why do you think that is?
At the same time as there is a long history of anti-Asian violence in the United States, it is also the case that such crimes go unacknowledged as hate crimes. This has much to do with the notion that Asian Americans are an unthreatening and generally successful model minority invested in respectability politics, a group insulated against racism due to their class standing. Again, such notions derive from the stereotypification of the community by media and through political opportunism. Asian Americans and Pacific Islanders are not a homogenous group, their class diversity being as much of a spectrum as their varied ethnic make-up.
I will quickly add that this is where universities can play an important role in diversifying the curriculum. It should not only be the job of ethnic studies to teach about diversity; rather, all disciplines must be invested in calling out and ending white supremacy.
Last year, we saw a significant racial reckoning in the country following the deaths of George Floyd, Breonna Taylor and others. Do you think these anti-Asian incidents will spark a similar outcry for change?
Change is long overdue, especially in addressing police brutality and gun violence. What I have found heartening is the solidarity that Black and Asian communities have expressed after the state-sanctioned murders of Floyd, Taylor, and others, as well as following the Atlanta shootings. This is not to suggest that inter-ethnic harmony is a given; it is still a work in progress, especially in addressing the common enemy, which is white supremacy. Coequally, in calling for an end to systemic racism, it is important to understand how gender, sexuality, class, ability, and more play a part in the oppression of the marginalized.