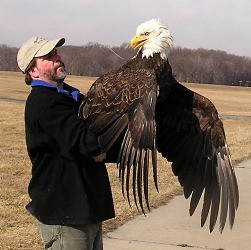 Bryan Watts
Research Professor
Office: Minson Galt House
Phone: 757 221 2247
Email: [[bdwatt]]
Webpage: {{http://ccb-wm.org/about/about_watts.htm}}

Background
Education
B.S. in Biology, Virginia Tech (1984) 
M.A. in Biology, College of William and Mary (1986) 
PhD in Ecology, University of Georgia (1991)

Founded the Center for Conservation Biology at William and Mary in 1992. 
Research Interests
My research interests are broad and have always been process oriented. Rather than focusing on a narrow range of taxa, my research attempts to explore general ecological principles that have broad application. My approach to research problems is adapted from general systems theory and is holistic. I believe that a genuine understanding of form, function and process will only be complete when an understanding of the ecological context has been achieved. To this end, the central theme that governs my research is to investigate not only processes but also the ecological and physical constraints under which they have evolved and currently operate.
Over the past several years, I have designed and conducted/directed over 250 research projects involving avian species or communities within the mid-Atlantic region of North America. These projects have included virtually every avian community within the Coastal Plain. Projects have been conducted during all seasons of the year but have focused on breeding and migration.
My current research interests include: 1) the ecology of species within dynamic landscapes (e.g. waterbirds nesting on barrier island beaches, species such as kingfishers and swallows that require exposed banks for nesting, species that require fire-maintained habitats), 2) the ecology of Bald Eagles in the Chesapeake Bay, 3) the effects of anthropogenic stressors on avian communities within coastal regions, 4) the ecology of birds within migration stopover areas, 5) breeding time horizons in the Yellow-crowned Night-Heron. 
Recent Publications
(* denotes graduate student author)
Watts, B.D., B.J. Paxton, F.M. Smith. 2011. Status and Habitat use of the Wayne's Black-Throated Green Warbler in the Northern Portion of the South Atlantic Coastal Plain. Southeastern Naturalist 10(2):333-344.
Erwin, R. M., D. F. Brinker, B. D. Watts, G. R. Costanzo, and D. D. Morton. 2011. Islands at bay: rising seas, eroding islands, and waterbird habitat loss in Chesapeake Bay (USA). Journal of Coastal Conservation 15:51-60.
Cristol, D.A., F.M. Smith, C.W. Varian-Ramos, B.D. Watts. 2011. Mercury levels of Nelson's and saltmarsh sparrows at wintering grounds in Virginia, USA. Ecotoxicology Online: 6/22/2011 online edition.
J.A. Homyack, B.J. Paxton, M.D. Wilson, B.D. Watts, and D.A. Miller 2011. Snags and Cavity-Nesting Birds within Intensively Managed Pine Stands in Eastern North Carolina, USA. Southern Journal of Applied Forestry 35(3):148-154.
D. Chen*, R. C. Hale, B.D. Watts, M. J. La Guardia, E. Harvey, E.K. Mojica. 2010. Species-specific accumulation of polybrominated diphenyl ether flame retardants in birds of prey from the Chesapeake Bay region, USA. Environmental Pollution 158:1883-1889.
Watts, B.D. and A.E. Duerr. 2010. Nest Turnover Rates and List-Frame Decay in Bald Eagles: Implications for the National Monitoring Plan. Journal of Wildlife Management 74(5):940-944.
Glass, K.A.*, and B.D. Watts. 2009. Osprey diet composition and quality in high- and low- salinity areas of lower Chesapeake Bay. Journal of Raptor Research 43(1): 27-–36.
Wilson, M.D.* and B.D. Watts. 2008. Landscape configuration effects on distribution and abundance of Whip-poor-wills. The Wilson Journal of Ornithology 120:778-783.
Markham, A.C.* and B.D. Watts. 2008. The influence of salinity on provisioning rates and nestling growth in bald eagles in the lower Chesapeake Bay. Condor 110:183-187.
Markham, A.C.* and B.D. Watts. 2008. The influence of salinity on the diet of nesting Bald Eagles. Journal of Raptor Research 42: 99-109.
Markham, A.C.* and B.D. Watts. 2007. Documentation of infanticide and cannibalism in Bald Eagles. Journal of Raptor Research 41:41-44.
Wilke, A.L.*, D.F. Brinker, B.D. Watts, A.H. Traut, R. Boettcher, J.M. McCann, B.R. Truitt, and P.P. Denmon. 2007. American Oystercatchers in Maryland and Virginia: Status and distribution. Waterbirds 30:152-162.
Viverette, C.B., G.C. Garman, S. McIninch, A.C. Markham*, B.D. Watts, and S.A. Macko. 2007. Finfish-waterbird trophic interactions in tidal freshwater tributaries of the Chesapeake Bay. Waterbirds 30:50-62.
Watts, B. D., A. C. Markham*, and M. A. Byrd. 2006. Salinity and population parameters of Bald Eagles (Haliaeetus leucocephalus) in the lower Chesapeake Bay. Auk 123:393-404.
Wilson, M.D.* and B.D. Watts. 2006. Effects of moonlight on detection of the Whip-poor-will: Implications for long-term monitoring strategies. Journal of Field Ornithology 77:207-211.
Wilke, A. L.*, B. D. Watts, B. R. Truitt, and R. Boettcher. 2005. Breeding season status of the American Oystercatcher in Virginia, USA. Waterbirds 28:308-315.