W&M undergrad wins best presentation award at national meeting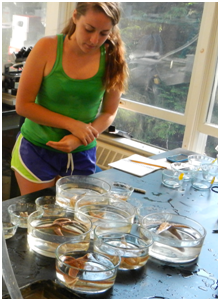 Like many William and Mary undergraduates, Holly Blackburn (WM '13) has been an active member of a research laboratory since early in her academic career. Unlike many of her peers however, Holly has rapidly earned national recognition for her research.
As a sophomore, Holly joined the lab of Dr. Jon Allen and began conducting research on the development and reproduction of marine invertebrate animals. With funding from the WM Monroe Scholars Program, Holly spent the summer of 2011 working with Dr. Allen on the coast of Maine studying unusual patterns of invertebrate development at the Bowdoin College Coastal Studies Center. During this intensive summer research experience, Holly studied the effects of changes in maternal investment on cloning rates in larval seastars.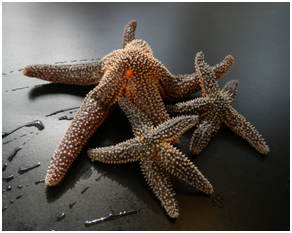 Holly found that, in the species she was studying, egg size can vary more than two-fold within a clutch of eggs and that the larval seastars developing from these eggs clone themselves at unusually high rates. Encouraged by her results and supported by an HMMItravel award, Holly presented her work at the annual Benthic Ecology Meeting, held this spring in Norfolk, VA. At the meeting, Holly hoped to get some feedback on her results and maybe a little encouragement to pursue her work further. She got that and much more, winning the award for best poster presentation. Holly's poster was selected as the most outstanding from a pool of nearly 150 posters, including many from Masters and Ph.D. students representing 17 countries and more than 100 universities and research institutions. When asked what it means to her to receive this unexpected recognition, Holly said "I was excited just to attend a conference, but to hear from distinguished marine biologists that my research is interesting and worth acknowledging was an overwhelming honor."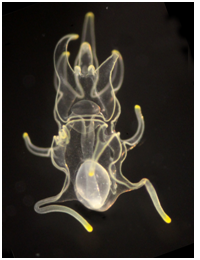 How does an undergraduate deal with sudden and surprising research success? Those familiar with WM students will not be surprised by the answer: by redoubling her efforts and spending another field season conducting intensive research to try and collect enough data to bring her work to publication. Holly just returned from a second summer conducting research on seastar development on the coast of Maine, this time funded by a William and Mary Honors Fellowship through the Charles Center. This fall she will continue her research through an honors thesis with an eye towards presenting at another international meeting this winter, and hopefully submitting a manuscript in the spring, just in time for graduation.