Nature Educator Remembers His Roots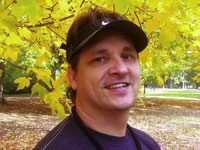 When you ask biology major Marc Magnus-Sharpe '85 where his heart lies, chances are you will find the answer in the middle of the frothing rapids of a river or the steep, snowy slopes of a mountain. When you ask him what he does, you will get an entirely different story. Magnus-Sharpe is the founding principal of the Lefferts Gardens Charter School in New York City. Despite its location, this school reflects the outdoorsy nature of its principal. It is a member of the Green Schools Alliance and promotes a new and exciting form of learning, which Magnus-Sharpe first encountered at William and Mary.

He came to the College with a passion for the outdoors and a desire to learn. He needed a direction for his passion, but wasn't sure where to look.

"I give a lot of credit to the faculty," says Magnus-Sharpe. "During that time, I wavered between going pre-med or just being an outdoor enthusiast and they encouraged both."
While in a class with Professor Sylvia Shirley, Magnus-Sharpe had the opportunity to help build the ropes course by Lake Matoaka. This hands-on teaching experience combined with the teamwork and togetherness fostered by the ropes course struck a chord with the nature enthusiast. Right after college, he joined the organization Outward Bound, an outdoor adventure program that teaches inner-city youth interpersonal, survival and leadership skills.

"The youth that I saw at Outward Bound were often at risk and sometimes already a part of the juvenile system," says Magnus-Sharpe. "When you are roughing it in the wilderness, 24 hours a day and 30 days in a row with no running water or cell phones or video games, you really come face-to-face with the real issues. If you are doing your job right, somewhere a few days in you start to see a turn and you get a group that starts to pull together."

While the children Magnus-Sharpe led benefited from the experience, he also benefited — gaining all the materials he would need to teach kids again, this time in a classroom.

"When you don't have a lot of resources, you tend to struggle with getting access to a good education and the opportunities that come with that," says Magnus-Sharpe. "My job is to get these kids the start they need to go on to a good high school and college and ultimately a career."

The mission of the Lefferts Gardens Charter School is to connect mostly poor, immigrant families with the abundantly rich resources of New York City. These children, many of whom qualify for free tuition because of financial need, have access to the best the area has to offer.

"My approach to teaching them is to take them outside of the classroom and let them experience things for themselves," says Magnus-Sharpe. "They go to the botanic garden and learn about plants and soil and the earthworms aerating the soil, helping to make the carrots grow that they eat for lunch."

He calls this technique "experiential learning." The kids take a field trip every Wednesday to explore one of the many venues their culture-rich neighborhood has to offer. Such outings include trips to the Brooklyn Botanic Garden, the Brooklyn Children's Museum and the Audubon Center.

"Each place has very strong educators who plan lessons for our kids," says Magnus-Sharpe. "We want them to learn in a way that defines the whole experience."

The students recently took a trip to the Lefferts Historic House, a model of an old farmhouse, so they could see what life would have been like in the 1820s. They got to take sheep wool and weave it into patterns used during the time of the Underground Railroad as they learned about escaping slaves.

Responsible science is also a major focus of the charter school. As the executive director of the Green Schools Alliance, Magnus-Sharpe hopes to instill among his students an awareness and love of the environment.

"We are trying to spread the word about sustainability through the students, who learn techniques of how to lower their school's carbon footprint," he says. "The United Nations International School, where I served as dean, was able to save $20,000 a year just through the Green Schools Alliance."

Although Marc Magnus-Sharpe is kept in the city by his fast-expanding project, he still finds time to get back to his outdoorsy roots.

"I don't know if I could live in New York City if I couldn't get out on the weekends," says Magnus-Sharpe. "There's a re-fueling that comes when you spend time outdoors. It's a wonderful balance."
This article first appeared in the William & Mary Alumni Magazine by the W&M Alumni Association.