Her Freshman Year, Heather McConchie '10 Begins Genetics Research Labwork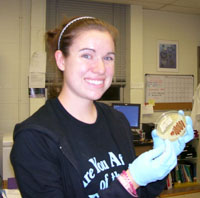 Heather McConchie's interest in biology began when she was a senior high school student in Chesapeake, Virginia.
"I took AP Bio my Senior year and ended up really liking it," McConchie said. By the time she started at William & Mary, Heather planned to be a Biology major.
Now she's doing molecular genetics research in the laboratory with Professor Oliver Kerscher. "We're studying a strain of yeast," she explained. "It sounds irrelevant, but it's actually really applicable to humans." Heather noted that certain yeast proteins have human "homologs." This means that versions of certain proteins in the yeast cell, including those involved in DNA repair processes, also exist in humans.
"If we study these related proteins in yeast, we can learn a lot about their function in humans." The work forms a foundation for understanding how the dysfunction of specific proteins are linked to diseases like cancer and for gaining insight that can be translated into potential therapies. Professor Kerscher has started a website to publicize the progress of their research group.
"I was fortunate enough to start working in the lab my freshman year," Heather said. She has also received a grant for her research from W&M's Science Education and Research Program, funded by the Howard Hughes Medical Institute. Recently she was included as a co-author on her first research publication concerning her work in Professor Kerscher's lab.
With a focus on molecular biology, Heather studies organisms at the microscopic level. Besides her own research, she finds stem-cell research to be one of biology's most crucial frontiers: "I'm a really strong advocate of more extensive and less restricted research. There's so much potential for new drug developments and gene therapy. Evidence shows diseases that previously left people without hope may quickly be becoming contained and treatable."
In her nonacademic time, Heather participates in Intervarsity, William & Mary's Christian Fellowship, and is a member of the national service fraternity Alpha Phi Omega. Recently she began volunteering at the Williamsburg Sentara Hospital.
This winter Heather plans to join an international service trip to Belize, where she and fourteen other William & Mary students will set up a temporary clinic to provide medical attention and fill prescriptions. Next on her agenda is study abroad in Italy, where she will continue her volunteer medical work in addition to studying Italian language and culture.
As far as Heather's plans for after college are concerned: "I'm still only a sophomore!" For now, she's considering William & Mary's pre-med program - and she's definitely interested in continuing her lab research.