Jeff Burket '06: Work in the Lab "Ridiculously Cool"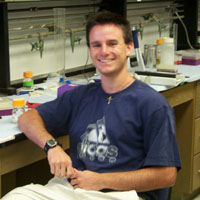 "Ridiculously cool." That is junior pre-med Jeff Burket's phrase of choice when describing his work in Prof. Mark Forsyth's lab, as well as when expressing his wonder at life on the molecular level in general. However, the phrase could equally well describe Jeff himself. Besides research, Jeff divided his time this semester between working at the college bookstore, InterVarsity, IM soccer, and leading a spring break medical service trip to Accra, Ghana with junior Laura Hansen.
Jeff's enthusiasm for life and for medicine is obvious, as he describes his recent spring break venture with 14 other W&Mers. While in Ghana, the group assisted with distribution of medicine and information, as well as helped with basic treatment of wounds or respiratory illness. Jeff hoped that experiencing healthcare in the third world helped in "shedding the naivete" that comes with growing up in a wealthy nation.
Surprisingly, Jeff did not always wanted to be a doctor; in fact, he came to W&M planning to study marine biology. However, his freshmen seminar on Emerging Diseases with professor Beverly Sher got him thinking about a future in public health. Having always felt a connection with Africa, Jeff hopes to live there in the future, working with the CDC or WHO.
In the mean time, he'll settle for researching the virulence of the hp0217 lipopolysaccharide gene of H. pylori in Forsyth's lab. His favorite part about research? "I love wearing the gloves. I feel so official when I put them on." Clearly someone who appreciates the little things in life, one has no doubt that he'll do big things with it.
Update: Jeff completed an honors thesis and defense in Biology. He has enrolled in medical school at University of Virginia and joined the U.S. Army as a 2nd Lt.