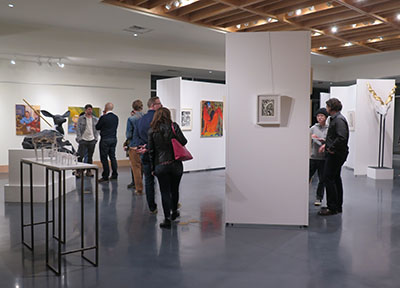 Studio Art majors focus on the creation of original artworks while learning the technical, theoretical, and conceptual skills of the professional artist. Studio Art research involves investigating, inventing, and testing a variety of techniques and approaches in different media within the context of a studio practice.
You will take a series of three Capstone courses. Through these courses, you will learn the research skills and methods used by professional artists. You will learn to examine different studio practices to become aware of how research habits affect process and output. You will learn how to use research, critical analysis, and feedback to produce a cohesive body of work. At the end of the Capstone series, you will present a final exhibition of your studio work.
Independent Research in Studio Art
Many students welcome the opportunity to create original works for academic credit that are not associated with a specific course. Advanced Studio - Independent Study (ART 443) provides an opportunity for to work for a semester on a project in consultation with a professor. Honors (ART 495-496) provides an opportunity for qualified students to work for a year on an honors thesis. Funding may be available for these projects.
Additional research and internship possibilities exist with the Colonial Williamsburg Foundation, The Muscarelle Museum of Art, and other regional art museums. You may also go abroad for research.