Studio Art Alumni Updates
Recent Alumni Submissions
Studio Art majors leave William & Mary with the knowledge and skills that help them become professional artists or to follow other career paths. Our alumni have gone on to fulfilling careers in almost every field imaginable. Some go to a graduate program first, others dive right in. 
What have you done with your Studio Art degree? Let us know! Every year, the Art & Art History department hosts a reception for Homecoming in the Andrews lobby. Please stop by if you're in Williamsburg that weekend.
Keep up with other alumni and department news in our Newsletter and in our news archive.
Updates
These are the most recent updates from our Studio Art alumni. Keep in Touch! We love hearing from you.
For updates received in previous years, check out the categories of class years in the left menu.
Rebecca (Merck) Coplon, '86 (Fine Art) Rebecca writes: Nearly 40 years to the day after I first arrived on campus at W&M, I delivered my son to begin his coursework at Old Dominion University, pursuing a degree in Art Education. Although professionally I have not worked in an art field, I have continued my creative efforts in stained glass, photography, and painting, adding in creative writing in recent years. Then focused my artistic endeavors on expanding the horizons of my favorite work - my son. He and I have painted, photographed, and sculpted, and he was the one who brought our entire family into blacksmithing. His focus has been on ceramics where he exceeds my skill on the potter's wheel tenfold. As an empty nester, I hope to turn my free time back to my own creative efforts now. So pleased to remain part of this community, and to have joined the Monarch family as well. (10/22)
Sarah Henry, '16 (Studio Art/Psychology) Sarah writes: Since graduating from W&M in 2016, I also graduated from UVA's Education School, where I completed my masters in Counselor Education: School Counseling. I worked in rural Virginia as a school counselor for three years. In August 2021, I started my PhD in Counselor Education & Supervision at The Ohio State University! I have two main research interests, including using creative outlets in counseling and equity in rural education. I still take ceramics classes in community settings, and love creating anything. I make and share zines often for students I work with--from elementary to masters level students. I think about my time in the Old Power Plant (the Ole PP) nearly every day and how it formed my ideas around teaching, processing, and joy. (November 2021)
Jordan Solet, '21 (Studio Art, Classical Civilizations) Jordan writes: I now work at the Tephra Institute of Contemporary Art in Reston, Virginia. I also attend Georgetown University as a post-baccalaureate student. (Sept 2021)
Iren Tete, '13, (Studio Art Minor, Kinesiology and Health Sciences) Iren writes: I am a Visiting Faculty in Ceramics at Alberta University of the Arts in Calgary, Canada. I hold an MFA in Studio Art from the University of Nebraska-Lincoln and a BS in Kinesiology and Health Sciences from the College of William and Mary. I equally call Sofia, Bulgaria and Washington, D.C. home. My work has been shown nationally and internationally, as well as published by Friend of the Artist and Create! Magazine. Recently, I was selected as an Emerging Artist by Ceramics Monthly Magazine. I've received multiple grants that have supported my practice and research. During the summer of 2018 I was able to further my study of Brutalist theory and architecture through a residency at the Zentrum fur Keramik in Berlin, Germany. I have also completed residencies at the University of Cincinnati (Cincinnati, OH) and the Northern Clay Center (Minneapolis, MN). (April, 2020) www.irentete.co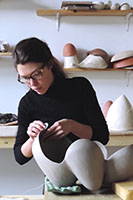 Zoe Powell, '16, (Studio Art/Biology), Zoe writes: Upon graduating from William & Mary, I completed two artist-in-residence programs focused on wood-fired ceramics and locally-sourced clays: one at the Cub Creek Foundation in rural Virginia and the other at Cobb Mountain Art & Ecology Project in Northern California. After completing these residencies, I moved to Saint Paul, Minnesota, where I opened my own ceramics studio and gallery, Studio Alluvium. Now, whenever I am not working towards an exhibition, I work on commissions for restaurants and travel around the country teaching local material workshops to other ceramics students." (April, 2020)
www.zoepowellceramics.com
www.studioalluvium.com
Lovisa Magnusson Odelstierna, '17 (Studio Art) Lovisa writes: Since departing William and Mary, I immediately dove into the workforce at IBM in Washington DC a few weeks after my graduation. There I was a consultant for United Airlines, which was installing a new internal system for their major American hubs. I provided expertise on visual communications/marketing, reported pain points of their new product, and traveled between five cities in five states on a weekly basis. However, I felt that I wanted to trace back to my artistic roots that I grew at university, so I left IBM to join a travel analysis startup, Data Visualization Intelligence, as a UI UX Designer. I host meetings between executives and developers to plan enhancements and wireframes for our products as well as provide those said deliverables. In addition, I also create graphic designs for our conferences, marketing, and sales presentations, which constantly challenge my creative juices. Since the start of the pandemic, my company has had to reduce hours, so I am taking the time to enhance my HTML and CSS programming skills as I prepare to relocate to the windy city of Chicago. There I hope to continue my UI UX work, either in the travel industry or another creative environment. I honestly am thankful for my William and Mary education for pushing me to explore and adapt to a variety of subjects as well as challenge me to dig into my artistic hobbies. I did not think I would be able to work with art and design, but by my graduation, I had the confidence to pursue those interests for my career. (April, 2020)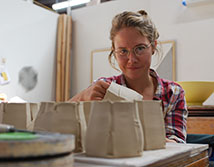 Katie Fee, '16, (Studio Art) Since graduating from W&M, I have pursued professional opportunities to manage community studios, operate atmospheric kilns, teach art, and push my own studio practice.  Currently, I am an Artist-In-Residence at the Morean Art Center in St. Pete, FL, where I have a studio space, manage their kiln yard, and teach both children's and adults ceramics classes. My work is represented online by ClayAKAR, Companion Gallery, and In Tandem Gallery. 
(April, 2020) www.katiefee.com
Kiernan Lofland, '10 (Studio Art) Kiernan writes: I graduated in 2010 with a BA in Art and Art History. In 2014 I completed an MFA as a Meadows Fellow from Southern Methodist University. I helped co-found 100W Corsicana, a residency hosting national and international artists and writers in Corsicana, TX. Recently, I have taught at both the University of Nebraska Omaha and the University of Nebraska Lincoln, where I directed the Eisentrager-Howard Gallery. (Mar 2019) kiernanlofland.com 
Stephen Correll '81 (Fine Arts) Stephen writes: Retired last fall as Associate Director of Registration from the Fine Arts Museums of San Francisco. Now pursuing my painting and drawing full time and loving every minute of it. (Oct. 2016)
Joan Huiner Ranzini  '83 (Studio Art) Joan writes: I maintain an active studio practice, and am currently focused on a series of abstract paintings inspired by my explorations with cut paper collages. I am also the program coordinator at the Beverley Street Studio School in Staunton, VA. www.bssschool.org (Sept. 2016)
J Hunter Todd '61 (Fine Arts/Philosophy) J Hunter writes: Happy to say we have started working on the 50th WorldFest-Houston International Film Festival (April 21-30, 2017) - the longest running Indie film festival in the whole wide world! As founding Director, I have emerged as the longest running festival director also. Amazing! It all started with a film class by Prof Al Haak at W&M! www.worldfest.org
(Sept. 2016)
Katie Wood '14 (Studio Art) Katie writes: I just completed a one day residency in a mobile studio in Charlottresville where I made one drawing every hour for 24 hours.  Here's a bunch for photos and an interview!
Dave Stevenson '89 B.A.(Fine Arts) Dave writes: I have been invited to exhibit a monumental bronze sculpture in Finn Park (TriBeCa), for NYC Parks "2016 Art in the Parks" program. Acrobat, a dynamic, eight foot tall abstract work, will make its debut in June. IF its funded in time!
To learn more about The Acrobat Project, visit the artist's new sculpturezoo website. The Zoo is set up to receive direct donations as well as contributions via purchases from its Gift Shop. Featuring a rotating collection of limited edition sculpture and jewelry, highlights from this week's selection include: a wearable Acrobat created through the magic of 3D printing; & Bunnydog, a hilarious, tiny bronze sculpture that tops out at 3 inches.

Stevenson's artwork has been published in: The Wall Street Journal, The New York Times, Harpers Bazaar, Town & Country, People, Seventeen and St. Barth Weekly. Ensemble Lifestyles, an award winning travel magazine, featured an extensive profile of the artist in its 2013 fall issue, highlighting his annual winter exhibition at Galerie Les Artisans in St-Barth. Corporate collections include the New York City headquarters of Pfizer Inc. and the office of film director James Cameron.
Stevenson recently won the honor of creating a commemorative brooch to celebrate the commissioning of the Navy's new amphibious assault ship, the U.S.S. AMERICA. His dramatic design was presented by the officers of the ship to the vessel's sponsor, Lynne Pace. In 2012, the Northern Manhattan Arts Alliance awarded Stevenson a Creative Grant to support his RAPTOR Rising bronze triptych project. In 2006 Stevenson created a commemorative bracelet celebrating former president Bill Clinton's 60th birthday. The 18 karat, white gold design was auctioned at the William J. Clinton Foundation fundraiser held at the Museum of Natural History. Multi-media collaborations include the sub-Rosa performance with Seattle-based choreographer Cheronne Wong ('90). Sub-Rosa had its New York premiere in May of 2009 at the Joyce Theater in SoHo.
Stevenson is represented by Ramey Fine Art in Palm Desert, CA, Les Artisans in Saint-Bartholemy, F.W.I. and Old Main Gallery in Bozeman, MT. The artist currently splits his time between an apartment/design studio in the Chelsea neighborhood of Manhattan and a larger living/work space in the Catskills.(Jan. 2016).

sculpturezoo.com zookeeper@sculpturezoo.com artinjection.com
dave stevenson 305 W. 28th Street #1D NY, NY 10001 212.380.6855

Mary Curro '57 (Fine Arts) Mary writes: It was great fun to once again have paintings exhibited in the Norfolk Senior Center Art Show in June. I was in the company of some of the most talented artists in the Tidewater area...all over the age of 55. We're still creating! I thank William and Mary art Department and Theater too for some of the best learning and inspiration possible! (October 2015)
Emily Fraser '07 (Studio Art and Environmental Studies) Emily writes: "After working in the environmental policy sector in DC for 5 years, I moved to California to pursue an MFA in documentary filmmaking. I graduated from Stanford's Documentary Film MFA program in 2014 and now work as a freelance filmmaker and video production teacher in the Bay Area. My short film about environmental ethics, "Consider the Ant," is on tour with the 34th Annual Black Maria Film Festival and will screen at the National Gallery of Art on July 25th, 2015. It's also available online here: http://emilyelizabethfilms.com/consider-the-ant." (July 15)
David Lasky '90 (Fine Arts) David writes: "I colored the graphic novel "El Deafo", which was written and drawn by Cece Bell ('92). It is her memoir of growing up with hearing loss. The book has been named a Newbery Honor Book! Cece and I know each other from working as illustrators for the Flat Hat in the late 80's." (May 2015)
Peter Krebs '93 (Fine Arts/Interdisciplinary Studies) Peter writes:  "I was accepted to the Master of Urban and Environmental Planning program at the University of Virginia  School of Architecture, where I plan to concentrate on community health and well-being. I am specifically interested to explore how the arts and creative practices can be early and active parts of the planning process in order to collect better information about community strengths and desires and bring about better local buy-in. I expect the broad and rigorous approach I learned at William & Mary, as well as my years of professional and community involvement to be tremendous sources of insight and inspiration. My program starts in the Fall of 2015 and will take two years." (April 2015)