Art History Alumni Updates
Recent Alumni Submissions
Art History majors leave William & Mary with the knowledge and skills that help them land on their feet - whatever life throws at them. Our alumni have gone on to fulfilling careers in almost every field imaginable. Some go to a graduate program first, others dive right in. 
What have you done with your Art History degree? Let us know! Every year, we host a reception for Homecoming in the Andrews lobby. Please stop by if you're in Williamsburg that weekend.
Keep up with other alumni and department news in our Newsletter and in our news archive.
Updates
These are the most recent updates from our Art History alumni. Keep in Touch! We love hearing from you.
For updates received in previous years, check out the categories of class years in the left menu.

Rachel Ciampoli, '19 (Art History), Rachel writes: After graduating in 2019, I joined the Education team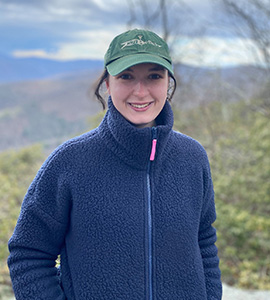 at the National Museum of African American History and Culture in Washington, D.C. I had completed an internship with the museum prior to graduation and was very excited to continue my work creating visual arts integration resources and programming for students and teachers. In Fall 2021, I began a PhD program in Art History at the University of North Carolina at Chapel Hill with the intent of studying antebellum American art. I am so grateful for the continued support of WM Art and Art History! (Oct 2021)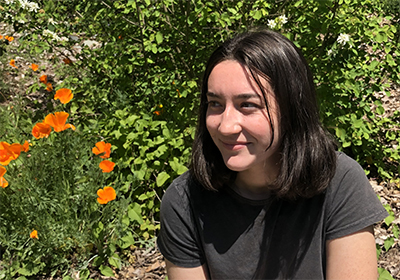 Caroline Katz, '20 (Art History) Caroline writes: During my last semester as a student at W&M, I worked on an Independent Study paper with Professor Braddock. My paper, titled Blunt Matter: The Significance of Paint in Pablo Picasso's Guernica, was recently published in Yale's Asterisk* Undergraduate Journal of Art and Art History. (June 2021)

Andrew Hollomon, '97 (Art History), Andrew shares the news that Quinn Evans, an award-winning planning and design firm with offices throughout the Mid-Atlantic and Midwest, has announced that Andrew Hollomon has joined the firm as chief technology officer. Hollomon, who has more than 20 years of experience in technology and telecommunications infrastructure management in the architectural profession, will lead Quinn Evans' firmwide information and design technology team. Hollomon, who previously served as director of technology for ZGF Architects, brings large-firm expertise in digital design and technology strategies, selection, and support to Quinn Evans. He will assess future technology and data needs while creating solutions for resilience and multi-office growth and productivity. "Andrew has been a national leader in synthesizing information technology systems and products to support high-end design collaboration and delivery," says Alyson Steele, FAIA, LEED AP, executive vice president and chief design officer for Quinn Evans. "He will lead our firm in our commitment to integrate design, information, and business technologies and tools throughout our practice and provide clients with responsive and informed planning and design solutions."
Hollomon holds an M.S. degree in information and telecommunications systems (2005) from Johns Hopkins University and a B.A. degree in art history (1997) from the College of William and Mary. He is a member of the American Institute of Architects' Large Firm Roundtable CIO Group and AECIT Leaders.
Gabriela MacPherson,'19 (Art & Art History minor, Anthropology), Gabriela writes: I am currently working at the New York Immigration Coalition, a non-profit that advocates for immigrants across New York state. In my role, I organize legal training courses for immigrant-focused non-profits to help expand access to quality, low-cost immigration legal services. I am so grateful to the Art History program at William & Mary for teaching me to look at urban complexities through the lense of design. This added a vital nuance to my perspective on the social justice issues I encounter in my work, and gave me a new way to analyze my own relationship with the city. (April, 2020)
Sophie Higgerson, '19, (Art History minor, European Studies) Sophie Writes: After graduating in May, I moved to DC for a "professional gap year" to explore potential career paths. I spent the summer as a Junior Fellow at the Library of Congress, where I catalogued printers' ornaments from a collection of 18th century French legal documents. In the fall, I entered the Advanced Level Program at the Smithsonian American Art Museum, through which I have interned in both the registrar's office and the research and scholars center. This September, I will begin working towards my PhD in the History of Art and Architecture at Brown University and intend to continue my undergraduate focus on 19th century European architecture and urbanism. I am so excited to return to school and pursue my passion for research that was nurtured at William & Mary.(April, 2020)
Natalie Walter, '18, (Art History, German Studies), Natalie writes: After graduation in 2018, I completed a Fulbright English Teaching Assistantship in Berlin, Germany, where I taught English at a German elementary school for a year. In the summer of 2019, I began my Master's in Historical Urbanism at the Technical University of Berlin. This program focuses on the historical development of urban areas worldwide as well as contemporary issues and practicalities. I love it!  I owe not only my interest in Urban Design and the Built Environment to the Art and Art History Department, but also my ability to analyze urban issues through a historical lens and appreciate contemporary developments. And honestly, I genuinely just enjoyed my classes and am so thankful I had such a special, warm and invigorating undergraduate experience, which is all due to the faculty in this department! (April, 2020)
Tianchu Gao, '17 (Art History) Tianchu writes: I am now finishing the MA program of Art History at the Ohio State University and will continue my study of modern Chinese art in the Ph.D. program. (July, 2019)
Kexin Ma, '17 (Art History) Kexin writes: Last year, I completed my Master's degree in History of Art and Archaeology of East Asia at the School of Oriental and African Studies, University of London. Starting from this September, I will be studying in the MPhil/ PhD program in History of Art and Archaeology offered by the same school and engaged in research on a Yongzheng period handscroll entitled Guwan tu (Pictures of Ancient Playthings). (July 2019)
Avery Siler, '16, (Art History) Avery writes: After graduating in 2016, I spent several years working for environmental non-profits. First, I handled conservation easement acquisitions and region wide outreach for conservation programs at a small land trust in Pennsylvania. I then found my way to DC and raised major gifts for The Nature Conservancy. This fall, I'll begin a Master's program at Yale's School of the Environment where I will study how conservation can be used as a tool for equity. I appreciate William and Mary for so many things, from the research and writing skills I honed there, the professors who took an active interest in helping me achieve my goals even after graduation, and the art history knowledge I gained that makes my frequent trips to the National Gallery in DC even more fulfilling. Perhaps most importantly, I'm grateful for the smart, funny, vibrant community I met at WM, many of whom remain my close friends to this day. (April, 2020)
Katherine Hughes, '12 (Art & Art History minor) Katherine writes: I have recently joined the American Wing at The Metropolitan Museum of Art as the Decorative Arts Trust Research Scholar, working on the exhibition, "Stories in Clay: Stoneware from Edgefield District, South Carolina," scheduled to open October 2020. This will be the first major exhibition in the American Wing of The Met to feature southern and African-American pottery. (Mar 2019)
Megan O'Connor, '09 (Art & Art History, English), Megan writes: In 2012 I completed a Master's in Museum Studies in Florence, Italy. After a few years working in Museum Education, I have begun to focus professionally on my own art. This summer and fall I have been interviewing and painting portraits of 40 community members for a project funded by Church on Morgan in Raleigh, North Carolina. I am currently finishing and installing the series of 8x8" panels, which will be on view in downtown Raleigh until the end of 2019. I will also have an exhibition at Sertoma Arts Center in 2020. More at www.megpaints.com. (Nov, 2019)
Lara (Williams) Blanchard, '88 (Art History, Mathematics) Lara writes: I am an art history professor at Hobart and William Smith Colleges (yes, plural!), a liberal arts institution in Geneva, New York. I often share advice about writing that I received from William & Mary professors (especially Barbara Watkinson) with my own students. I received my doctorate in Chinese art history from the University of Michigan in 2001. I have published several articles on Chinese art from the Song dynasty to the contemporary era, with a particular focus on gender and women (including representations of women, women artists, and women patrons). My book, titled Song Dynasty Figures of Longing and Desire: Gender and Interiority in Chinese Painting and Poetry, was published in 2018. I am also the co-author of the textbook Asian Art (Pearson, 2015), which received a prize from the Association for Asian Studies. In my leisure time I still make pottery and very much miss taking classes with Marlene Jack! (Oct, 2019)