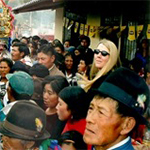 We are happy to welcome Susan V. Webster,  the Mahoney Professor of Art History, to our department.  She also holds a joint appointment with the Program of American Studies.  We are very lucky to have her.   Susan was Professor of Art History at the University of St. Thomas (St. Paul, MN), and received her Ph.D. from the University of Texas-Austin, an MA from Williams College, and her BA from Reed College.
Susan is a leading scholar in the art of post-colonial Latin America, focusing primarily the indigenous artists, builders, and artisans who created Quito, Ecuador.  Her book: Arquitectura y empresa en el Quito colonial : José Jaime Ortiz, alarife mayor (2002), documents the major architectural projects completed by an indigenous builder of the seventeenth century.  A Fulbright fellowship in Quito (2005-2007) provided Susan with an abundance of additional material on native Ecuadoran workmen.   A sequel—and a fuller account— will appear in 2010.  


Retirement
Citing his immense responsibilities as the Curator of South Asian and Islamic Arts at the Virginia Museum of Fine Arts, Professor Joseph Dye, will retire effective at the end of this semester.  Joe is an alum (class of 1967) and has taught "The Art of" (India, China, and Japan) classes for us since 1987. His contributions to the department and college over the last twenty-two years can not be overstated.  Professor Dye has been an active and well respected scholar, authoring the books, The Arts of India (Richmond and London: Virginia Museum of Fine Arts and Philip Wilson Publishers, 2001), and Ways to Shiva: Life and Ritual in Hindu India (Philadelphia Museum of Art, 1980).  In addition, Joe served on the board of the Muscarelle Museum from 1984-2000.
Saying Goodbye
Visiting Instructor Heidi (Schneider) Brar will be leaving the Department of Art & Art History at the end of the semester to join her husband in Washington D.C. 
Visiting Instructor Jason Lanka will also be leaving the department for a new tenure track postion at University of Wisconsin - Eau Claire.  Professors Lanka and Brar will be dearly missed by both students and faculty.
Faculty Notes:
Professor Painting
Bill Barnes was on Sabbatical during 2008-09 and in the Fall he was Residence at La Cite Internationale des Arts, in Paris, France where  he worked on a series of church interior paintings and participated in an Open Studio exhibition. Also in the Fall he was Visiting Critic, at Scuola Lorenzo de' Medici, in Rome, Italy.  He juried the Charlottesville-Albemarle Art Association 15th annual Juried Art Exhibition in  Charlottesville,and participated in several exhibitions . Locally, he had work in the Artists Who Teach Juried Exhibition and Small Works: Miniatures by Hampton Roads Artists Show; both at the Charles Taylor Art Center,in Hampton.  Elsewhere in Virginia he showed in a Duo Show-at the Beverly Street Studio School, in Staunton,Virginia  and at the SVU Shenandoah Invitational Exhibition, in Buena Vista ,Va. & Washington D.C.  He also had work in group shows in New York City at First Street Gallery, Blue Mounrtain Gallery, and Broom Street Gallery. Finally he participated in IN/OUT Group Show at Hobart and William Smith Colleges,Geneva,New York.
Linda Carey
 Studio Adjunct / 2-D Foundations
Linda  Carey had solo exhibitions in 2007 at The Charles Taylor Art Center in Hampton VA,  and at the Beverly Street Studio school in Staunton, VA in 2008. She is preparing for a two-person show with Neil Riley in the Fall of  2009 at the Keny Gallery in Columbus, Ohio. She continues to do drawing workshops and presentations at various universities and art centers.
Lewis Cohen 
Professor Emeritus / Sculpture
Professor Cohen has devoted much of his time to printmaking since his retirement in 2006. In 2006 Cohen was awarded a third prize for his entry to an exhibition held by Washington Printmaker's Society.  Some of his recent efforts were on view in a two person exhibition held with Professor Brian Kreydatus, at the Art Café 26, in Williamsburg in May of 2008. In the fall of 2008, The University of Georgia invited Professor Cohen to teach stone carving and bronze casting in their Studies Abroad Program in Cortona, Italy. He was recently invited to return and again teach in the program abroad at Cortona in the fall of 2009. He also remains at work on sculpture.
Suzanne Demeo 
Visiting Instructor / 2D Foundations
Suzanne's recent abstract watercolors have been included in the artists invitational Recent American Watercolor Exhibition. This exhibition of regional watercolor artists was shown in conjunction with Brushworks and American Watercolor Masters, which was on view this past summer at the Peninsula Fine Arts Center in Newport News.
Marlene Jack 
Professor / Ceramics
Professor Marlene Jack used this past year to continue to explore various molding methods to create unique works in porcelain, as well as develop new variations on wheel thrown and hand constructed forms. Her work was included in nine national juried and invitational exhibitions including Santa Fe Clay, New Mexico; Red Lodge Clay Center, Red Lodge, Montana; Blue Spiral 1, Asheville, North Carolina; The Northern Clay Center, Minneapolis; Market House Craft Center, Lancaster, Pennsylvania; Kent State University, Kent, Ohio; Louisville Glassworks Gallery, Louisville, Kentucky; AKAR Design, Iowa City, Iowa; and Santa Fe Clay's "La Mesa" exhibition in conjunction with the NCECA Conference. Six of her ceramics students attended the national NCECA conference in Pittsburgh this past March.
The department of art and art history welcomes Brian Kreydatus back from his productive sabbatical. He has returned as the new department chair. While on sabbatical Brian completed an Artist Residency at "La Cite International des Arts" (Paris, France) and an Artist Residency at Virginia Center for Creative Arts (Amherst, VA) supported by a Reynolds foundation grant. This past academic year Brian had two solo exhibitions: Recent Works, St Joseph's University, (Philadelphia) , Seen and unseen, Harrisburg Area Community College (Harrisburg, PA) and a two-person show Greetings from Williamsburg, Red door gallery (Richmond). In addition, he  participated in many group exhibitions this past year including: Delta National Small Prints Exhibitions, Arkansas State University, Jonesboro, AK (where his print Nelson was purchased for their permanent collection) , La biennale internationale d'estampe contemporaine de Trois-Rivieres, Trois-Rivieres, Quebec, Canada, 83rd Annual International Competition, Print Center, Philadelphia, PA, and  Drawing from Perception VI, Wright State University, Dayton, OH.
Jason Lanka 
Visiting Instructor / 3-D Foundations
Jason Lanka was featured in a solo exhibition at the Visual Arts Center of Tidewater Community College in Portsmouth, Virginia in September and October of 2008. In 2008, his work was juried for exhibition in the Sleight of Hand, A National Juried Contemporary Craft Show at Gallery 5 in Richmond, Virginia, The 10th International Shoebox Sculpture Exhibition which is organized by the University of Hawaii Art Gallery in Honolulu, Hawaii, LANDmarks: Beyond the Baroque Playing Field, The Work of Kelly Hider, Jason Lanka + Jennifer Pawol at Cazenovia College in Cazenovia, New York and the Biennial 2008 at The Peninsula Fine Arts Center in Newport News, Virginia. He was awarded the Juror's Choice Award in the Seven Cities Sculpture exhibition at The Charles H. Taylor Arts Center in Hampton, Virginia. In 2009, Jason's work was selected for the CRUX Exhibition at Mayer Fine Art Gallery in Norfolk, Virginia. In June of 2009, his work will be featured along with the work of Joe Meiser in "Natural" In-Conclusion, The work of Jason Lanka & Joe Meiser at Gallery 5 in Richmond, Virginia. Jason will be featured along with another artist in October and November of 2009 in the Illages Gallery at Columbus State University, Columbus, GA.
Catherine Levesque 
Associate Professor / Art History
Catherine Levesque was on sabbatical in 2007-2008.  She spent the year writing and revising her book manuscript "Wilderness Places: the Nature of Landscape(1550-1670)" which she  hopes to complete this summer. One of the artists she has worked on--the landscape painter Gilles Coninxloo--is the subject of a talk she will give at the Sixteenth-Century Studies Conference in Geneva this May
Elizabeth Mead 
Assistant Professor / Sculpture
In 2009  Mead's work was included in nine group exhibitions including: three juried exhibitions at the Charles H. Taylor Arts Center in Hampton VA: "Small Works: Miniatures by Hampton Roads Artists," "Seven Cities Sculpture," and "Artists Who Teach." Mead's sculptures in the juried cWow Gallery, Newark, NJ, "METRO 25" exhibition continued traveling to other venues throughout New Jersey. Her work was included in four additional national juried exhibitions: Peninsula Fine Arts Center, "Biennial 2008," Newport News VA, Lexington Art League, "KY7Biennial," Lexington KY (accompanied by an exhibition catalog); Oakland Community College: National Women's Art Exhibition, "From Our Perspective" Farmington Hills, MI; and Three Graces Gallery, "Teeny, Tiny Art Show II," Portsmouth NH and was also featured in the Fort Worth Community Art Center "9 X 12 Works on Paper," in Fort Worth TX.
Mead collaborated with Joan Gavaler (W&M Dance Dept.) on a dance project titled "Symbol " as part of the Dance Department's  Orchesis Dancevent at PBK Hall this fall. In addition, she was the Scenic Designer for The Trestle at Pope Lick Creek by Naomi Wallace, directed by Tim Johnson at Kitchen Dog Theater, Dallas TX.
Recent solo exhibitions include "Agglomerated Spaces: Sculpture and Drawings by Elizabeth Mead" at the Thompson Gallery, Furman University, Greenville, SC and "The space between," at The Gallery at the Macomb Center for the Performing Arts, Clinton Twp., MI. Her work is also included in the University of Hawaii at Manoa Art Gallery's "Tenth International Shoebox Sculpture Exhibition," Honolulu HI, and accompanied by a catalog.
Mead was invited to discuss the state of the arts in higher education the TV show "On the CW: Here and Now With Kafi Rouse."
As a component of the Mercury s-GIG, students, Margaret Mays, Andrew Paulette, Ashley Pierce, Kiernan Lofland, Kristen Smith, Blake Lucus, and John Knapp were part of an exchange exhibition with students from Musashino Art University in Tokyo. Their work was on exhibition in Tokyo this April and Musashino Art University students brought their installation, "Future Shock" to the Andrews Gallery.
Last fall Mead exhibitied at the Virginia Art Center, Tidewater College, Portsmouth VA, and in a two-person exhibition at the Seldon Gallery, Norfolk VA. She is curating an exhibition titled, "Unbearable Beauty" photographs of Eugene Smith at the Muscarelle Museum in spring 2010 to coincide with the international exposition on mercury organized by the Mercury Global Inquiry Group here at the College of William and Mary.
Charles Palermo 
Associate Professor / Art History
During the academic year 2007-08, Charles Palermo was approved for tenure and promotion to associate professor by the Board of Visitors of the College. He also published Fixed Ecstasy: Joan Miro in the 1920sin Penn State University Press's Refiguring Modernism series. Fixed Ecstasy offers a fundamentally new reading of the first decade of Miro's landmark career as a modernist painter, as a key member of the early surrealist movement, and as one of a small group of painters working in Paris in the 1920s to find a way beyond cubism. The book's argument builds on close observation of paintings and drawings, on research in the history of psychology, and on the critical and creative writings of Miro's important associates, most notably those involved in the publication of the journal Documents, such as Georges Bataille, Michel Leiris, and Carl Einstein. Professor Palermo also published an essay, "The World in the Ground Glass: Transformations in P.H. Emerson's Photography," in The Art Bulletin (March 2007). The essay advances readings of Emerson's path-breaking photographs of the 1880s and '90s as well as an account of Emerson's developing arguments about the viability of "straight" photography as an art-arguments that bear forcefully on current debates about photography and meaning and postmodernism. Professor Palermo delivered a lecture, "Joan Miro's Automatic Drawing," in a session on surrealist drawing at the annual meeting of the College Art Association in February 2008. He is currently at work on two book-length projects: an argument about the pre-cubist work of Pablo Picasso and its relation to the theme of authority in Picasso's circle of poets, and a book about family and inheritance as metaphors for understanding meaning in a series of photographic projects, from Emerson's time to the present day. Professor Palermo will be on sabbatical during the academic year 2008-09 and has been awarded a fellowship at the Sterling and Francine Clark Art Institute in Williamstown, Massachusetts, for the spring term of 2009.
Ed Pease 
Adjunct Instructor / Architectural Design
In addition to teaching architectural design at the College of William & Mary, Ed Pease was a visiting lecturer and design critic at the Umbau School of Architecture in Staunton, Virginia. He remained active with his private practice, and in 2007/2008 completed residential projects in Charleston, South Carolina and in Mineral Bluff, Georgia. He was awarded a Design Excellence award from the Hampton Roads Chapter of the AIA for the residence in Mineral Bluff, and a Design Excellence award in preservation for the restoration and expansion of Burlington Plantation in Charles City County, Virginia. During the 2008 - 2009 academic year, Ed will be the advisor for a student honors project involving a design for a sustainable farm in the Philippines.
Nicole McCormick Santiago
Assistant Professor / Drawing & Color
Sibel Sandi-Sayek 
Assistant Professor / Art History
In 2007, Sibel Zandi-Sayek was on research leave. She received a fellowship from the Aga Khan Program for Islamic Architecture (AKPIA) and was a resident at MIT during the spring semester. She was also awarded a National Endowment for the Humanities (NEH) Fellowship for Interdisciplinary Studies in 2007-2008, which allowed her to spend the fall semester at Harvard University to complete her book manuscript, A World in Flux: Urban Space and Identity Politics in Ottoman Izmir/Smyrna. In addition to informal talks related to her book chapters, Sayek delivered a public lecture, Public Works and the Public Good: Modernizing Urban Space in Ottoman Izmir, for the Aga Khan Program. She also published a comparative essay, Urbanism and Urbanization: The Middle East, North Africa and Central Asia, in The Encyclopedia of the Modern World, 1750 to the present.
Visiting Instructor /  Art History
This year visiting art history instructor Victoria H.F. Scott presented her paper, "Silk Screens and Television Screens: The Fifth Republic, Maoism andthe Posters of May 1968," on the panel A Conspiracy Theory of Images: Cold War Visuality, organized by Jay Curley, at the College Art Association in Los Angeles (February 2009). In addition, she recently published her article, "Les archives d'art contemporain" in the journal Perspective which is published by the Institut National d'Histoire de l'Art (INHA) in Paris.
Jane Williams Mahoney Professor of Art & Art History
Susan Verdi Webster joined the William and Mary faculty in fall 2008 with a specialization in the art and architecture of Iberia and colonial Latin America. She holds a primary appointment in the Department of Art and Art History, and a secondary appointment in the American Studies Program. 

Professor Webster's recent publications include, "Masters of the Trade: Native Artisans, Guilds, and the Construction of Colonial Quito," Journal of the Society of Architectural Historians (March 2009), and "Building a Life in Colonial Quito," in The Ecuador Reader (Duke University Press, 2008).  Forthcoming publications include, "La misteriosa vida del arquitecto José Jaime Ortiz antes de su llegada a Quito, siglo XVII," and "Maestros indígenas y la construcción del Quito colonial," in Las artes en Quito en el cambio de los siglos XVII al XVIII (Quito: FONSAL, 2009), and "La voz del anonimato: Authorship, Authority, and Andean Artists in the Construction of Colonial Quito," in The Arts of South America (Denver Art Museum, 2010). 

She recently presented several lectures and conference papers, including "Art and Identity at the Church of Santo Domingo in Quito," Mid-Atlantic Council of Latin American Studies, College of William and Mary (March 2009); "Native Artists and the Construction of Colonial Quito," Denver Art Museum, Mayer Center Symposium, (November 2008); and "Gender, Ethnicity, and Visual Culture in the Confraternity of The Rosary in Colonial Quito," International Symposium, "Fraternità e barriere – Brotherhood and Boundaries," Scuola Normale Superiore, Pisa, Italy (September 2008).  In June 2009, she will present a paper at the LASA conference in Rio de Janeiro that focuses on issues of authorship and authority in colonial Latin American architecture. In 2008-09, she helped organize and bring to the Muscarelle Museum an exhibit of Peruvian cuadros created by women's cooperatives in the shantytowns of Lima, which is curated by one of her former graduate students, Rebecca Berru Davis.

Professor Webster is currently at work on two book projects; one titled "The Conquest of European Architecture: Andean Masters and the Construction of Colonial Quito," and the other a "Diccionario de artífices en el Quito colonial."  The city of Quito will once again be her home in the summer of 2009, where she will continue research on colonial art and architecture in the local archives.
Alan Wallach
Ralph H.Wark Professor of Art and Art History
In the fall of 2008, Alan Wallach was Robert Sterling Clark Distinguished Visiting Professor, Williams College Graduate Program in the History of Art, Williamstown, Massachusetts, where he offered a seminar entitled "The Hudson River School Revisited."  He published an afterword in James Elkins and Rachael Delue eds., Landscape Theory (The Art Seminar) (London and New York: Routledge, 2008), and a review of Michael Kammen's Visual Shock: A History of Art Controversies in American Culture on College Art Association Reviews (caareviews.org).  He is working on two books: a collection of essays on the art of Thomas Cole and a study of vision and landscape in nineteenth-century American art.  Last year Professor Wallach spoke on KCRW's "Which Way LA," participated in a round table at the annual meeting of the College Art Association entitled "Private Property versus the Public Interest," lectured on "The Art Museum in the Age of Corporatization" at James Madison University, participated in a conference called "American Studies and Imperial Designs" at Purdue University," and moderated a session at a symposium at the Clark Art Institute accompanying an exhibition of late nineteenth-century American paintings.  He offered public lectures at the Clark Art Institute and at University College, London, where he spoke in a series called "Marxism and the Interpretation of Culture."  Professor Wallach was a keynote speaker at an American Studies conference at the John F. Kennedy Institute of the Freie Universität in Berlin, where his topic was "Persistence of the Panoramic: Technologies of Vision in American Culture from the 19th to the 21st Century."  Professor Wallach serves as a member of the College Art Association's Museum committee.  In 2008 he also served as a consultant for the journal Art History, Harvard University, Franklin and Marshall College, The University of Pittsburg, The University of Florida, The Corcoran Gallery of Art, the University of California Press, and the Terra Foundation's Summer Residency Program.  His courses at William and Mary in 2008 included a new seminar entitled "The Art Museum: History, Theory, Practice."  He advised four senior theses (three to be defended in the spring of 2009).
Barbara Watkinson 
Associate Professor / Art History
This year has been transitional for Barbara Watkinson. She rejoined Art and Art History in 2005 after several years in academic administration and agreed to be department chair. Four new faculty members have joined the department during that time, including a new endowed position: The Jane Williams Mahoney Professorship in Art History. The desire to teach was, however, the reason for leaving administration but as department chair she has been limited to only one course a semester. Watkinson, nonetheless, taught the intro course-cave paintings through the Middle Ages-in Andrews 101 during the fall semester. She has two chapters to complete on Pro Anima Sua: The Transformation of the Angevin Landscape in the Eleventh Century.