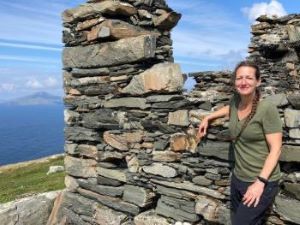 Audrey Horning
Chair, and Forrest D. Murden Professor
Office: Washington Hall Room 107a
Email: [[w|ajhorn]]
Phone: 757-221-1062
Area of Specialization: Historical Archaeology; Atlantic World; Comparative Colonialism; Ireland; Chesapeake; Archaeological Ethics; Heritage and Conflict Transformation.

Background
My research centers on comparative colonialism and the relationship between archaeology and contemporary identity, with a particular focus upon European expansion into the early modern Atlantic world(s). Major archaeological fieldwork projects include directing excavations at Jamestown, Virginia (first permanent English New World settlement, 1607); on seventeenth-century Plantation-period sites in Northern Ireland (Movanagher, Roe Valley/Limavady, Goodland); at the Slievemore Deserted Village, Achill Island, Co Mayo; and running a multi-year Survey of Rural Mountain Settlement in the Virginia Blue Ridge. Ongoing research in Northern Ireland focuses upon the potential of community-inclusive archaeology to contribute measurably towards conflict transformation. This work is facilitated through my appointment as a fellow in the Senator George J. Mitchell Institute for Global Peace, Security and Justice at Queen's University Belfast. Recent work includes two collaborative projects exploring the links between Ulster and Scotland in the late medieval and post-medieval periods and participation in the National Endowment for the Humanities project entitled Colonial Encounters in the Chesapeake examining the early colonial engagements between Natives, Europeans, and Africans from an archaeological perspective.

Recent publications have addressed future directions for historical and contemporary archaeology; integration of archaeology with conflict transformation; ethics and public engagement; incorporation of Native American perspectives on colonial histories; the anthropology of drinking in colonial settings; late medieval Gaelic Irish rural settlement; vernacular architecture in Ireland and Virginia; and the 20th-century archaeology of Appalachia.
Education
PhD, Historical Archaeology, University of Pennsylvania 1995
MA, American Civilization, University of Pennsylvania 1990
BA, History and Anthropology, College of William and Mary 1989
Awards and honors
2017-18 Martha Joukowsky Lectureship, Archaeological Institute of America.
2015 Rhind Lecture Series Keynote Speaker, Society of Antiquaries of Scotland.
2015 CHOICE Outstanding Academic Title of the Year, for Ireland in the Virginian Sea.
2014 James Mooney Book Award, Southern Anthropological Society for Ireland in the Virginian Sea.
2012 Gilder-Lehrman Fellow, Rockefeller Library, Colonial Williamsburg Foundation
2005 US National Interpretive Media Awards, Second place book, for In the Shadow of Ragged Mountain.
2001 John Cotter Award from the Society for Historical Archaeology
Fellow of the Society of Antiquaries of London
Fellow of the Society of Antiquaries Scotland
Selected Publications:
Books
2021 The Age of the Enlightenment (editor). Volume 5 in A Cultural History of Objects, series edited by Dan Hicks and William Whyte. Bloomsbury, London.
2018  Becoming and belonging in Ireland, AD 1200-1600. Edited by Eve Campbell, Elizabeth FitzPatrick, and Audrey Horning. Cork University Press.
2017 Reflections on Archaeology, by Graeme Barker, Chris Gosden, Audrey Horning, Charlotte Roberts, and Kate Welham. London: British Academy.
2013  Ireland in the Virginian Sea: Colonialism in the British Atlantic. University of North Carolina Press and the Omohundro Institute for Early American History and Culture.
2009  Ireland and Britain in the Atlantic World Edited by Audrey Horning and Nick Brannon. Wordwell, Dublin.
2009 Crossing Paths or Sharing Tracks? Future Directions in the Archaeological Study of Post-1550 Britain and Ireland. Edited by Audrey Horning and Marilyn Palmer, Society for Post-Medieval Archaeology Monograph Series 4, Boydell and Brewer.
2007 The Post-Medieval Archaeology of Ireland: 1550-1850. Edited by Audrey  Horning, Colm Donnelly, Ruairí Ó Baoill, and Paul  Logue. Wordwell, Dublin.
2004 In the Shadow of Ragged Mountain: Historical Archaeology of Corbin, Nicholson, and Weakley Hollows.  Shenandoah Natural History Association, Luray, Virginia (Second place book, US National Interpretive Media Awards 2005).

Articles and chapters (select, since 2010)
2022 'Reflections on Research: Historic Ethnography, Race, and the Virginia Blue Ridge.' Historical Archaeology 56, 32-48. https://doi.org/10.1007/s41636-021-00295-3.
2022 'Such was the End of Their Feast': Violence, Intimacy, and Mimetic Practice in Early Modern Ireland,' in Archaeologies of Cultural Contact: At the Interface edited by Timothy Clack. Oxford University Press, Oxford
2021 'Religion, Memory and Materiality: Exploring the Origins and Legacies of Sectarianism in the North of Ireland.' Historical Archaeology 55, 442-462. https://doi.org/10.1007/s41636-021-00301-8.
2021 Horning, Audrey 'Introduction' The Age of the Enlightenment (editor). Volume 5 in A Cultural History of Objects, series edited by Dan Hicks and William Whyte. Bloomsbury, London. (substantive essay- 14,878 words/ 50pp).
2020 Horning, Audrey 'Behind Closed Doors: Rethinking Public and Private in the Ulster Plantation' in Private Lives, Public Histories: An Ethnohistory of the Intimate Past edited by Rachel Corr and Jacqueline Fewkes, Lexington Books (Rowman and Littlefield), pp. 43-64.
2019. 'Collaboration, collaborators, and conflict: Archaeology and peacebuilding in Northern Ireland' Archaeologies 15(3), 444-465.
2019 Horning, Audrey 'Ethics, empirical honesty, and listening for the future: embedding an archaeology of listening in conflict transformation,' in A. Kehoe and Peter Schmidt (eds) Archaeologies of Listening University of Florida Press, pp. 202-223.
2019 Horning, Audrey 'Intersecting Worlds: The Brafferton and its Irish Atlantic Context' in Building the Brafferton edited by Danielle Moretti-Langholtz and Buck Woodard, 30-37.
2019 Horning, Audrey 'The Irish Worlds of William Penn: Culture, Conflict, and Connections' in The Worlds of William Penn edited by Andrew Murphy and John Smolenski, Rutgers University Press, pp. 120-138.
2019 Horning, Audrey 'Removal and Remembering: Archaeology and the legacies of displacement in southern Appalachia', in Terence Weik (ed) Archaeologies of Displacement. University of Florida Press, 127-156.
2019 Tracey, Rachel and Audrey Horning 'Ulster Plantation towns: an archaeology of rhetoric and reality,' in Brendan Scott (ed) Society and Administration in Ulster's Plantation Towns. Dublin, Four Courts Press, 6-19.
2019 Horning, A. 'Networks, Flows and Resonances in the Gaelic North Atlantic.' Journal of the North Atlantic 12.
2018 'Minding the Gaps: Exploring the intersection of political economy, colonial ideologies, and cultural practice in early modern Ireland.' Post-Medieval Archaeology 52(1), 4-20.
2018 'Introduction: Expanding the Intellectual Envelope: new perspectives on political economy.' Post-Medieval Archaeology 52(1),1-3, with Stephen Mrozowski.
2018 Constructing selves, constructing others: Approaching identities in Ireland in Becoming and Belonging in Ireland 1200-1600 edited by Eve Campbell, Elizabeth FitzPatrick, and Audrey Horning, Cork University Press.
2017 Crossing the battlefield: Archaeology, nationalism, and practice in Irish historical archaeology in Historical Archaeology of Nationalism and National Identity edited by Alasdair Brooks and Natascha Mehler, University of Florida Press.
2017 'In the aftermath of violence: heritage and conflict transformation in Northern Ireland' with Colin Breen. In Paul Newson and Ruth Young (eds) Post-Conflict Archaeology and Cultural Heritage. Rebuilding Knowledge, Memory and Community from War-Damaged Material Culture. Routledge, pp. 177-194 .
2017 'Shapeshifters and Mimics: exploring elite strategies in the early modern Atlantic.' In The World of Richard Boyle edited by David Edwards and Colin Rynne, Dublin, Four Courts Press, pp. 27-42.
2017 'Early Modern Period (AD 1600-AD 1900) and Modern (AD 1900-present) in Argyll,' Heather James and Audrey Horning. In Simpson, B and Webb, S (eds) RARFA: A Regional Archaeological Research Framework for Argyll; Scottish Archaeological Research Framework: Society of Antiquaries of Scotland. Available online at http://www.scottishheritagehub.com/rarfa.
2016 Transatlantic currents: Exploring the past, present and future of global historical archaeology. Historical Archaeology 50 (3).
2016 Globalisation and the Spread of Capitalism. Post-Medieval Archaeology 50 (1). With Eric Schweickart.
2016   Archaeology and Empire, in Encyclopedia of Empire ed. by J. Mackenzie and N. Dalziel, Wiley Blackwell, with Stephen Mrozowski.
2015  From the past to the future: Integrating archaeology and conflict resolution in Northern Ireland. Conservation and Management of Archaeological Sites,17(1), 4-20, with Colin Breen and Nick Brannon.
2015 Comparative Colonialism: Scales of Analysis and Contemporary Resonances in Rethinking Colonialism: Comparative Archaeological Approaches edited by Craig Cipolla and Katharine Hayes, University of Florida Press, 234-246.
2014  Clothing and Colonialism: The Dungiven Costume and the fashioning of Early Modern Identities. Journal of Social Archaeology 14 (3), 296-318.
2014  Colony or periphery? Exploring notions of Gaelic marginality in early modern Ireland in Rethinking Colonial Pasts through Archaeology edited by Neal Ferris, Rodney Harrison, and Michael Wilcox, Oxford University Press, 293-314.
2013    Exerting influence? Responsibility and the public role of archaeology in divided societies. Archaeological Dialogues 20(1), 19-29.
2013   Insinuations: Framing a New Understanding of Colonialism in Scandinavian Colonialism and the   rise of modernity: Small Time Agents in a Global Arena edited by J. Nordin and M. Naum, Springer, 297-306.  
2013   Politics, publics, and professional pragmatics: re-envisioning archaeological practice in Northern Ireland in Engaging the Recent Past edited by Chris Daglish, Boydell and Brewer, 95-110.
2013    Leim an Mhadaigh: Exploring 'unwanted' histories of the Atlantic World in Exploring Atlantic Transitions edited by Peter Pope and Shannon Lewis-Simpson, Boydell and Brewer, 93-102.
2013  Our Construct or Theirs? Introduction. In Exploring Prehistoric Identity: our construct or theirs? Edited by V. Ginn, R. Enlander and R. Crozier Oxford, Oxbow, 162-163.
2012  Ireland: Medieval identities, settlement, and land use in Rural Medieval Britain & Ireland, AD 800-1600: Settlements, landscapes and regions edited by N. Christie & P.  Stamper, Oxbow, Oxford, 172-185.
2012   Irish Archaeology 25 years On: Upwards, Downwards, and Onwards. Archaeology Ireland 26 (2), 11-14, with Nick Brannon.
2011 Subduing Tendencies? Colonialism, Capitalism and Comparative Atlantic Archaeologies, in Capitalism in Colonial Contexts edited by Sarah Croucher and Lindsay Weiss, Kluwer, New York, 65-84.
2011  Compelling futures and ever-present pasts: realigning the archaeology of us. Archaeological Dialogues 18, 161-164.
2010   Small trenches: Archaeology and the postcolonial gaze. Archaeological Dialogues 17 (1), pp. 27-30.
2010  Cultures of Contact, Cultures in Conflict?: Identity construction, colonialist discourse, and the ethics of archaeological practice in Northern Ireland (reprint), in Contemporary Archaeology in Theory: the New Pragmatism edited by Robert Preucel and Stephen A. Mrozowski, Wiley Blackwell, pp. 534-550.
2010  Ireland in the Virginian Sea: A Comparative Archaeology of British Expansion, in Archaeology of Early Colonial European Settlement in the Emerging Atlantic World edited by William Kelso. Society for Historical Archaeology Special Publication 8, pp. 13-30.
Courses Taught
I have been teaching in higher education since 1991, and have contributed to textbooks, written field manuals, and successfully supervised more than 15 completed PhDs.  

ANTH 603 Archaeological Theory
ANTH 611 Historical Archaeology
ANTH 617 Archaeologies of Identity
ANTH 470 Comparative Archaeology of British Expansion
ANTH 312 Comparative Colonialism
ANTH 349 Archaeology of Ireland