William & Mary Anthropology's Leading Involvement in Important Winter Archaeology Conferences
This winter, faculty and graduate students from William & Mary's Anthropology department participated in several conferences, giving their contributions to talks and workshops pertaining to a variety of topics, from engagement with animals among past Indigenous communities in the American south to the archaeology of past African interactions with the wider world.
 
At the 78th Annual Meeting of the Southeastern Archaeological Conference (SEAC) in Little Rock, Arkansas, from November 9th to 12th, 2022, William & Mary (and former William & Mary) anthropologists played a leading role in organizing a symposium with a grand total of 13 participants. The topic of this symposium was Animals and Animality in Southeastern Societies, organized by William & Mary Ph.D. Candidate Taylor Triplett, and former post-doctoral research fellow at William & Mary Dr. Jessica Jenkins. Contributions to this symposium revolved around ontologies of animals among Indigenous societies in the south, shifting the typical focus of archaeological literature on subsistence and ecological systems towards one that decenters humans, and that is more mindful of the wider range of interactions between humans and animals, and the ways in which animals are understood and conceptualized. Notable William & Mary contributions to this session included Jessica Jenkins's research on Indigenous engagement with oysters, Taylor Triplett and Professor Martin Gallivan's collaboration on canine ceremonialism, and Martin Gallivan and John Henshaw's research on antler headdresses in the Chesapeake. Congratulations to all involved for organizing such a successful session, and for representing William & Mary so strongly at SEAC!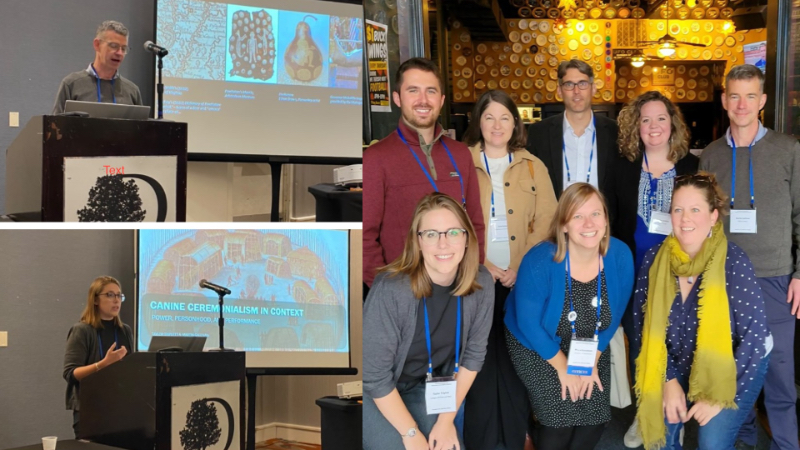 William & Mary engagement at the Society for Historical Archaeology's 56th Annual Conference on Historical and Underwater Archaeology in Lisbon, Portugal (January 4th to 7th, 2023), was similarly strong, with several faculty and graduate students organizing and contributing to symposia and workshops. Professor Audrey Horning was discussant at the session Colonial Forts in Comparative, Global, and Contemporary Perspective, and gave a talk on 17th century Derry/Londonderry in global perspective at a session on Global Materialities. Several graduate students from William & Mary also presented at important sessions. Contributions include Rebekah Planto's talk on architecture, the built environment, and living spaces at Bacon's Castle, Virginia; Chandler Fitzsimons on landscape, heritage, and the politics of memory in Yorktown, Virginia; Cathrine Davis on her work on lead seals in Jamestown, and Erin Schwartz on her research into button production, use, and choice at the Buffalo Forge Iron Plantation. Ph.D. candidate Madeleine Gunter-Bassett served as co-author for a paper on copper alloy acquisition by Native Americans in 16th and 17th century Virginia.
Furthermore, three William & Mary graduate students – Chardé Reid, Diogo Oliveira, and Tomos Evans – co-organized a session at the SHA entitled Africa's Discovery of the World from Archaeological Perspectives: Revisiting Moments of First Contact, Colonialism, and Global Transformation with Professor Neil Norman as discussant. The symposium sought to explore African ontologies, concepts, and perspectives of colonialism and globalization, and considered the ways of transforming archaeological theory and practice so that it's better equipped to investigate these aspects while also addressing the historical influence of colonialism on the discipline. Tomos Evans's talk focused on what is known about Ìjèbú perspectives on their 19th century interactions with the British Empire in what's now southern Nigeria (drawing from archival and landscape archaeological research); Chardé Reid's talk considered ways of reframing histories of colonialism and the African diaspora in Virginia and beyond through a restorative archaeology; and Diogo Oliveira discussed post-colonial reinterpretations of early colonial contact in Mozambique. Chardé Reid – who was awarded a Harriet Tubman travel award by the SHA – also co-organized a roundtable luncheon that focused on Interrupting Racism and Sexism in Archaeology. At this luncheon, Chardé encouraged participants to reflect on practical ways of addressing behaviors harmful to historically marginalized groups in archaeology, including in academia and CRM.
While the SHA was on in Lisbon, William & Mary graduate students were also distinguishing themselves at the American Historical Association's 136th meeting in Philadelphia (January 5th to 18th 2023). William & Mary Ph.D. candidate Olanrewaju Lasisi organized a panel here entitled Archaeoastronomy and History: Perspectives from Africa, North America, West Asia, Oceania, and Europe in which he and fellow graduate student Caroline Watson gave talks on their work on archaeoastronomy in Nigeria and Polynesia respectively.
Congratulations to everyone from William & Mary Anthropology who contributed to these three important conferences, and long may such strong contributions continue!