These are our graduate student ambassadors. They are available to answer questions relating to the William & Mary graduate program in Anthropology. Feel free to contact them with your questions.
Caroline Donovan is a one-year M.A. student. Contact Caroline
Hi! My name is Caroline Donovan, and I am a one-year M.A. student working under the supervision of Dr. Jennifer Kahn. I attended William & Mary for my undergraduate career, where I competed as a Division I athlete on the women's lacrosse team and earned a B.A. in Anthropology. During undergrad, I wrote an Honors Thesis entitled "Gendered Publishing Patterns and Occupational Trends, Oceania Archaeology 2005-2020." I plan to expand upon this topic for my M.A. thesis. My region of interest is Oceania, and I focus on themes including gender, gender equity in academia and academic publishing, sexual harassment in fieldwork, etc. In addition to my thesis work, I have worked with microartifacts, shells, and sediment samples in Dr. Kahn's lab on campus.  
 
Since I have lived in Williamsburg for the past four years, I have plenty of knowledge about William & Mary's campus and the surrounding area, so please reach out with any questions!  In addition, if you are an undergraduate student who is interested in pursuing the one-year M.A., I am happy to provide guidance regarding classes, scheduling, and preparation. Please feel free to reach out with any questions!
Tomos Evans is a 7th
 

year Ph.D. candidate. Contact Tomos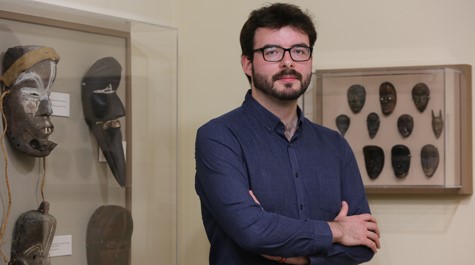 Greetings prospective students! I'm an international student (from the UK) who is conducting research on monumental earthworks in Nigeria, and the societies that interacted with them throughout the second millennium AD. I am co-supervised by Neil Norman (Anthropology) and Gérard Chouin (History) and have a background in African archaeology and heritage studies, and African studies more broadly. As well as the archaeological fieldwork that I perform in Nigeria, I also undertake archival research in the UK and US aimed at better understanding the history of these earthworks, and also the history of archaeology and museums in West Africa.
I have been active in the Arts & Sciences graduate community at William & Mary for many years in a number of roles, including in my current position as the representative for international graduate students on William & Mary's International Student Advisory Board (ISAB). So as well as department-related questions, if you also have questions about the broader activities of the graduate community at William and Mary, or about being an international student here, I am happy to answer! 
Victoria Gum is a 1st year Ph.D. student. Contact Victoria
Hello! I am a doctoral student with research interests in applied anthropology, community-driven research, scientific ethics, and biocultural anthropology. I work with Dr. Michael Blakey and Dr. Andrea Wright. I received my BA from W&M in 2016, then spent 5 years working in archaeology at Colonial Williamsburg and other sites in Eastern Virginia. I went back to W&M for my MA, which I completed in 2023, and am now continuing towards my doctorate. 

My MA focused on the First Baptist Church site in Colonial Williamsburg and specifically the ways in which archaeological and museological practice at the site has changed over time, and the ways in which Black communities and their histories were displaced and erased during the creation of the museum. The topic of my doctoral research is not yet determined, but I plan to take an applied anthropological approach to contemporary issues in health and human rights.

Please feel free to contact me with any questions you have about the program, W&M, Colonial Williamsburg, or the local area! 
Jules Mileski is a 2nd year Ph.D. student. Contact Jules
Hi y'all! I'm a second year Ph.D. student in Anthropology under Dr. Michelle Lelievre. I work primarily in the southeast, and have been interested in practices of placemaking, identity, value, emotion, and memory in small, rural history museums. Between finishing my Masters in 2021 and starting at William & Mary I had a brief stint in the National Parks Service where I became interested in artifact research, collections management, and archives. This summer (2023) I'm interning locally at the Mariners Museum doing archaeological conservation of ship timbers from the Princess Carolina, and exploring several subjects of interest as potential dissertation topics. 
 
I live less than 10 minutes from campus and am a frequent visitor to farmers markets and antique/vintage stores between here and Richmond, so would love to answer any questions about housing or activities in the area. Additionally, I'm a member of William & Mary's United Campus Workers Union (UCW VA) and the treasurer for the Anthropology Graduate Student Collective (AGSC), so would happily chat about all things student collectives and community. Welcome to William & Mary!
Maia Wilson is a 3rd year Ph.D. student. Contact Maia
Hi Griffin hopeful! I am a 3rd year Ph.D. student working under the supervision of Dr. Michelle Lelievre and Dr. Joe Jones. My research interests are Black history, Black repatriation politics, and Black feminist archaeology in the southeast United States. One site, Ocmulgee Mounds National Historical Park, is Indigenous ceremonial homeland, which I am comparing to two historically Black sites- Belle Grove Plantation and the Travis-Champion plantation. I work with legacy collections. I'm an archaeologist who is not digging for her PhD.
I received my M.A. at Uni of Idaho (yeah… Idaho) in Anthropology, but I am very at home in Williamsburg, Va as the daughter of Portsmouth, Va natives. Currently, I have external as a National Science Foundation Graduate Research Fellow, and I have just concluded my tenure as a Kelso Fellow which is internal funding. I am very familiar with the processes for applying to and navigating NSF external funding while at William & Mary. If you've got questions about the NSF, please reach out. Further, I most recently served as the Social Media Chair for the Anthropology Graduate Student Collective. I am a registered archaeological volunteer at Colonial Williamsburg (which comes with a lovely parking sticker), and I have interned with Colonial Historical National Park's Cultural Resources team at Yorktown and Jamestown. So, if you are looking for ways to get involved here at William & Mary and beyond in the greater Williamsburg area, I'm happy to chat and connect you with folks if I can. I participate in the Graduate Student Assembly's DEI Peer to Peer Mentoring Program for graduate Arts & Sciences students. I also have connections with the Black Student Organization. I take BIPOC, Queer, and mental health resources and support very seriously, and many of us carry multiple marginalized identities that deserve greater services. I'm here to help you get connected to them. I love to explore this area, so if you want recommendations on what to do and some information on potential areas to live in Williamsburg, I can offer insight. We can chat about grad life, the Graduate Arts & Sciences program, anthropology at W&M and more!