These are our graduate student ambassadors. They are available to answer questions relating to the William & Mary graduate program in Anthropology. Feel free to contact them with your questions.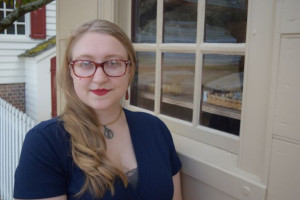 Cathrine Davis is a 5th year Ph.D. candidate. [[cmdavis03, Contact Cathrine]]
Hello! I'm a Ph.D. student under the direction of Dr. Audrey Horning here in the Anthropology department at William & Mary and I work internationally in the US, Canada, and France to understand textile trade networks in the eighteenth-century French Atlantic. I have degrees in Anthropology as well as in History, French, and Public History so if you're considering a degree in Anthropology for the first time, I would be happy to answer any questions you may have. I'm originally from Michigan but I've made myself quite at home here in Williamsburg and live close to campus. I've also worked with Jamestown Rediscovery and Colonial Williamsburg during my time here, so if you have an interest in learning more about the historical sites, housing, or everyday services in the area, please don't hesitate to contact me!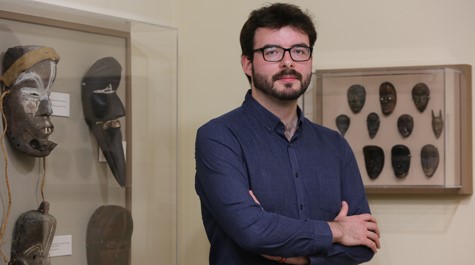 Tomos Evans is a 6th year Ph.D. candidate. [[tlevans, Contact Tomos]]
Greetings prospective students! I'm an international student (from the UK) who is conducting research into monumental earthworks in Nigeria, as well as the societies that interacted with them throughout the second millennium AD. I am co-supervised by Neil Norman (Anthropology) and Gérard Chouin (History) and have a background in African archaeology and heritage studies, and African studies more broadly. As well as the archaeological fieldwork that I perform in Nigeria, I also undertake archival research in the UK and US aimed at better understanding the history of these earthworks, and also the history of the discipline of archaeology in West Africa.
Furthermore, I am active in the Arts & Sciences graduate community at William & Mary – I am currently Vice-President of the Graduate Student Association, and I have spent three years as an international peer leader who has mentored incoming international graduate students. So, as well as department-related questions, if you also have questions about the broader activities of the graduate community at William and Mary, or about being an international student here, I am happy to address them!
Rebekah Planto is a 5th-year PhD student. [[rlplanto, Contact Rebekah]]
Hi! I'm a doctoral student, supervised by Prof. Audrey Horning, specializing in Historical Archaeology, focusing on comparative archaeologies of colonial and imperial expansion and their modern legacies, particularly in contexts affected by 17th-century British plantation. My dissertation research centers on the social and political-economic landscape of the Allen (a.k.a., "Bacon's Castle") plantation in Surry County, Virginia, from c. 1630s to 1730, a period of immense transformations that included the rise of slavery and codification of its racist underpinnings, continued displacement of Native peoples, and changes in the materiality and relations of Chesapeake plantations and towns. Through my work with the Bacon's Castle collection, I have authored reports and an article now in-press highlighting the site's complex life-history, and particularly the experiences of enslaved and non-elite residents. This project, facilitated by William & Mary's unique location and resources, has afforded me opportunities to work and build relationships with local institutions, CRM professionals, and community members beyond the department.

Prior to coming to William & Mary, I worked primarily in the museum world following the completion of my MA and archaeological field school in 2013. Before that, following my BA, I worked mainly as a K-12 teacher. However, archaeology has been an interest of mine since college, and I continued to gain field and lab experiences wherever and however I could. Since arriving in Williamsburg in 2018, I have found further opportunities through either working or volunteering on archaeological projects at Ft. Eustis, Colonial Williamsburg, and Coen Hall, as well as Bacon's Castle.

I look forward to chatting with any prospective students, especially those returning to academia, or with (so-called!!) "non-traditional" or "eclectic" backgrounds.
Caroline Watson is a 2nd-year PhD student. [[crwatson, Contact Caroline ]]
Hello prospective students! I am a secondyear Ph.D. student working under the supervision of Dr. Jennifer Kahn. My research explores the intersections between monumental architecture, religion, and social complexity in the pre-contact Society Islands. Before this, I studied Late Woodland lithic exchange networks and settlement patterns in the Piedmont region of North Carolina.

I received my M.A. here at William & Mary, so I am well-equipped to field questions from both prospective doctorate and master's students. Currently, I am the Social Chair for the Anthropology Graduate Student Collective and the Co-director of the Graduate Student Association Journal Club. This is also my third year working as a Graduate Research Fellow for The Lemon Project: A Journey of Reconciliation, a research effort here at William & Mary that investigates the history of slavery on campus. I'm happy to provide you with connections if you're looking to get involved with the broader graduate community, and I can point you to helpful resources that are available for graduate students. I have already moved a couple of times since being in Williamsburg, so I have a pretty good idea of the housing/renting scene here. Please don't hesitate to reach out with any questions about the department, broader Arts & Sciences program, or just general graduate life!