An interview with Katie Mitchell '13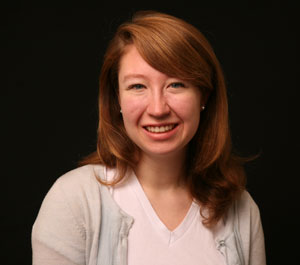 Why did you choose William & Mary?
I chose William & Mary because there simply was no other school that I could find with such a perfect mix of brilliant students and a supportive academic community. In high school, I was terrified that I would end up either at a college where I got lots of scholarship money but would be bored to tears or at a large research university where I would be with comparably intelligent students but would be subject to professors who didn't know my name, thousands of graduate students filling spots on research projects that I wanted, and cutthroat undergrads who would tear pages out of books in the library or pull fire alarms the night before organic chemistry exams. The beauty of William & Mary (and being a Murray Scholar at it) is that you really do get the best of both a small liberal arts college – attention from professors and a warm sense of community – and a larger research university in one package. I can honestly say that I have so many friends and classmates who could intellectually knock me out of the water on a daily basis if they wanted to, but it's those same friends and classmates who will stay up with me until the wee hours of the morning to help me edit a term paper or finish a problem set.
What was the aspect of the Murray Scholarship that attracted you most?
I could tell from the minute I stepped on campus for the prospective Murray Scholars weekend that being a Murray Scholar automatically opens nearly any academic door you want to explore while at William & Mary. Professors here know who the Murray Scholars are and how valuable they are as students and researchers, so being able to mention that you're a Murray in an email to a professor whose research sounds really intriguing – even if you've never met him – lets that professor know right off the bat that you're serious about pursuing research and capable of executing it. I found this to be particularly helpful as a freshman, when some professors may have otherwise brushed aside my cold-calls (or, rather, cold-emails).
What scholarly activities have you been involved in on campus?
From an academic standpoint, I've been predominantly involved as a research intern and fellow for the Project on International Peace and Security (PIPS), a research group run through the Government Department here. Through PIPS, I have worked on two very different projects under the general umbrella of identifying national security policy problems facing the United States and coming up with novel solutions for them. As an intern, I worked on a project exploring the multifaceted security benefits of establishing an algae biofuel industry through pursuing an algae growth and export partnership with Latin America, which really piqued my continued interest in energy security and policy. As a fellow – when I finally got an intern of my own! – I explored the political implications of employing the Active Denial System, a non-lethal weapon supervised by the Department of Defense's Joint Non-Lethal Weapons Directorate, in theaters where the United States is or may later conduct population-centric warfare. I've also dabbled in a biological research lab on campus for a semester and conducted several independent studies in the Psychology and Government Departments on various topics that interest me, from the role of psychology in international peacekeeping operations to nuclear proliferation.
What other aspects of William & Mary have been important to you in your time here?
Too many!! The bulk of my time goes to my involvement in the William & Mary International Relations Club, the second-largest student organization on campus (that honor goes to Alpha Phi Omega, the well-known service fraternity). Through the International Relations Club, I've served on three successive Secretariats for our high school Model United Nations conference, WMHSMUN; my most recent role was serving as Secretary-General – the chief executive of the conference, for those who aren't familiar with MUN – but I've also been in charge of all logistics for the conference as its Director-General director and managed a staff of more than 140 William & Mary students as its Chief of Staff. I've also served various staff roles for our middle school conference, WMIDMUN, and will be a crisis director for the IR Club's inaugural college-level conference, & MUN this April. I've also gotten to travel all over North America as a William & Mary delegate to conferences in Washington, D.C., Philadelphia, Boston, New Haven, and Montréal, and will even get to represent William & Mary this spring at WorldMUN in Melbourne, Australia!
While not arguing about international security or herding middle schoolers across the Sunken Gardens, I participate in several other organizations on campus. I'm a member of DoubleTake, William & Mary's only competitive co-ed a cappella group and home to more Murray Scholars than any of the other ten groups on campus, to which I lend my extraordinarily low voice and arranging skills. I'm also a sister of Gamma Phi Beta Sorority, in which I served as Administrative Vice President for the 2012 calendar year. Finally, when I am not doing any of those things, I'm the copy editor for the Monitor, William & Mary's Undergraduate Journal of International Relations.
What is an example of something you've done as a Murray Scholar at W&M that you couldn't have done somewhere else?
I'm totally stealing Ethan's answer for this, but getting to have breakfast with Chancellor and former Secretary of Defense Robert Gates last year was the coolest thing ever for me as a huge security geek; we've also gotten to meet the presidents of other countries and the like. You simply don't get to meet as many dignitaries and awesome people as you do as a Murray Scholar at any other school.
Read more about Katie
Read interviews with other Murray Scholars