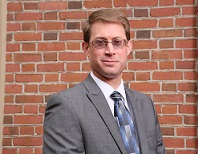 Tim Wolfe
Associate Vice President for Enrollment and Dean of Admission
Email :  [[tawolfe]]

Dean Wolfe's Bio
Hometown
Sacramento, CA
Education
William & Mary, 1995, B.A. Government
William & Mary, 2001, M.Ed. in Higher Education Administration
Why did you decide to work in admission?
Even as a young child I always dreamed of working in college admission. I still remember the excitement of riding my bicycle down to the corner market to buy packs of Admission Officer trading cards, opening them up, and thinking, "Someday, that will be me!"
Well, maybe it didn't quite happen like that. I do, however, remember getting my start as a campus tour guide and absolutely loving it! Given that I traveled across the country for college, and that I had such an amazing experience at William & Mary, I enjoyed being able to help prospective students discover how finding the right college fit could make such a difference in their lives.
Fortunately, it turns out you can actually make a career out of doing something this fun! I've had a chance to work in admission at two different universities and as a college counselor at a high school. Now, years later, that initial spark remains as strong as ever.
Why W&M?
Because it's the best university in the world! I know, I know, that's a totally biased opinion and as an objective professional in this field I recognize that there is no one right college for everyone. But come on, we rule! One Tribe, and once you're part of it, you can't deny it. This is a special, one-of-a-kind place, and it's an incredible feeling knowing that you're part of a community that has been making a difference in this world for over three hundred years and counting.
With that said, everyone begins college with a simple question, "Will I feel at home?" I know I did when I first arrived at William & Mary fresh off a plane from California with just two suitcases and one carry-on bag. Fast-forward, and I can think of no better word than "home" to describe what W&M became to me, and remains to this day. Considering how much this place means to me, I consider it quite an honor that I now get to play a role in finding and selecting the newest members of the Tribe.
Fun Facts
*I proposed to my wife in front of the Wren Building—and almost got run over by a lantern wielding ghost tour in the process.
*I am obsessed with Bruce Springsteen. Well, maybe obsessed is a little strong—I'll leave that to others to decide. I've seen him in concert almost twenty times and even succeeded in getting a Springsteen related essay question on our application years ago.
*Probably the one thing I'm even more obsessed…er…strongly interested in is sports—especially football and baseball. I'll follow just about any sport though (fascinated by Olympic curling as an example), and if there's a fantasy game to go along with it…even better!  Absolutely love intramural sports at the university: flag football, floor hockey, softball, volleyball, basketball, indoor/outdoor soccer—you name it, I played it. The championship t-shirts I won from some of those teams remain prized possessions to this day.
*My family spends so much time at Busch Gardens, they really should give us our own office there. My daughters are growing up thinking it's perfectly normal to have a world-class amusement park two minutes away. One of the many perks of living in Williamsburg!