Yule Log Celebration
Virtual ceremony streamed live on Saturday, December 12, at 7:00 p.m. ET
Thank you to those who joined us live, from the comfort of your own homes, for the Virtual Yule Log ceremony. The ceremony is now available as a recording for all to enjoy. Viewers are treated to festive music and singing, student reflections on themes of hope and joy, the reading of special poems and stories and virtual tossing of ceremonial sprigs of holly into the fireplace in the Great Hall of the Wren Building for good luck. We've compiled everything you need to create your own virtual watch party, complete with special recipes, festive digital downloads and ways to share messages of gratitude. 
Share Your Messages of Gratitude Using #wmYuleLog
It's a time-honored William & Mary tradition to cast aside the year's woes by tossing a sprig of holly into the flames of the yule log. In recent years, students have created a new tradition of adorning the trees in the Wren portico with paper doves, along with messages of gratitude. This year, the community was encouraged to decorate doves and share messages of hope and gratitude on Instagram or Twitter using #wmYuleLog.
Here's how it worked:
Single column table of collapsible items for formatting purposes.
Option 1: Decorate a paper dove.
Download and print out a paper dove. 
Decorate it however you'd like, along with your message of gratitude.
Snap a photo and post it to your public Twitter or Instagram using #wmYuleLog.
Option 2: Design your digital dove in PowerPoint.
Download the PowerPoint presentation and select a template.
Add your message of gratitude and export the slide as a .jpg and post it to your public Twitter or Instagram using #wmYuleLog.
Option 3: Select an image template and add your text.
Select an image to enlarge. Hold down the enlarged image to save to a phone. Right-click or drag the enlarged image to save to your desktop. Then use an image editor of your choice to add your message of gratitude and upload to Twitter or Instagram using #wmYuleLog.
Prepare Virgie Williams's Recipes
Although we cannot gather in person to share cider and cookies after the Yule Log ceremony this year, take time with family and friends to prepare some of these festive and historic recipes from Williamsburg's Virgie Williams to enjoy during the ceremony and throughout the holiday season.
Single column table of collapsible items for formatting purposes.
About Virgie Williams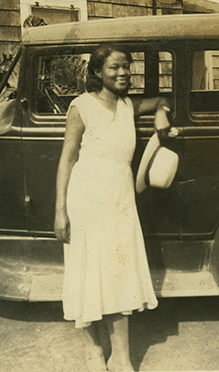 Virgie Williams (née Webb) owned and operated The Triangle Restaurant, also known as the Paradise Cafe, in Williamsburg's Triangle District. Once a cultural hub and business center for the Williamsburg Black community, the Triangle District was redeveloped by the City of Williamsburg during a 1970s urban renewal project. Williams was a graduate of the Virginia Normal and Industrial Institute (now Virginia State University), a historically Black college located in Petersburg, VA. These handwritten recipes were recorded in Williams's 1926 home economics and cooking notebooks. An entrepreneur, teacher, and devote parishioner at the First Baptist Church, Williams was an invaluable member of the Williamsburg community.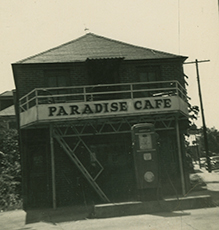 Virgie Williams's daughter, QuoVadis Wright, kept historical records of Williamsburg's Black community. Wishing to make her records accessible, Wright donated her collected histories and family papers to Swem Special Collections Research Center. The Lemon Project and Dr. Jody Allen facilitated Swem Special Collections' 2016 acquisition of Wright's papers. In addition to her mother's recipes, the QuoVadis Wright Family Papers include photographs, sketches, and handwritten reflections. In a 2016 Virginia Gazette article, "Recalling how the past paved way for present," Wright detailed her experiences as a Williamsburg resident. Read her account of life during segregation and notes of changes she saw within the Williamsburg community.
As an independent project, senior students in William & Mary's undergraduate American Studies Program researched the history of the Triangle District. View their compiled research and learn more about local Black history, the Triangle Block, Williams, and other Black entrepreneurs.
Cocoa
Ingredients:
¼ C. cocoa
3 C. milk
1 C. water
¼ to ½ C. sugar
¼ tsp. salt
Instructions:
Mix cocoa and water and boil for 10 min. Add the milk and sugar to the mixture, and cook over hot water for ½ hour. Add salt, beat well and serve. Vanilla may be added if desired.
Dutch Apple Cake
Ingredients:
2 C. flour
½ tsp. salt
3 tsp. baking powder
½ C. butter
¼ tsp. cinnamon
1 egg
⅔ C. milk
2 sour apples
2 tsp. sugar
Instructions:
Mix and sift dry materials except sugar and cinnamon, cut or rub in butter, add the milk and beaten egg. Spread ½ inch thick on a shallow pan, pare and cut the apples in sections lengthwise and set in rows on the dough with edges pressed lightly into the dough. Sprinkle the top with sugar and cinnamon. Bake in a hot oven (450°F) 25 or 30 minutes. Serve hot with lemon or hard sauce.
Chocolate Cookies
Ingredients:
1 C. sugar
2 eggs
½ C. milk
1 C. raisins (and nuts)  
1 tsp. vanilla
½ C. melted butter
1 even tsp. soda
2 C. flour
3 squares chocolate
Instructions:
Mix the melted butter with sugar. Add the beaten yolk and melted chocolate to this. Add soda to milk and then add milk to ½ the flour to the sugar and eggs. Mix well. Add the raisins with the remainder of the flour. Add beaten whites and vanilla and beat well. Drop from the spoon to bake on buttered baking sheets. (May be frosted with fudge frosting.)
Cinnamon Rolls
Ingredients:
2 C. flour
4 tsp. baking powder
½ tsp. salt
2-4 tblsp. shortening
⅔-¾ cup liquid (half milk + half water)
Instructions:
Mix and sift dry ingredients, cut in the shortening, lightly work in the milk and water mixture, and treat as follows. Roll to ¼ inch thickness; spread with melted butter and then a layer of cinnamon and sugar mixture (raisins may be added if desired). Roll the dough (as a jelly roll) and cut off ½ inch slices. Place these, cut surface down on baking pan or in muffin rings. Sprinkle some of the cinnamon and sugar mixture on the top of each roll; allow to stand 11 minutes and bake in a hot oven (450°F) 12 minutes. Note: instead of cinnamon and sugar mixture one may use butter and brown sugar, butter and jelly or preserves, or maple sugar and nut mixture.
More Ways to Celebrate Yule Log
Single column table of collapsible items for formatting purposes.
Enjoy the sights and sounds of a fire in the Great Hall fireplace.
The burning of the yule log within the fireplace of the Great Hall of the Wren Building is a highlight of this annual ceremony. Now you can watch a video of the lit fireplace anytime, or cast it on a screen to set the mood for your own Yule Log watch party. Love holiday music? Bring the joy of W&M a cappella into your celebration and watch a special version featuring performances by the Botetourt Chamber Singers, Accidentals and The Gentlemen of the College.
Check out our festive stickers and GIFs.
Explore the W&M GIPHY channel for all the festive GIFs and stickers designed for the virtual celebration.
Add W&M-themed stickers to your Stories — search your favorite apps for new #wmYuleLog or #williamandmary stickers.
Download the W&M Mobile app to find the full W&M sticker pack for iOS in your Messages and FaceTime apps.
Consider giving to Dare to DREAM.
Each year the students of Omicron Delta Kappa and Mortar Board select an organization to be the focus of their annual Yule Log philanthropy. This year the students have chosen the Dare to DREAM fund.
Created by the William & Mary student organization WMFIRE, the Dare to DREAM fund helps offset the costs that students with heightened vulnerability due to their immigration classification may face, including aid for approved legal fees and documentation renewals during their time at William & Mary. WMFIRE is an organization dedicated to making the William & Mary community and beyond equitable for all, regardless of immigration status. Their mission is to accomplish this by addressing the current inequities and obstacles faced by the immigrant, migrant and undocumented community-at-large through education, empowerment and action. Their work includes lobbying, fundraising, educational events, trainings on how to be a better ally to Undocumented people, and creating spaces of belonging on campus for all students.
Participate in the alumni celebrations.
On Thursday, December 17, the William & Mary Alumni Association hosted virtual Yule Log celebrations at 6:00 p.m. ET and 8:00 p.m. ET. Both programs began with a brief Yule Log ceremony featuring the W&M Choir, Gentlemen of the College and the Tradition of Yule Log. Afterwards, participants took part in alumni-led activities, from cocktail making to art and drawing, or networking with fellow members of the W&M community at a virtual table. 
Watch the Ceremony
Single column table of collapsible items for formatting purposes.
Program
Prelude featuring music from the William & Mary Choir.
Welcome featuring Abram Clear '21, Vice President of Omicron Delta Kappa and Meg Hogan '21, President of Mortar Board.
"'Twas the Night After Finals" featuring Ginger Ambler '88, Ph.D. '06, Vice President for Student Affairs.
Reflections on Peace, Joy and Gratitude featuring InterVarsity Christian Fellowship, the Muslim Students Association, Catholic Campus Ministries, W&M Hillel, the Hindu, Sikh, and Jain Students Association and the Black Student Organization.
Holiday reading featuring President Katherine A. Rowe.
Tradition of the yule log featuring Kate Munkacsy '21, President of Omicron Delta Kappa, and Isabel Cooper '21, Vice President of Mortar Board.
Yuletide Medley featuring the Gentlemen of the College (previously recorded from Yule Log 2019).
Log procession.
Tossing of the holly.