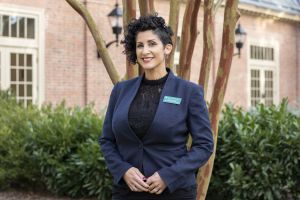 Monica Pinier
Senior Assistant Dean of Admission
Regions: Homeschool Students, Puerto Rico, Marianas Islands, Guam, In-State Transfer Students
Email: [[monica]]

Transfer students can best reach out to me via [[transfer, transfer@wm.edu]].
Who Am I?
To start, I completely understand that my last name is difficult to pronounce – so here's an easy guide: "Pin-yay" (fun emphasis on the YAY!).
I've called Texas, Michigan, North Carolina, Tennessee, Georgia, Virginia and D.C. home; however, Virginia takes the prize for the longest stay. I am a first-generation student who had humble beginnings at a community college, transferred for my Bachelor's degree, and eventually earned my Masters in Higher Education/Counseling, where I've found much fulfillment in the past decade connecting with many diverse student populations such as non-traditional, first-generation, LGBTQ, students of color, low-income, transfer, and foster care. I want all students to know they matter and belong- and it's my honor to walk them through every step of the process. My other large role in life is being a mom to (different in every way) twin girls.
Why W&M?
The energy is inspiring. I love walking around this beautiful and historical place. Everyone is so welcoming and each person brings so much to this campus. I love that W&M is always striving to improve. It's known for its innovation and excellence. In my experience as a former transfer counselor who would come to tour here often with students, I was always impressed with what W&M had to offer students, and how my students' minds would change from "This isn't possible" to "I can- and want- to go there!"
I love that students can create their own unique academic experience here- whether that includes research or combining multiple programs for a specialized academic experience that truly results in a better-prepared, well-rounded student out there improving the world. 
Why Admissions?
I love that at W&M, admission is a very holistic and thoughtful process. We really want to get to know our students and their stories! It's fulfilling to be an advocate for students and to help students/families not feel overwhelmed by the process. It's an honor working in Higher Education, because I love to be a part of the change in trajectory for many of our students and generations to come.
What I do for Admission
I get to work with some pretty incredible students from some of my favorite places. I am the Freshman Regional Dean for: Puerto Rico, Marianas Islands, Guam, and Homeschool students; and am the program contact for the Waitlisted Freshman Guaranteed Pathway. I am also one half of the super Team Transfer (with the great JonDavid Nichols!) and I truly enjoy helping students transfer from any junior/community college (such as the Virginia Community College System & Richard Bland College), and from other 4-year institutions in Virginia. As a former transfer student myself, transfers are close to my heart and they absolutely belong here! I'm also passionate about serving on our Diversity & Access Team, because I want nothing more than to bring students from all backgrounds to belong and thrive once here.
FUN FACTS:
I love learning about different cultures! I'm a foodie, love to travel, and watch international films. I enjoy practicing my Français and Español with anyone who is willing.
I'm pretty sure I could win any Hamilton lyrical contest (well, I wouldn't throw away my shot ;)
For my first career, I was a Veterinary Technician and involved with a lot of dog rescue. My special talent was quickly and accurately guessing dog breeds. I've always had French Bulldogs which are my absolute favorite (but please don't tell my Goldendoodle).